Walter Payton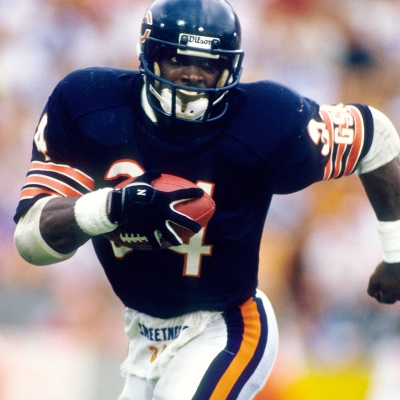 Uploaded by Dirtknocker
Info
Walter Jerry Payton was an American football running back who played for the Chicago Bears of the National Football League for thirteen seasons.
Comments
Top
Popular
Newest
"Sweetness", was incredible. He was the most versatile running back who walked on the field. He could run over defenders, at the same time scamper out of their way, and he had the best stiff arm in the business. As coach Mike Ditka once said, "Walter could play any position. " and he meant it. He block as well as any offensive lineman in the game, he hit harder than a ton of bricks, he could throw with as much touch as any quarterback in the game, and he could catch anything thrown at him. But, he most known for something he did in when the bears were about a yard out of the end zone. He would leap over all of his offensive and defensive linemen into the end zone. He truly displayed a never say die attitude.
Sweetness could do everything. Run, throw, Block, Catch and punish the opponent for trying to stop him. He didn't let bad team years stop his performance and want to quit some others. Ran for over 274 yards in a game against the vikings while having the flu and having a temperature of a 102 degrees. Out bench pressed all his teammates except for one (Dan Hampton) for years. Suffered a broken ankle early in his career and came back from it stronger than ever. Let's not forget the acrobatic leaps over defensive piles to score or gain necessary yardage. Defenses feared that legendary stiff arm of his and rightly so. It rung a bell or two every time. When Jim Brown and Emmitt Smith were asked in seperate interviews who was the greatest Running back both said with a doubt Walter Payton.
He played with fewer pro-bowl caliber blockers than anyone else on this list. He also played on a team that rarely had a good quarterback and the good one he did have was injured a lot of the time. The first 9 years of his career he didn't have 1 pro bowl blocker. He also did the little things very well he was for a while the Bears All time leading receiver, he threw for 8 touchdowns and was once the Bears Starting quarterback, and nobody ever blocked as well as Walter out of the backfield.
Really? You gotta be kidding me! This list was made by a clown. Payton didn't just run. He blocked, was an excellent reciever and commanded the respect he deserved from his team and his opponents. His multiple playoff appearances and legendary super-bowl year are enough to get this guy into the top ten, but then you look at the numbers. The best there was.
You people are so stupid for putting walter in second because he is absolutely the best running back ever. Who else jumps over the line, runs past defenders like flowers and catches better than larry fitzgerald. I think I proved my point, so lastly you people that voted for sanders over sweetness need to go to a asylum.
Statistics do not paint an accurate picture of Sweetness. He could do it all on the football field; easily the best all around player ever. I remember the way he fought for every yard regardless of score or outcome. I remember the sacrifices he made... Not going out of bounds, giving the blows- not taking them, and giving the absolute highest effort on every play. The epitome of heart.
Easily best player ever, why is emmitt smith so far up? He was all an offensive line, had nothing to do with a set of skills. walter payton could not only run with agility and power, but quarterbacked the bears a few games, punted and kicked in college, could block like a fullback, catch like a receiver.
Walter Payton I feel was the BEST back ever! Walter had a terrible Bears team for 9 years and still VERY productive. He had NO offensive line like Emmit Smith and was a asset at blocking which Jim Brown lacked. Walter was a all around great back and football player that could do it all!
Walter Payton was the best running back of all time. He made you completely miss him and when you did get a hold of him, he could get rid of you in a hurry. This guy had a the biggest heart of any of these guys. I bet you will never hear anyone who knew him, say anything bad about him ever.
Walter was the Bears offense for much of his career. Extremely versatile, he was a great blocker, gifted as a receiver, could throw and kick, tough to bring down, and was automatic at the goal line. People forget his kick return ability and his knack for turning 3 yard losses into 4 - 6 yard gains. Lots of respect for others on the list, they were all great. Most had better lines than Payton had in the first 8 years. Some had better qbs and receivers that prevented the defense from putting 10 in the box. Some were faster or more elusive, but he was the complete package.
no way you can put barry sanders #1 I would take emmet smith over sanders any time. 1 walter payton 2 gale sayers 3jim browm 3 o. j. 4 emmet smith 5 dickerson. the rest have to prove themselves top five of all time maybe not in this order but these five guys are the best. hands down
walter and berry u cant compair the two they ran totaly different walter ran u over berry broke u down made your ankles hurt walter punished u berry made you look dumb so u can just say walter was the best power back ever and berry was the best skat back ever to play
Sweetness. No one used his blocking better. The spring in his stride was amazing, and him leaping over the top on short yardage plays was quite a sight. Like Sanders, for many years he was all the Bears had. It sometimes gets lost that this guy trained very hard, and set the template for many athletes who followed him. A great player and man, I will never forget him. RIP Sweetness. - Ned964
Walter Payton was one of the greatest running backs who has ever lived, and he definitely deserved it, people who think they work hard they have never ever herd of walter payton, walter payton also had heart for the game and he said that he wanted to be known as a football player who gave everything he had on the football field, and he did.
Barry sanders cost his team field position and therefore victories. Barry sanders moves were undeniable but you cannot win with a running back who consistently puts your team in 2nd and 21, 3rd and 28. My problem with barry is he played the wrong game, if it was tag and not football barry = G.O.A.T. but he can be in the top 5. Walter was a gladiator.
Walter Payton should be ranked number 1 over Barry sanders because of his running styles. Walter Payton was a all around back. He could run over people if he needed to and beat them with speed as well. He could do it all unlike Barry who could just run and juke (No disrespect to Barry) but Walter should be number 1!

He also won a superbowl
I have a sport magazine from 1984, this guy could walk on his hands in full pads 50 yards, throw a football 100, kick a football 75 yards through the uprights, 21,803 all purpose yards in 13 years. Game over!!!! Come on people!!!!
Payton was so much fun to watch and redefined the position with his versatility of catching, blocking, and passing as well. Perhaps the most complete football player ever, he accomplished a lot early in his career with subpar offenses around him followed by a late career surge when he finally had top talent surrounding him.
First-round pick, 1975 draft... Quickly established himself as super star... Retired as all-time leader in rushing, combined net yards... Career stats: 16,726 yards, 110 TDs rushing; 492 receptions for 4,538 yards; 21,803 combined net yards, 125 touchdowns... All-Pro seven times... Played in nine Pro Bowls... Held single-game rushing record of 275 yards... Had 77 games over 100 yards rushing.
Walter Payton beyond all doubts is the greatest back of all time. He ran with power and contrary to most thinking he did not always have that great of a line. And when the ball was around the goal, rest a sure he could be left in the game to yes either pass block or carry the ball with a high chance of scoring.
If there ever was a better running back than Walter Payton(I didn't see Jim Brown)...I sure would like to see him...I loved to watch Barry... but what was he doing besides the long td's?... its gotta be Payton... end of story... Barry had the run and shoot... the definitely was spread out... he played in doors nine games every year(Min)and once in Tampa Bay... that's ten games he didn't have to worry about the weather... Could he block? He once had 3 wide rec with 1,000+yds and a tight end with 900... Payton... USUALLY WAS THE LEADING RECEIVER!... Payton broke more tackles in one season than Sanders did his career! Sanders was faster... and unreal... he wasn't as good as Payton... period
No question about in walter payton is #1 did barry sanders sprint 120 yards in 110 degrees sand and 99 degrees temp outside and sprint up the steepest hill possible till he threw up? Nope only Walter payton
Best player of all time I mean as swift as he was sweet. I bet he could get passed any of the greatest defenders of all time. My favorite athlete of all time.
Easily the best running back of all time, all though I do agree that sanders was great Sweetness has had the most amazing runs I've ever seen tough with amazing takeoff speed. Goes head first while stumbling into a linebacker, pops right back up and is in wide open field
Sweetness had the ability to not only get north and south on any defense but he could have 6 guys on him and he seemingly never went down. He played with heart, instinct, and a physical prowess that no one has ever been able to match.