Saberspark's Top Ten Cartoon Crushes
The Top Ten
Eileen - Regular Show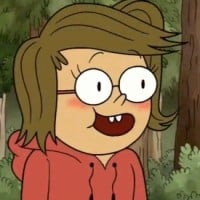 Starfire - Teen Titans

Starfire is the name of several fictional comic book characters appearing in books published by DC Comics.
Frankie Foster - Foster's Home for Imaginary Friends

Ahsoka Tano - Star Wars: The Clone Wars

Ahsoka Tano is a character in the Star Wars franchise. Introduced as the Padawan apprentice of Anakin Skywalker, she is a central protagonist of both the 2008 animated film Star Wars: The Clone Wars and the subsequent TV series.
Lapis Lazuli - Steven Universe

Lapis Lazuli is a character from the 2013 Cartoon Network series Steven Universe. She is a homeworld gem who got trapped in a magical mirror on Earth for thousands of years who was then freed and healed by Steven Universe. She has hydrokinesis abilities which include manipulating water, forming clones ...read more.
Ty Lee - Avatar: The Last Airbender

Jenny Wakeman - My Life as a Teenage Robot

Jennifer "Jenny" Wakeman (designated robot name: Global Robotic Response Unit XJ-9) is a fictional character and the main protagonist of the American animated series My Life as a Teenage Robot created by Rob Renzetti for Nickelodeon.
Shego - Kim Possible

Shego is a fictional character from Disney's animated television series Kim Possible, voiced by Nicole Sullivan.
Lord Dominator - Wander Over Yonder
Lola Bunny - Space Jam

Lola Bunny is a Looney Tunes cartoon character portrayed as an anthropomorphic female rabbit. She is Bugs Bunny's girlfriend. She was created as "female merchandising counterpart" to Bugs Bunny. She first appeared in the 1996 film Space Jam