Top 10 Saddest Deaths of 2021
The Top Ten
1
Larry King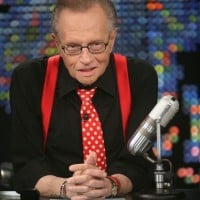 Larry King (1933 - 2021) was an American television and radio host, whose work has been recognized with awards including two Peabodys and 10 Cable ACE Awards.
Larry King easily deserves number 1. He was an amazing TV host. It's just really sad that he died.
2
Christopher Plummer

A true legend.
3
Cloris Leachman

Cloris Leachman was an American actress and comedian. In a career spanning over seven decades she has won eight Primetime Emmy Awards, a Daytime Emmy Award, and an Academy Award for her role in The Last Picture Show.
I'm sad! She died at 94! RIP Cloris (1926-2021)
4 Carlos do Carmo
5 Liam Reilly
6 Shani Mahadevappa
7 Don Salls
8 Cicely Tyson
9
Mike Reese
The congressman of Pennsylvania passed away on January 3rd, 2021. R.I.P. Mike Reese.
10
Tanya Roberts

Legendary fashion model, animal rights activist & actress from That 70's Show, Charlie's Angels & James Bond: A View to Kill, passed away just 11 days after suddenly collapsing. She was announced multiple times she was dead. She was 65. R.I.P.
The Newcomers
?
Adam Perkins
Former & original Vine creator known for Welcome to Chili's (which became a popular & memorable internet meme) just passed away on April 10th at only 24. A huge internet legend that'll be missed forever. R.I.P. (1997-2021).
?
Nikki Grahame

Popular actress & model Nikki Grahame just passed away on April 9th the same day Prince Philip & DMX did. Not to mention she was 1 of the shortest models in the U.S. (at roughly 5'1"). She was 38. R.I.P.
The Contenders
11
George Segal

12 Buta Singh
13
Hal Holbrook

14 Michael Apted
15
Rush Limbaugh

Rush Hudson Limbaugh III (January 12, 1951 – February 17, 2021) was an American radio personality, conservative political commentator, author, and television show host. He was best known as the host of his radio show The Rush Limbaugh Show, which was nationally syndicated on AM and FM radio stations. ...read more.
The amount of vitriol that I've seen on social media when he died is exactly why I have no respect for so many people anymore.

No one forced them to like Rush
No one forced them to even hate Rush
No one forced them to listen to Rush's show

The only reason they hate Rush is because someone in the media attacked Rush and that's why they attack him. But they went nuts and said so many awful things and this is how social media society gets frowned upon. On the flipside, I actually have never seen anyone celebrating after the recent deaths of RBG or John Lewis. This is why most leftists deserve to be cancelled.
He got cancer badly and leaves out a legacy for being part of the Republican divide that bought us here today, which goes along with Newt Gingrich, Roger Ailes, and Donald Trump for our nasty and tribal politics. I wouldn't forget that.
The iconic conservative radio host who showed love toward the American constitution & raised money on leukemia research lost his battle to lung cancer on February 17th. He was 70. R.I.P.
16 Clint Boulton
17
Hank Aaron

Henry Louis Aaron, nicknamed "Hammer" or "Hammerin' Hank", was a retired American Major League Baseball right fielder who serves as the senior vice president of the Atlanta Braves.
RIP greatest baseball player ever who was big in the baseball civil rights movement.
He was the greatest baseball player on the braves and brewers! RIP Hank Aaron (1934-2021)
18
Tom Moore

Captain Sir Tom Moore, the war veteran who helped raise millions for the NHS during the Covid pandemic, a true British hero.
Died at the age of 100.
19 Barry Austin
20
Sophie

Sophie was the best producer. She Made Great Songs With Charli XCX, Hannah Diamond And Other Great Artists. It's really sad when she fell off the balcony and lost her footing while watching a full moon. How is Charli XCX gonna make music? 2021 is more worse. Everyone is dying and Covid is getting stronger.
Only 20? This needs to be toward the top! We haven't lost such an influential artist in any kind of music since Michael Jackson or Whitney Houston. She invented hyperpop (a mix of techno, trance & other forms of EDM along with common pop) which influenced artists like A.G. Cook. M.I.A., Charli XCX, Slayyyter, Ayesha E & Full Tac along with bands such as Die Antwoord, Twice, Blackpink & BTS. She worked with Charli XCX for her songs, therefore Charli now doesn't have someone so important to partner with so her music may very much fall downhill. Yet some of Madonna's recent songs (like B I'm Madonna) along with some of Billie Eilish's music were influenced by Sophie. She climbed to the top of her house to get a good view of the Moon & fell to her death. Her death has impacted music of all kinds along with all 7.8B people in the world. This has such high reason to approach the top of this list. 2021 had a truly horrible start for music & January ended in serious historic ...more
21
Prince Philip

Nice to see the royal family going down although it should've been the queen
Not to be a bitch, but I thought this was funny
22 Paul Etyang
23 Brad Venable
24
Mary Jane
The beloved dog of Miley Cyrus & her bff Mary Jane just passed away on January 7th 2021. Darkest day ever for Miley Cyrus (darker than her California home being burned down in the 2018 Camp Fire). She was loved by her more than any human. R.I.P. Mary Jane.
25 John Muckler
PSearch List