Top 10 Saddest Deaths of 2021
The Top Ten
1
Larry King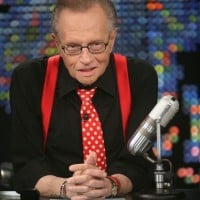 Larry King (1933 - 2021) was an American television and radio host, whose work has been recognized with awards including two Peabodys and 10 Cable ACE Awards.
He must have lived a long, healthy life!
2
Prince Philip

RIP you were a life saver to England.
3
George Segal

4
Beverly Cleary

Beverly Atlee Cleary (April 12, 1916 - March 26, 2021) was an American writer of children's and young adult fiction. One of America's most successful authors, 91 million copies of her books have been sold worldwide since her first book was published in 1950. Some of Cleary's best known characters are ...read more.
5
Christopher Plummer

A true legend.
6
Sabine Schmitz

7
Charlie Watts

Charles Robert "Charlie" Watts was an English drummer, best known as a member of the Rolling Stones. Originally trained as a graphic artist, he started playing drums in London's rhythm and blues clubs, where he met Brian Jones, Mick Jagger, and Keith Richards.
RIP Charlie Watts. The least flashy, but one of the greatest drummers of all time.
The drummer of the Rolling Stones passed away on August 24th after a tour pull out. He was 80. R.I.P.
8
Cloris Leachman

Cloris Leachman was an American actress and comedian. In a career spanning over seven decades she has won eight Primetime Emmy Awards, a Daytime Emmy Award, and an Academy Award for her role in The Last Picture Show.
She looked pretty in one of her photos in the 1950's!
I'm sad! She died at 94! RIP Cloris (1926-2021)
9
Eric Carle

1 of the G.O.A.T. childrens' book illustrators & authors. He wrote books like the Grouchy Ladybug, the Very Hungry Caterpillar & many more. He passed away from kidney failure aged 91. R.I.P. Eric Carle 1920-2021.
10
Dusty Hill

Joseph Michael "Dusty" Hill (May 19, 1949 - July 27, 2021) was the bassist, keyboardist, and co-vocalist with the American rock group ZZ Top. He died on July 27, 2021 at the age of 72.
The Newcomers
?
Sarah Dash
The vocalist of R&B group Labelle, who played Lady Marmalade, passed away suddenly on September 21st at 76. The world lost a powerful voice in music. Without her, Christina Aguilera wouldn't have scored her biggest cover. R.I.P. to a vocal legend.
?
Christopher Ayres
Best dubbing actor ever. He was so much better than everyone he stood out. Could listen to him speak for hours. He was gold.
The Contenders
11
Carlos do Carmo
The founder of the Fado subgenre in jazz passed away on New Year's Day from natural causes due to lung aneurysm. He was 81. R.I.P.
12
Michael Collins
One of the Apollo 11 astronauts, Michael was the one who stayed in orbit as Neil Armstrong and Buzz Aldrin asked on the moon in 1969.
13
DMX

Earl Simmons, known professionally as DMX and Dark Man X, was an American rapper and actor. He was born on December 18, 1970. He passed away on April 9th, 2021 after suffering a heart attack.
1 of the original rappers Dark Man X or DMX passed away from a heart attack due to a history of drug overdose. He was 50. R.I.P.
I like his Party up in here!
14 Liam Reilly
15
Nikki Grahame

Popular actress & model Nikki Grahame, known for competing on Big Brother UK, just passed away on April 9th the same day Prince Philip & DMX did. Not to mention she was 1 of the shortest models in the U.S. (at roughly 5'1"). She was 38. R.I.P.
16 Shani Mahadevappa
17
Biz Markie

I really miss this guy. Hope he shoots up to #1
18 Cicely Tyson
19 Michael Apted
20 Don Salls
21
Mike Reese
The congressman of Pennsylvania passed away on January 3rd, 2021. R.I.P. Mike Reese.
22 Yaphet Kotto
23 Charles Grodin
24
Tanya Roberts

Legendary fashion model, animal rights activist & actress from That 70's Show, Charlie's Angels & James Bond: A View to Kill, passed away just 11 days after suddenly collapsing. She was announced multiple times she was dead. She was 65. R.I.P.
25 Buta Singh
PSearch List