Spottedleaf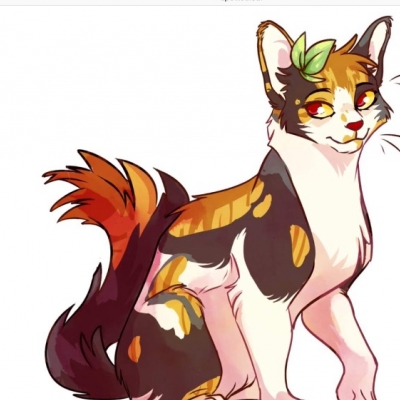 Uploaded by Feathermist
Comments
Top
Popular
Newest
Spottedleaf should never had died a second time. She should've been with Firestar in StarClan. I loved her, so much... This is going to sound stupid but I actually became depressed after she died. I really hope the writers know they made a mistake; if this was to keep Firestar from making a hard decision, is Silverstream going to die as well? Is Feathertail going to die? I just think it was a bad idea.
We hardly knew Spottedleaf. We met her when Firestar first became a clan cat. It was love at true sight. I loved Spottedleaf, and was swept with greif when I found out she had died. I was even sadder for the person who loved her most, Firestar. I loved it when they talked in his dreams. She was an excellent medicine cat and a great friend. I cried and cried when she died for the second time, and now she will never be reunited with her beloved. She died to young both times, and she gave up her life in the stars to save Firestar's mate. She died a sad and noble death. She will be missed. Starclan light your path.
I almost threw the book out the window when stupid mean unfair crazy weird little miss get it all Mapleshade killed Spottedleaf for the SECOND TIME! "But Spottedleaf.. you promised you would wait for me! " When Firestar's said that I tried not to cry a river it was so unfair and sad! She barely even got to know Firestar :(:(:(:(
The first time that she died, I wasn't so moved. But then she died the second time and I was extremely upset. I mean - how many times can you make a cat die. And then there's the fact that she died right in front of Firestar... How much pain can you give a cat on their death-bed?
Spottedleaf was the sweetest cat ever! I love her. Why did she have to die? Once was bad enough, but twice? Stupid Clawface and Mapleshade! Now she can't even walk in cats' dreams anymore. :( She deserves a second chance, like Cinderpelt. Who knows, maybe she will get one? - Spottedleaf
HOW IS THIS NOT NUMBER ONE!? NOT ONLY WAS SHE THE FIRST CAT TO EVER GET ANY PROOF OF FIRESTAR'S EXISTENCE AND DESTINY BUT SHE HAD FALLEN IN LOVE, DIED, WATCHED HIM DWELL ON HER, WATCHED HIM MOVE ON TO SANDSTORM WHO HATED HIM AND HONESTLY I HATE HER BECAUSE SHE BASICALLY ONLY LIKED HIM FOR HIS RANK I MEAN SHE WAS SO MEAN TO HIM BEFORE HE BECAME FAVORED BY BLUESTAR! ANYWAY SHE ALSO HAD TO WATCH HER ONLY LOVE FALL FOR SOMEONE ELSE, HAVE KITS, AND GROW UP. AND AFTER ALL THAT SHE STILL HELPED HIS AND SANDSTORM'S KITS WITH THEIR PROPHECY. THEN SHE KILLED HERSELF SAVING HER MOST LOVED CAT'S MATE. WHY!? ((So salty.. I wanna cry..))
Spottedleaf never should have died. She deserved to live her life as the medicine cat of Thunderclan. She was so young and pretty and had a whole future ahead of her. She could have at least lived to the end of the first series.
I think Spottedleaf will always be the saddest death to me. (Spoilers) I do not mean the 1st time. The second time. I cried so hard. She died helping the clans against the dark forest. She never got to see Firestar when he died, but rather he had to face her death a 2nd time. My friend was all like "She is a character in a book. " :(
Ok, her first death didn't phase me, but her second when she was killed from StarClan by Mapleshade, was so SAD! She never got to be united with Firestar. :( :( and Firestar was devastated! I was crying with Firestar at that point... And again when I read the book a second time. How can this be fourth? It was the saddest EVER! Who agrees with me?
I cried when she died for the second time. Mapleshade asked why did she stop her from killing Sandstorm and that she stole Firestar's love from her and Spottedleaf said that she made him happy then mapleshade killed her. Its really sad, Firestar will never see her again :(
Her second death burst me into tears. Firestar loved her, and died moments later, wishing she'd be there for him too. She promised him she'd be there for him when Firestar finally died. Saving Sandstorm's life cost Firestar that happiness.
When Spottedleaf died, I cried so hard. I was like, "SPOTTEDLEAF! WHY SPOTTEDLEAF?!?!? " I was in class at the time and everyone looked at me like I was crazy
Spottedleaf shouldn't have died. Fireheart loved her so much and was blinded by her not being there. I know that she comes back to guide him a lot but she should BE there. She could have been with him in StarClan, but Sandstorm stole him. CURSE YOU SANDSTORM!
Poor, poor, Spottedleaf... She was in love with Firestar but died before she got to actually love him. That mean, mean Clawface! I literally burst into tears when she died she was the kindest, smartest, noblest medicine cat I have ever seen. And then she had to die again! RIP Spottedleaf. You are my favorite medicine cat.
Spottedleaf was a very talented and sweet medicine cat. She cared about every cat in Thunderclan. She is my FAVORITE medicine cat of all time, (besides Jayfeather) and she never deserved to die. That piece of foxdung Clawface should be ashamed of himself.
First she was killed at the paws of evil Clawface, and she's a very decent and kind medicine cat! Her life was sort of unfair too, since she loved Firestar, who loved Sandstorm more than her. And then in the Dark Forest vs StarClan battle, she saved Sandstorm from Mapleshade. Mapleshade taunted her, asking why she was protecting Sandstorm, whom Firestar loved too much to be with Spottedleaf. But Spottedleaf still protected Mapleshade and thus got her throat torn out by Mapleshade! She deserves much, much better than that! And her spirit faded away forever after that...
I hate that she died the second time; she was awesome! It makes me so sad to think that if they carried on the series with more about the modern clans rather than the making that she wouldn't be in the story... Ever again D:
Spottedleaf was a cat I don't think I'll ever forget. A bit of a mystery; a link to StarClan for her Clan. Many thought she was beautiful. She was kind, gentle, and kept the warriors purring. Two found their love interest in her: Firepaw/heart and Thistleclaw. What a cat. She gave her life up for the sake of newborn kits. She leaked information to the Clan through Fireheart, the only cat who would take her seriously after Bluestar's issue. She saved the lives of so many dying cats, and she kept the best secrets. Would you have ever known that she knew about Bluefur giving up her kits? She-get this- died a SECOND time FOR A CAT WHO NO LONGER LOVED HER. Who would accuse her of being lazy or Mary-Sueish? Spottedleaf, your spirit lies with me. With every warriors fan (in their right state of mind). With the Clans. May your spirit pass on into Alderheart's.

In case you were wondering, I happen to think that Spottedleaf's spirit lingered in Alderheart because he is grandson of ...more
She was great, the second best medicine cat, second to Yellowfang. I loved her. She was pretty, sweet, gentle. She didn't deserve to die! Of course, neither did Yellowfang. All medicine cats seem to die. Spottedleaf was certainly one of my favorites. What is there to not like about her? I can see why she was Firestar's first love.
I hate Clawface that piece of fox-dung killed who I loved I am Firestar so when she died, I pored out in tears. Rest In Peace my beloved Spottedleaf, you were killed twice but your deaths were full of bravery. I will love you always my Spottedleaf.
The first time she died, none of us really cared. She was just some medicine cat who was killed in the first book, right? But by the second time she died, we were all attached to her. She died for a second time, vanished into nothingness, and made us all cry. -Moonshine
She was such a helpful, friendly cat and so loyal to Thunderclan. When she died the first time I was sad, but when she died a second time I cried so much! It was so sad when Firestar said that she promised that she would be with him in Starclan. Such a sad death! :(
:( why clawface why! Spottedleaf is the coolest medicine cat ever and doesn't deserve to die trying to kill kits! (killing kits is against the warrior code, so ha, clawface! )
Its sad her true love fireheart was so sad and she died protecting kits so sad! I really liked it with her in the books but she had 2 die I was up set
It broke my heart when she died protecting helpless kits from the disgusting Clawface, yet it completely disintegrated when she died to save Firestar's mate Sandstorm from Mapleshade.