Top 10 Sam Sharp Moments
For this list we'll be focusing the spotlight on Luna's bandmate and girlfriend Sam Sharp and countdown her top moments from The Loud House.

The Top Ten

1 Sam Gives Her Share of the Money to Luna to Buy Her Ticket - Purrfect Gig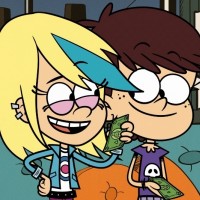 After the McBride's come home and find out about Sam and her brother being there after telling Luna she wasn't suppose to have anyone else over while they were away Luna explains that because of Sam's help they were able to take good care of there cats impressed with their work the McBride's allows the girls to keep half of the money that was promised to Luna for watching the cats Sam happily gives Luna her share of the money so Luna can by her VIP backstage ticket to the Mick Swagger concert.
2
Sam Reads Luna's Love Letter and Smiles - L is for Love

The ending to "L is for Love" in which Luna delivers her love letter to Sam after spending most of the episode second guessing on wither to let Sam know she likes her as Sam opens her locker she finds Luna's letter reads it and smiles happily as it pans to Luna who smiles happily over Sam's reaction.
3
Sam and Luna Play Their Guitars While Visiting - Friendzy

After learning that Lincoln is using the friend card to get special privileges the sisters invite their best friends to keep Lincoln from getting anymore privileges with Luna inviting Sam over as they play their guitars as Lincoln and Clyde attempt to get dibs on dad's cookies only for Luna to tell him there all out as she and Sam got first dibs.
4
Sam Helps Luna Take Care of the McBride's Cats - Purrfect Gig

When Luna has trouble babysitting the McBride's cats Cleopatra and Nepurrtiti she calls Sam over to help her out since she's good with animals though Luna forgets to mention to Sam that the cats get real nervous around two or more strangers and Sam ends up brining her younger brother Simon along however they are able to keep the cats occupied and away from Simon while Sam helps Luna care for the cats.
5
Sam Bumps Into Scoots While Trying to Dance - Racing Hearts

During the dance challenge of the Astonishing quest Sam and Luna and the other teams attempt to copy the instructors dance moves to get the next clue Luna and the others successfully copy the instructors moves Sam however can't dance and bumps into Scoots who shoves her back and knocks over everyone else.
6
Sam Rock Climbing - Racing Hearts

In another of the Astonishing Quest challenge involves rock climbing to get the next clue which is easy for Sam since she enjoys it however Luna isn't good at it as she dangles from the ropes
7
Sam and Luna Sing the McBride's Cats to Sleep - Purrfect Gig

After helping Luna take care of the cats they sing them a lullaby to get them to sleep and then later in the end and not only put the cats but the McBride's Clyde and Sam's brother Simon to sleep and even Mick Swagger in Luna's thought bubble.
8
Sam and the Rest of the Music Club Play a Song to Convince Principal Rivers Not to Cut the Music Club - Deep Cuts

After learning the music club has been cut by Principal Rivers due to budget cuts Luna, Sam, Mazzy and Sully perform a song for Rivers convincing her not to cut the music club.
9
Sam Accidentally Shoots Luna with the Laser Gun During the Laser Tag Challenge - Racing Hearts

During the first challenge of the Royal Woods Astonishing Quest Luna and Sam as a team partake in laser tag as they try to score enough points to get the next clue Luna gets nearly all of the points however Sam isn't very good at laser tag and while under attack by Scoots and Helen whose actually Lynn in disguise Sam tries to help Luna out but ends up dropping her laser gun and accidentally shoots Luna.
10
Sam Reveals Herself to Be Roxie - Snoop's On

In order to get her siblings Lincoln, Leni and Luan to confess in reading her diary she writes a bunch of fake stories to mislead them and pretends to have a night of mayhem with her new friend Roxy in order to get them to confess as its later revealed that Roxy was none other then Sam in disguise.
The Contenders
11 Sam Leaves Luna for Lincoln - It's Not Your Fault
12
Sam and Luna Try to Sneak Simon Out of the McBride's House - Purrfect Gig
After forgetting her brother Simon while helping Luna babysit the McBride's cats as Luna and Sam attempt to sneak Simon out without the McBrides knowing.
13
Sam Clucks Like a Chicken - Racing Hearts
During the second challenge where Sam and Luna have to collect a set of eggs from Liam's chicken farm Sam is able to collect the eggs by clucking like a chicken to calm the chickens down.
14 Sam Gets Glitter Bombed - Band Together
15 Sam Gets Drenched in the Mixing Batter - Racing Hearts
16 Sam and Luna Laugh on the Floor - Racing Hearts
17 Sam Scolds Luna for Trying to Keep Her Brother Simon Out - Purrfect Gig
18 Sam Gets Rejected By Luna - Racing Hearts
BAdd New Item