Top 10 Scariest Disney Rides & Attractions
Some rides at Disney parks are just too scary or too intense that they're easy or best to chicken out of.

The Top Ten

The Twilight Zone Tower of Terror (Disney's Hollywood Studios, Disneyland Paris)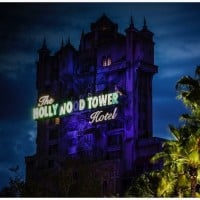 The Twilight Zone Tower of Terror, also known as Tower of Terror, is an accelerated drop tower dark ride located at Disney's Hollywood Studios, Tokyo DisneySea, Walt Disney Studios Park, and formerly located at Disney California Adventure Park. Except for the Tokyo DisneySea version, the attractions ...read more.
The name is obvious, and being a drop tower ride along with the imagery makes it that much more scary, in fact, it's too easy to chicken out of.
It only has a 40" minimum height requirement, but you might be better off chickening out if you're any hesitant, as it's pretty intense.
Definitely the scariest Disney ride anywhere.
Should be first
Mission: SPACE (Epcot)

Mission: Space is a centrifugal motion simulator thrill ride at Epcot in Walt Disney World Resort in Orlando, Florida.
The orange team has unimaginably intense and life-flashing forces that you'll never ever feel anywhere else (unless at the fairs or at NASA sims/rockets).
In fact, 2 people died from the health conditions, which might not seem like that big of a deal, though 194 people got hurt from 2005 to 2006, which is a record.
They constantly tell you it's a good idea to chicken out orange and go green, or head to the Advanced Training Lab.
They warn you and any health conditions (known and unknown) whatsoever will be seriously aggravated.
No other ride talks about the chicken exit like this one.
Mission Space is not the scariest ride at Disney World, it's just brutally intense, but not so out of control or filled with monsters.
Tower of Terror is all that.
Expedition Everest (Disney's Animal Kingdom)

The Yeti and backwards part tell you that it might be easy to chicken out of this one.
Plus, the minimum height requirement of 44" is rather misleading, as it's very intense.
It felt like you are going backwards (you are going backwards) doing loop de loops In the dark!
I was so scared on this ride.
Rock N' Roller Coaster Starring Aerosmith (Disney's Hollywood Studios)
I know this might stir up debate, but I put it below Everest because while this might be more intense and have inversions, you go forward the whole time and it has very good seating restraints (over the shoulder), so you feel very secure(and not backwards, meaning you won't feel like falling to hell).
The launch is incredibly intense (even though I haven't been on it yet, but statistics show), but at least it's a very short ride, and they give you the countdown(and also tell you to keep your head back).
However, Intense means you might wanna chicken out if you feel unsure of how you might handle the magnitude.
I rode this and I was shaking so badly when I got off...heck, I was only eight!
California Screamin' (Disneyland)
It's a very thrilling and intense roller coaster for Disney, and it has a launch, and it's the only ride at Disneyland California with an inversion, and you're bound to scream.
But since it's intense compared to all the other coasters there, you might wanna chicken out if you can't handle it.
Tron Lightcycle Power Run (Shanghai Disneyland)
It's a very intense roller coaster like CA Screamin' and Rock N' Roller Coaster, so if you don't like intense rides or roller coasters, then it's best to chicken out of this one.
Avatar Flight of Passage (Disney's Animal Kingdom)

It's the most magical ride of all time, but it's very realistic and immersive, and those who are afraid of heights might wanna chicken out.
There's a test vehicle outside the attraction, so you can try that first to see what you think, and if you're ready, then go ahead and ride, though again if you're afraid of heights, it would then be better to chicken out.
Space Mountain (Magic Kingdom, Disneyland, Disney Paris, Hong Kong Disneyland, Tokyo Disneyland)

Space Mountain is the name of a space-themed indoor roller coaster attraction located at five of the Magic Kingdom-style Disney Parks.
It's a roller coaster, and it's in the dark, so if you're afraid of riding roller coasters in the dark and have a fear of the unknown of what will happen and what you'll experience, then it might be best to chicken out.
Indiana Jones and the Temple of Peril (Disneyland Paris)
This is a roller coaster, and while it might not look big or have a very fast speed, it does have a loop, and it looks kinda spooky.
And if you don't feel comfortable with this ride, then you may chicken out.

Yet not to mention, it has the most restrictive height requirement of any Disney ride, at 55"
Journey to the Center of the Earth (Tokyo DisneySea)
Has a clone of the ETAC prop.
The Contenders
Raging Spirits (Tokyo Disneysea)
It's like Indiana Jones and the Temple of Peril, but it's a little different, and it has a height requirement of 46", but it is a roller coaster after all, and if you don't like roller coasters, then you might wanna chicken out.
Snow White's Scary Adventures (Magic Kingdom and Disneyland)
Dinosaur (Disney's Animal Kingdom)

BAdd New Item