Scariest Reality Game Shows
The Top Ten
1
Fear Factor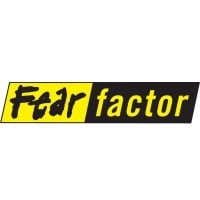 Fear Factor is an American stunt/dare game show that originally aired on NBC between 2001 and 2006. It was later revived by NBC in 2011, only to be cancelled again on May 13, 2012. After its second cancellation, a two-part special aired in July 2012. The show was revived a second time in 2017 to air ...read more.
My favorite stunt show as a kid!
Ah loved this
This game show is like a combination of Panic Button, Exit, and 101 ways to Leave a Game show! DON'T BE A CONTESTANT UNLESS YOU'RE A TOTAL DAREDEVIL!
That's right Fear Factor is the best show ever and I love how it grosses people out every time that they watch it I love that show its the best
2
Panic Button
What are you afraid of, Could you conquer your ultimate fear?
3
Total Blackout
It's like a combination of Panic Button and Exit, except it's in the dark!
Love this show but it's difficult to find out when it airs.
I actually want to be on this show, it's really great
4
Exit
All the rooms are so frightening, this you give you terrible nightmares!
The shredder creeps me out and I do not want to get frozen or be squeezed to deaf. also the orgin show dero says you lose you die. it happens on exit. however cool but totally terrifying a human nightmare
5
101 Ways to Leave a Game Show
This is supposed to be one of the Scariest game shows out there!
The conttestents are being crushed thrown off of and biten in this crazy death game show
6
Kitchen Nightmares
This isn't a game show. All it does is show Gordon Ramsay examining restaurants.
This game show was banned off of T.V. because it scared little children.
7
The Amazing Race

The Amazing Race is a reality television game show in which teams of two people race around the world in competition with other teams.
You never know what will happen inside the race, will you come first or last?
8
13: Fear Is Real
Waiting for someone to do something like this again... I never missed a second. Pioneer in a genre that I'm hoping to keep popping off some New Series. Sad though I've waited close to a decade & the closest I've seen was BBC's "I survived a Zombie Apocalypse ". I'm an American but had no problem watching it & even would love a sequel to this show : nowhere to go but up
I really liked this show. Wish they would bring it back.
9
Hellevator
This is basically Exit but cheesy at some parts - I love it. Only 8 episodes out that I know of but they're all terrifying and good. Takes place in like a maze of a warehouse with different scary real life themes (H. H. Holmes, etc.)
Not at all scary to watch, but the contestants are definitely terrified! It can be pretty hilarious.
B-movie horror the game show.

Everything oozes cheese and it's Delicious!
Great show not even scary I am 9😈
10
The Exit List
This game is mostly on memorizing things, it takes place in an underground creepy maze below.
The Contenders
11
Hell's Kitchen

I love this show! Gordon Ramsay, the chef in the show, just opened up a restaurant with the same name at Caesars palace in Vegas. I'm going to check it out on my next Vegas trip!
No it's the chef lol
He will shout at you.
They made a kids version.
This name sounds scary.
12 Trapped!
13
Wipeout

Wipeout is a game show that was cancelled in 2014 series in which contestants competed in what was billed as the "World's Largest" obstacle course.
This is on the list because it causes injuries during the obstacles.
This is the only one I've ever heard of...
14
Estate of Panic
This game show is in a creepy mansion and makes each contestant ask themselves, what would you do for money?
15 Survivor
16
Fight of the Living Dead
A competition series with horror overtones, FIGHT OF THE LIVING DEAD (FOTLD) is an unprecedented mash-up of the reality and scripted genres. The show will follow 8 top YouTube stars as they attempt to survive the first 24-hours of a highly simulated Zombie Apocalypse. The only prize is survival.
17 Unleash the Hounds
18 I Survived a Zombie Apocalypse
19 The Murder Game
20 Murder in Small Town X
21
Fetch! with Ruff Ruffman

Fetch! with Ruff Ruffman, sometimes shortened as Fetch!, is an American animated television series that was on PBS Kids.
22 Whodunnit?
23 Release the Hounds
24 Relic: Guardians of the Museum
25 The Challenge
BAdd New Item