Bring Me the Horizon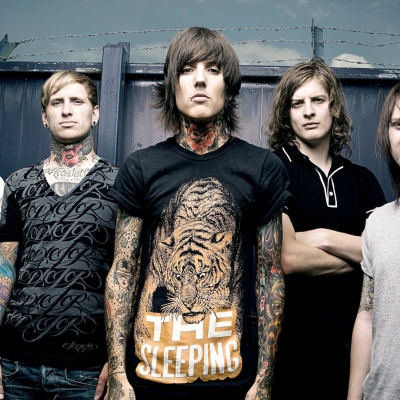 Uploaded by WhenWorldsCollide02
Info
Bring Me the Horizon is a British rock band from Sheffield, Yorkshire. Formed in 2004, the group currently consists of vocalist Oliver Sykes, guitarist Lee Malia, bassist Matt Kean, drummer Matt Nicholls, and keyboardist Jordan Fish. They are signed to RCA Records globally and Columbia Records exclusively ...
read more
.
Comments
Top
Popular
Newest
I love many bands on this list but under the top tens are a bunch of non screamo metalcore bands. Don't get me wrong I love most bands here but they are just not the genre. About BMTH... They are the BEST screamo band here in my opinion. I love these guys so much. I don't like their old stuff so much though but their new stuff is beautiful. They are amazingly poetic songwriters... Best lyrics I have ever seen on a song comes from BMTH songs. They have such beautiful compoisitons especially the song Suicide Season.. So beautiful and deep it will make you cry. AASnother beautiful song is Crucify Me and Don't Go. Those are the deepest and most beautiful songs I have ever heard in my life. Definintely best band here
Bring me the Horizon is the best band and they play the best music. It's impossible to explain how great they are and how much do I love them! I especially like It Never Ends, Suicide Season, Sleep with One Eye Open etc, I love all of their albums, Bring me the Horizon is just really awesome!
Something must be wrong here. Bring me the horizon is an all time known screamo band, same as asking alexandria, give these bands the respect they deserve. Bullet For My Valentine isn't truly considered screamo. Step up to the plate and take a second look at which band you vote for. BMTH is Forever in my heart and blood.
BMTH is the best metalcore band here so come on VOTE! It's the most unique metalcore ever! I've never heard as good band as Bring Me The Horizon. They should be 1st 'cause their rock! Bullet For My Valentine sounds generic
Original lyrics, original vocals. The vocals are so far off that it's just amazing, no other band can come close to these guys. Their newest album is the BEST and I don't understand why Bullet For My Valentine is on top.
This is the best band ever! I love Ollie Sykes and the rest of the crew! I can't believe they're at number four but I'd rather them be at number four than at number 10 you know? I just think they deserve number one for reals.
I love bullet and they are where they should be but I think bmth is the best and why the hell is devil wears prada #1? the suck big ones but yea this list is bogus vote for bmth or bullet - jahomey666
I ABSOLUTELY LOVE BRING ME THE HORIZON! FAVORITE BAND OF ALL TIME! CHELSEA SMILE OR I USED TO MAKE OUT WITH MEDUSA ALL THE WAY BROS! I can't EVEN EXPLAIN MY LOVE FOR THEM!

Bring Me The Horizon is one of the greatest bands I've ever listened to. The lyrics are amazing and the Oliver's vocals are breath taking.
How can you go wrong with Bring Me The Horizon I love all their albums except for "Their Is A Hell Believe Me I've Seen It, There Is A Heaven Let's Keep It A Secret."
it is simple... bring me the horizon is the best band ever, the sound, the scream... EVERYTHING, they are great... greetings from costa rica... - tuhetch
I listened to every last song by them, when I say this I mean it, I was on YouTube all last night listening to all there music, by far the BEST!
All their music is good, from This Is What The Edge Of Your Seat Was Made For to Sempiternal, just an amazing band overall!
I'm just in love with them, Oliver is so damn awesome, I love his voice and the whole thing, just incredible
When I first heard BMTH in 2005 I figured this band would go far and the have the count your blessings album was great, but I believe that Bring Me The Horizon has gotten even better with time, and rite now the sky is the limit for them
My favourite band ever. Their Sempiternal album was amazing
Come on! This is the best of every Metalcore band ever how are they not in?
Amazing, godly band. I think it should certainly be at the top of this list
Old albums were great new ones... not so much
Don't go, pray for plagues, and shadow moses is my favorite song eve
BMTH by far is my fave band... Don't go is an amazing song! (:
Bmth is the best band ever, I love all their songs like the sadness will never end and visions and don't go and much more, they should be number one on the list, and oli is the best screamer.
It's good to finally see this above asking Alexandria
This band.. Is amazing. Has done so much for me and Olis vocals are amazing. The music is great the screaming is amazing the drummer Matt is amazing Jordan Lee all of them... Are amazing. Just best band ever
I love this band they are awesome