Sexiest Korean Boy Band Members
The Top Ten
1
Kim Hyun Joong of SS501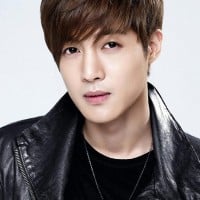 Kim Hyun-Joong is a South Korean entertainer, actor, singer, dancer, and the leader and main rapper of boyband SS501.
Can you say bringing "Sexy Back". Being "Sexy" has characteristics and certain qualities one must possess..."Loving" - Love others as you love yourself..."Appreciation" - Appreciate those who support you..."Devotion" - Devotion to the craft..."Charisma" - Charisma allows one to stand out and be different yet unique. Kim Hyun Joong has the "Sexy".
I love Hyun Jong since I saw him at Youtube. If only I could see him and other SS501 member perform again, I would scream until my voice disappear which I don't mind at all. Kim Hyun Jong is the hottest man I can find in SS501
Loved him ever since I first saw him in Boys Over Flowers and will always love and support him. He is very talented, has great personality and an amazing heart.
He is the most adorable and humble one of them all! Kim Hyun Joong is the most attractive Korean male ever in the kpop industry.
2
Yong-Hwa of CNBLUE
You can see how sexy he is by his "TATOO" performance through YHY'S sketch book. He wear shirts and tie and covered all his body but still he can be sexy by his voice and his passion for music and also he is cute, chic, humorous and gorgeous. There are countless charms he has. He is the best.
He's so sexy boy. I love him so much... He is very talented and succesful.
He is the leader of CN BLUE. He is a very good actor in South Korea.
5 years ago he was husband of Seohyun from Girls Genaration in 'WGM'(we got married). He is very cute with Seohyun. I love them. I love the couple very much. I love Jung Yong Hwa.
He's super cute, I love him so much! He's very talented especially with the guitar. He is the leader of CNBLUE; a boy band which has 4 members; Yong-Hwa, MInhyuk, Jonghyun & Jungshin. He's a very good actor, he plays the main character in Heartstrings & You're Beautiful; honestly those two dramas are magnificent. He was the husband of Seohyun from SNSD in "We Got Married". HE'S JUST PERFECT <3 Saraghae Yong-Hwa Oppa ~ ♥
His fame is now getting wider and wider. #1 in many many top list. His talented is undenyable. You will soon attack the world music lovers, Yong Hwa. Please come to vn so that I can listen to your live performence.
3
Siwon of Super Junior
He is handsome and has a good-looking body. Also he looks so friendly.
Siwon is super duper cool. He's my 1 crush from k pop bands
He is not only handsome but humble and nice!
Best body with best face
4
G Dragon of Big Bang
Handsome, Lovely voice, Great dancer, Talented Composer, Unique sense of fashion.. Anything else to make him the sexiest boy band member?
He is awesome in everything. Not just in band, in all Korean boys. His style, the way he move, talk, smile, he is so hot...
No kpop idol can be as good as g dragon. I mean even Paris hilton loves him! He's worldwide! He rule the kpop world!
G dragon have like magic or something he's very lovely guy in big bang and all Korean boys
5
Junghyun of Shinee
His jawline, body and voice are all amazing. What's not to like about Jonghyun? He is a masterpiece.
The handsome boy in super junior he have a great voice and beaty face
He is cute! Then he opens his mouth... And... Oh boy...
His voice and looks are pure perfection
6
T.O.P of Big Bang
He doesn't need this to be admitted as the hottest kpop idol. He proved it. He is won sexiest man in 2013 and he beat harry styles and Justin Bieber whatsoever. He is perfect. This means nothing for him.
His image is hot and sexy! But he really is clumsy and cute! Yet he can hide the clumsy and cute for photo shoots and music videos!
Such an inspirational idol with many attractive features
Shut up! People on all over the world know he is the sexiest!
7
Minho of Shinee
So sexy of all times, and also so damn cute! He's one of my favourites! Love him!
He is so sexy and also has a sweet smile!
He is super hot and sexy
So sexy and athletic
8
Teacyon of 2pm
Have a graet body with a powerful dance and funny person and he's fantastic rapper
No one can top his body, hence his sexiness
He is so.. Hot... Hehe
OF COURSE HIM.. Sexy is taecyeon, I think all 2PM have sexy body and personality..
9
Donghae of Super Junior

Lee Dong-hae, referred to as Donghae, is a South Korean singer, songwriter, composer and actor. He was trainee at SM Entertainment after winning a prize at SM's Youth Best Contest in 2001. After four years of training, Donghae debuted as a member of boy group Super Junior in November 2005.
Very handsome boy have a great and lovely smile and voice very cute boy donghae
If your heart you're intrigued him.
He very cool cute and handsome
Donghae is the best
10
Lay of Exo

Zhang Yixing, better known as Lay, is a Chinese singer-songwriter, record producer, author, dancer, and actor.
His lips are so addicting and his so flexible body when he is dancin'.. damn, he is just HOT and amongvthe amasing member cause he can dance, and he sing too!
He is so HOT and SO Amazing especially when he dance
Who said I think kris was sexier than lay.
I just wanna kiss those lips
The Contenders
11
Wooyoung of 2PM
He s so sexy and cute
12
Kim Kyu-jong of SS501
He is very kind, gentle and care towards his team members god bless him in all the ways
I love Kim kyu jong and he is so cute and best voice
I love him so much very cute and kind...
Hz vry vry Hndsme hz styl, vce is awesome, his the most sexiest boy n good looking
13
Lu Han of Exo-M
Luhan is so sexy, cute and handsome. He is the best.
Lu Han is sexy in his on way...
Lulu is the manliest of men
I love to see him onstage
14
Kai of Exo
Kai is really sexy! Especially when he dances, he's just oozing with charisma and power which is completely different from his off stage personality. And his expression during photoshoot, like oh god. Plus he has a really good body, in my opinion. Kai is definitely one of the most talented, sexiest, and hottest guy I've ever seen in my life.
Kai is the hottest kpop idol ever and best dancer he's the reason I love kpop EXO fighting!
Oh my god. I just love him, the way he dance is just so amazing.
He has such beautiful skin and is dancing is god-like
15
L of Infinite
He's super I love him very very much totally I love all the members of infinite besides sungjong!
Omoo, l oppa I'm a big fans of you. He is so Hot and Cute. I will not forget your sexy body oppa
I love Kai oppa body. Its look so fabulous. His sixpack making me want to hug you.
Just because of him I love infinite
16
Daehyun of B.A.P
An angelic face with one of the best kpop voices. He is the Busan Prince and no one can take him down :)) Busan Prince is the Best! That's why he is a part of B.A. P BEST. APSOLUTE. PERFECT FIGHTING
17
Taeyang of Big Bang
Any one that has really looked at Taeyang knows he deserves to be way higher on this list. I mean he dances, sings, has rock hard abs and did I mentioned dances.
He very handsome I love him
I love it when he dances and his face is just OMGE!
Honestly BB are the sexiest boyband out there not just in Korea but Taeyang takes the spot as the sexiest of them all and I'm not even Asian I'm from Europe
18
AJ of U-kiss
Sexy boy also very cute and lovely spciele in there song "doradora"
19
Park Jung-min of SS501

Park jung min is very cute, he is my favourite singer in the world, I love him so much. I like his attractive voice. Well done jung min
What a voice he has, its really amazing and he is funny too towards baby
I like all ss501 members. The funniest jungminnie
Park Jung min is sooo cute he is my favourate singer and the voice of park Jung min is ossam
20
Jun Hyung of Beast
Sexy rapper! His tattoos are amazing on him
21
Lee Minhyuk of BTOB
He is very talented such as singer, rapper, dancer and he is cute, handsome and very athlete actually he always get a GOLD medal. that's LEE MIN HYUK "SQUIRREL" of BORN TO BEAT from CUBE ENTERTAINMENT.
22
Onew of Shinee

Definitely charismatic en beautiful. the more you look at him, the more you fall for him. sexy lips and beautiful smile. can be cute en sexy en so funny and smart by the way.
23
Yesung of Super Junior

Kim Jong-hoon better known by his stage name Yesung, is a South Korean singer and actor. He is a member of the South Korean boy band Super Junior and its subgroups Super Junior-K.R.Y., Super Junior-H and S.M. The Ballad.
This excellent main vocalist Yesung!
24
Kim Taehyung of BTS
His duality is just WOW should be top 10. He's one of my bias wreckers. My bias is Jungkook.
I love bts (suga is my bias) but he has that special bias wrecker touch to him
Well he's the sexiest piece of crap ever
Most amazing person ever!
25
Jaejoong of JYJ

Kim Jae-joong, also known as Jaejoong is a Korean singer, actor, songwriter, actor, designer and director.
Who can be sexier than Jaejoong? Seriously just look at those lips, eyes, voice, body! Definitely the sexiest man alive.
Just look at him you can find out self...
He is very sexy...
He is the most handsome and sexiest
He is the most sexy man
PSearch List