Bill Kaulitz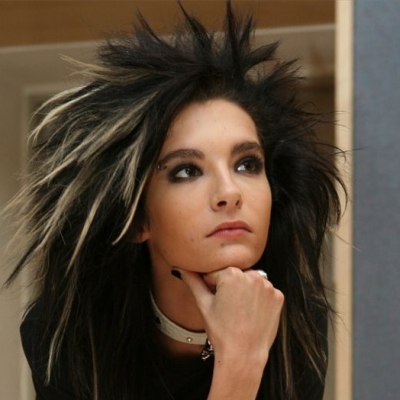 Found on fanpop.com
Info
Bill Kaulitz-Trümper, sometimes using the pseudonym Billy, is a German singer-songwriter born on September 1, 1989, best known for being the frontman, lead singer and writer of multi-platinum winning pop rock band Tokio Hotel. During the time his band was most popular in Germany, which was in the mid-to-late ...
read more
.
Comments
Top
Popular
Newest
Bill Kaulitz is the kindest, most genuine person I can think of. Even though I've only met him once in person I just know that Bill has the biggest heart and an adoring smile and he's not snobby about anything. Especially when it comes to his success and looks. His eyes are golden brown, sincere and mesmerizing, you just melt looking into them and his voice is so soothing you can't get enough of it no matter what he's babbling on about. He keeps fit and slender but not too much and is always dressing to impress. His fashion sense is exceptional. It's always changing and keeps you on your toes. It's obvious he cares about his appearance and health. But the most intriguing thing about Bill to me is his ability to balance between masculine and feminine so flawlessly.

He can pretty much do anything to himself and look absolutely phenomenal. I think that Bill deserves to be number one because all together he's the guy I'd want as a role model for the next generation of my family. ...more
Amazing Singer, Amazing eyes, Amazing face, Amazing Body, Amazing Styl, Amazing Heartbreaker... Bill Kaulitz Sexiest Men in the world :):) For ever and almost always! Tokio Hotel and Bill Kaulitz for ever
Bill kaulitz is an amazing guy! His perfect! He looks good and now his body is so hot that is packed with loads of muscles! I'm a big fan of tokio hotel since I was in elementary and now I'm in high school and I still love this guy very much! He have changed a lot for the past couple of years.. I know people know for being femine and all, but now damn! His totally hot, his working out and his hair have changed its not lions Maine any more its more like a guy hair cut (if you know what I mean). Every time I see bills photo I always wish I was his girlfriend because his perfect! Perfect smile, perfect eyes, perfect body, and so much more! TOKIO HOTEL ROCKEN MIEN GESICHT AB!
He looks like porcelain doll. No flaws, only light image of a rock angel. He is amazing, pure and sexy. Every girl wants to hug and kiss such a lovely boy. He changed my live, my world outlook. He is just a sort of fetish, unique religion
Just one glance from Bill Kaulitz is enough to make every girl keel over. This German music prodigy deserves to be on top because he rocks the androgynous look. He is romantic, believes in true love, faithful, and would love a girl with a beautiful soul rather than face.
The best man ever!... He's so romantic and funny, an example for all of us, he lives his life every second!... The sweetest guy in the world. His songs are the most perfect example of my life... I identify with all them.. I just can say that Bill Kaulitz is the perfect man in the world, is the guy that every girl wants to have, the man that we can find anywhere, and the best singer ever!
Bill Kaulitz is very sexy men)) Not only that, he sings beautifully, because he is a very stylishly dressed. Apparel emphasizes its shape. And he has such a cool make-up, which any girl would envy. Bill is always changing, always for the better))
My favorite is Bill because we are fan of Tokio Hotel for 8 year and Bill has an amazing personality and look I have ever seen. I think he is most handsome man, I can't explain with words and he believe in true love and this is absolutely make him more sexy man than other boys! Okay?
He is the most amazing man in the world, his eyes are incredably perfect and as you said hypnotizing. You can see how kind and lovely he is in his eyes and the most amazing thing about him is how long he waited for the right girl. He is really different from other guy and the thing that made him different is believeing in true love. I think that he's an angel and I adore him.
He is very hot, handsome&cute.. I love him because he change my life to better.. I don't know what I must say for him.. He is perfect&he deserves to be in 10sexiest men in the world.. He has many fans from all over the world who love him also&I'm sure that they will vote for Bill.. BILL WE LOVE YOU! GOOD LUCK BABY!
Bill Kaulitz has a wonderful face; and the sexiest physical appearance I ever seen. He had an amazing evolution physically speaking, and it's not the end... I can add his voice.. An incredible voice, taking us in another world, totally parallel and personal world which only some can affect.
I just can't find the right words to describe this amazing guy... I've always thought that he's the perfection.. That God couldn't create physically a most beautiful person than him.. And temperamentally I don't know him, but I'm his fan since 2007 and I can say that he's V.V. sweet, adorable.. He's the perfect man.. He's everything a woman wants from a man... There are a lot of good things to say about Bill Kaulitz <3 but now I don't enough time... VOTE 4 BILL 'CAUSE HE DESERVES IT!
Bill Kaulitz is the most attractive man I have ever seen. Every woman will love him from the first sight. Even though he is very famous in the world, he never had an celebrity sick. He has got great soul. Also he has an angel voice. He is just an angel that God gave us.
Bill Kaulitz is just beyond the definition of perfection. He is completely gorgeous, and so charismatic! He has got such a big heart, and cares irrevocably about his fans! Not to mention, he has the most PERFECT smile ever! Its like pure gold! Bill and Tokio Hotel is forever in my heart!
Of course he is the sexiest man alive *O*
jut like his brother;) they are both awesome
hot lips, beautiful eyes, amazing body=Kaulitz
He is always sexy... No matter the hair, and that what is he wear... And when he is smile.. I need to smile too. He is so human and not the star... Their songs are so hones and I always found the perfect song to my mode, and I need to say thank you for this.
Bill is equaled to perfection by FAR. He's more gotten than all of 1D COMBINED. He's such an amazing man and Aliens just love him to death. There is no one better that could have been the lead singer of Tokio Hotel all these years.
Ohh, I can say that the beauty of Bill Kaulitz drives me crazy! He is so perfect. I adore him. But I adore him not only for his gorgeous appearance. I adore him because he is very talented singer and an unusual person.
He is an amazing singer, that's one thing. The other is, that he looks like the most perfect doll ever made. He's just too beautiful to be true.
Bill is everything for me.. He changes my life.. If I had the change to say something to him it will be a huge thanks! Love you Bill.. :* Good luck!
Amazing guy who isn't apologetic about being himself, a voice that penetrates with lyrics that touch the soul. Oh! And looks that make you die too!
If you search Beautiful on the dictionary I'm 100% sure that you will find BILL KAULITZ I don't even have words to explain how gorgeous is... His eyes, smile, body each part of his body is pure Perfection...
He has the most perfect smile, perfect body, perfect face, perfect voice... And a lot of perfect things too. But beside them, he has a great personality. Bill is an angel, or maybe better than an angel.
He's getting prettier and prettier while time passes. His face is perfect, awesome, in fact. He is tall, thin, elegant and sexy. No words to describe him completely. BEAUTY is poor to define him.
Bill Kaulitz.. Buah, he is totally perfect. He is model, vocalist, he used his voice for Arthur. Oh my god, I really love this men, he makes my days when smile, his face is.. So natural and beautiful, no one have a same. He is unique, and I love him for diverse things, his voice, his eyes, his mouth, his personality, all of him. He has got everything a girl wants, he is someone dificult to find. I love him.
Tokio Hotel, they are the best. And Bill Kaulitz, is the sexiest man in the world!