Christian Kane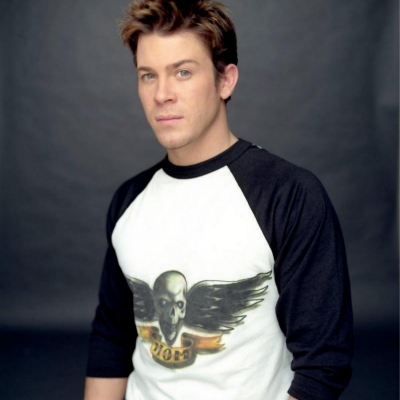 Uploaded by D37
Info
Christian Kane is an American actor and singer-songwriter. He is known for his roles in the television shows Angel, Leverage, The Librarians and Into the West, and the movies Just Married, "Taxi" and Secondhand Lions.
Comments
Top
Popular
Newest
From his luscious chestnut flowing locks to his boy next door smile, Christian Kane is sexy on two legs! But he's not only sexy in the physical sense of the word but also the emotional. You can hear it in his voice when he sings, when he talks to his fans one on one, and when he talks about the love he has for his fans. Fans, Kaniacs, that do anything they can to get the world to notice this amazing talent! He is not only an amazing and talented singer/songwriter, but awesome actor as well!
This man has such a voice. A growly combination of whiskey, honey, and sex, is the best description I can give. It's got to heard to be believed. If you don't fall in love with his homegrown, soulful, heartfelt sound, there's something wrong. Singer, musician, songwriter, he's got it all! Not to mention the man can cook a steak, choreograph a fight scene, and make you laugh or break your heart with his words and just the gorgeous expressions on his face when he works as an actor. The total package and the real thing!
Can this guy ever get it wrong? The answer simply is no. He is an amazingly talented singer/song writer and the amount oh hits on YouTube his songs get, just prove this. The lyrics are heartfelt, endearing, while the man himself is humble, down to earth and genuinely a nice guy. I just wish he'd gets some of those YouTube songs on to a cd? "House Rules" is his second album and is already a major hit and I am sure he has so much more to give this world. The fact he is just damn sexy with it, well... Be still my heart
Christian Kane is the most awesome, multi-talented, sexy actor/singer in the world! He is humble about himself and he LOVES his fans the KANIACS! We choose to support him in anyway we can because of his sensational attitude on life! It doesn't matter what he chooses to do..we will always be behind him 110%! His eyes, lips, behind, thighs, biceps...well the whole package is hotter than hell!
Christian Kane is the epitome of a sexy man! Dressed down, dressed up, in cowboy gear...whatever...he oozes with hotness! Just look at his eyes or his smile, and you will melt! Humble and handsome and oozing with masculine wiles...who could resist?
Super sexy voice, deep eyes you can drown in, very kissable lips, perfect body, great actor, a true hero reference the song "Mary Can You Come Outside" saved her life and didn't ask for a thing HERO
This man knows country...he is exactly what I miss about the way it used to be and the fact that he writes his own lyrics makes him one of the best. Really wish he'd come around to my neck of the woods so I can see him live!
Christian Kane is an amazing singer/actor. His voice sounds like good whiskey tastes. I listen to him daily and no matter your mood, there is always a Christian Kane song to fit it.
Christian Kane the sexiest man alive -- don't forget to vote for him in the "sexiest man" and "Hottest man" catagories as well -- CK is a great musician, he writes many of his own songs -- the best ones -- he sings with a voice that can melt the polar ice caps, great actor, he is more than a handsome face and near perfect body, it is not just his body, face and features that make him the sexiest man alive, it is also his personality. He is really very sweet and humble a truly great man, just watch after his shows he always thanks his audiance, he knows without the fans he has nothing and acknowledges us each time he puts on a show and he always gives us his all.
I first saw Christian on Leverage and I was blown away! I thought this man can really act and when I found out he can sing only made me love him more I mean is there anything this man can't do? He's sexy as hell and he has an amazing voice! I also love the way he loves and cares about his fans you don't get that with every celebrity out there!
This man's voice would melt an igloo. A sexy singer/songwriter with gorgeous piercing blue eyes.
He can sing anything. His songs are from his soul and you can hear all the emotion when singing his songs and lyrics! His voice is soothing and amazing! Really sexy! He loves his fans very much and does more for us than most! He's a great actor as well!
He is amazing in everything he does, his acting and singing, he has such a beautiful voice that makes you feel all emotions especially in his singing, he can look at you with those beautiful eyes and you no exactly what he is feeling without saying a word and a smile that makes you melt. He has a heart of gold and loves his kaniac fans nearly as much as we love him
This man is incredible! No matter what sort of foul mood I may be in, his music reaches down to the pit of my soul and before I know it, I am smiling, laughing, singing and dancing once again! Handsome, talented, charming--he is all that and more!
Not only an incredible singer, but a fantastic songwriter as well! And those eyes will just melt your soul!
What can I say that no other Kaniac hasn't said? Those eyes are deep & mesmerizing. Those kissable lips that look like they could do a lot of great things. Very sexy & talented. Plus he can cook! Who wouldn't want that for themselves?
Holy cow..who else could be number one? Christian Kane's voice will melt the socks off of you! Combine that with his handsome, rugged, down-home looks and you have one hot, sexy guy!
Just watching the passion he puts into his music and performances. Christian Kane will always be #1 with me. He is an incredible singer, songwriter, perfomer, actor, cook and just a down home country boy...all wrapped up in one sexy, blue eyed man.
Christian Kane is a very awesome very talented man no one like no other like him in my book very sweet kind person beautiful eyes beautiful smile I love his voice and acting he will always get my vote I've never had the pleaser to meet him but would love to one day
Truly talented singer, song-writer. I play his music almost everyday at some time. Watching him in concert is amazing. Energy, passion and sex appeal galore!
I think Christian Kane is not only sexy but an outstanding musician
And actor. I have been following him on Leverage, in movies and
Following the great sounds of his western band.
Christian Kane is sexy! But he's also talented. Struttin around a stage singing his heart out, with the crowd right with him, or singin in his movies or T.V. shows, you can't miss all this man has to offer! - kbyarb
I love Christian Kane! He is very sexy! Like, he has gorgeous eyes, he sings like an angel, he acts like an angel, he has an amazing smile, he has a perfect face, perfect body, and pretty much a perfect everything! Who could not love CK?
His deep rich voice that can melt an iceburg is enough to land him in the no. One spot every time. Add to that his rugged good looks, kind and generous nature and humility there is no stopping him.
Christian Kane is the sexiest country singer. He doesn't get credit for what he does. He shows a lot of expression when he sings. He is an amazing talent that can do anything. His voice make you melt.