Fruits Basket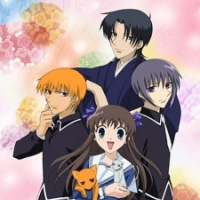 Found on cdn-dena.com
Info
After the accident in which she lost her mother, 16-year-old Tooru moves in with her grandfather, but due to his home being renovated, is unable to continue living with him. Claiming she will find someone to stay with but also fearing the criticism of her family and not wanting to burden any of her ...
read more
.
Comments
Top
Popular
Newest
I'm really sad that this isn't in the top ten anymore... I hope it goes back up! Words cannot express my love for this manga. The story is incomparable and the artwork just gets better and better (and better). I love ALL of the characters, I mean what can I say the author is a masterful writer and storyteller and made sure to develop each and every person's story, and made sure that they all had a real role in the story as well. The author made me fall in love with all of the characters and I think that's what she wanted to accomplish. Heck, I even love that little turd Hiro (and his super epic middle school relationship made me go aww! ) to everyone who isn't a fan of shoujo, read this. You will never want to leave the Sohma family behind.
I have read this story at least 7 times and never get tired of it. I plan to read it to my child when they are a little older. The anime was terrible in my opinion and had a lame excuse for an ending, also made the main character out to be completely stupid when Tohru's nature is to be kind-hearted and give you a sense of security. She isn't perfect, nor the smartest, sexiest or strongest character which is what I love about her, she is just average with a big heart even with all that she has been through. She has been bullied, lost a loved one, shamed by her relatives but yet keeps choosing to move forward with her head held high. I will always recommend this manga.
Where do I begin? Fruits Basket is that Manga EVERY Manga fan has heard of. Even if some have no idea what it is, they've heard the name. (And no I don't mean the game)
Leading character, Tohru Honda is a role model to all readers. She loves the good of a person and accepts the bad.
Each character is unique, mixing together to make a sweet, sad and funny Manga which changes people's lives. And that is why Fruits Basket makes 2nd place.
It's a romance with a really nice twist. The characters are pretty much all likeable despite their flaws. It's got drama and really explores the emotions of the characters and why they are feeling the way they do. It's got some great plot twists and it will leave you laughing on one page and crying the next! Basically it's not the kind of manga you forget easily and it's got everything a shoujo should have and more!
Oh my God, I love fruits basket so much it has always been my number one! I love how much you get to know each character and fall in love with them. I was always a huge fan of Kyo. For some reason I felt I could relate to him. I think that him and Tohru make the best couple ever. I love how the story could make you smile, laugh, cry, get pissed off. It brings out so many emotions. Once I finished the anime I went straight to the manga and I have every chapter saved to my phone, I refuse to delete it. I recommend it. It really is truly amazing.
This series is amazing, it has comedy, romance and drama and also, this series keeps me going in life. not to mention that Tohru Honda is a great role model in the series and I hope to be just like her, she kind to everyone no matter who they are and always help everyone in need and cheer them up. Also the romance is very cute and the rest of the characters match their zodiac personality so well, especially with Kyo and Yuki
I found that both the anime and the manga were brilliantly put together, I liked how the character development was gradual and the whole concept of humans turning into the Chinese zodiac is quite funny. The optimistic, air-headed Tohru was great and the way she helped the 2 boys with they struggles was touching enough for this anime. Even with these moments the anime was very humorous
This manga is where it all began for me and it still is considered my all time favourite. The plot, characters and themes portrayed in this manga are absolutely incredible. Anything bad about this one? Absolutely nothing. Honestly, I have read it about 7 times and it is still a gem to be read.
This may have not been the first manga I fell in love with but it definitely will always be a favorite. It not only walks you through a journey but there are instances of wisdom and sweetness that melts you to the core. It's just relatable and plus the characters are pretty... pretty
This manga is so classic. Anyone who's ever been into shoujo manga has read this. It's such an amazing story with unbelievably great characters. One of the best parts of reading this manga is watching how much Natsuki Takaya's art changed and improved. I will always have a deep love for Fruits Basket. It's seriously just a beautiful manga all around.

If you haven't finished this manga, or haven't read it at all, get on it! The story gets better and better with each chapter.

Also, the anime is awful. I had to throw that out there. I have no idea why so many people love it.
It's one of the most profound manga I have ever read. The emotions are so raw and people just can relate to the characters. Also the artwork improves over the time, becoming more polished and beautiful. Read this manga and it shall stay in your mind forever.
Fruits Basket is by far the best manga I have ever read. Not only does it have an engaging and original plot, but there is so much humor, I can't help but feel giddy at the end of each chapter. It's funny, endearing, and not super cheesy in the love confession part.
Fruits basket is AWESOME! It's the best manga ever! It's also the first manga I ever read and I really love the romance and their life stories! It's a VERY emotional manga because it made me cry at sad parts and laugh at fun parts, smile and cry at happy moments!
My love for this manga in unbearable. It made me cry out of happiness and sadness and laugh like a maniac It is exceedingly creative, with a plot like no other, unique characters and surprising relationships.
This is where it began for me (7 years ago) and it never left me. It is sad, funny, touching and filled with heart, no other shoujo manga has moved me so deeply. All time favorite and that will never change.
This IS AND WAS THE NUMBER 1 MANGA! WHO DOES NOT LOVE THIS MANGA! I mean COME ON! THIS SHOUJO IS WHAT MADE SHOUJO POPULAR! It makes me cry every time I read it! This belongs either number 1 or 2! (back in 2004 people were saying that there will be another story in 5 years that will blow people away like fruits basket, I belive that ouran is that manga/anime! )
This was the best manga I have EVER read even to my standards today, as I have read many mangas to date. It has not been overshaddowed, in my opinion, by so called "epics" such as Naruto or One Piece. Full of emotion, drama, humour and romance, the characters have it ALL! I rate this number one, as it should be :D
Kyo is so awesome. He is like one of my favourite shoujo characters. No character can beat Uchiha Sasuke though. He is the best in the world of anime and manga.
I love this manga! It was the first manga book I had ever gotten ans I instantly un fell in love with it. I also loved the love triangle between tohru yuki and kyo, though I loved the tohruxkyo pairing a lot and kept hoping for them to end up together. I absolutely love tohru for she is kind, caring and accepting to everyone no matter what they have done. This is one of the best mangas I have ever read and I will love it for the rest of my life!
This plays with my emotions and Tohru is the perfect girl and the story is just so interesting. I love this manga and always will.
LOVE LOVE LOVE LOVE. Best manga ever. The more the read the better it got. I've read it over 10 times now and it's my ultimate favorite.
I am not a fan of the drawings in the manga but I would always recommend the anime in at least the top 5
I love this manga! The characters help me relate it to my life, and the romance is so adorable!
Unique, sweet and very cute to watch.
I love the way this manga gives me a mixture of emotions and stirs up my heart... ;3