Skip Beat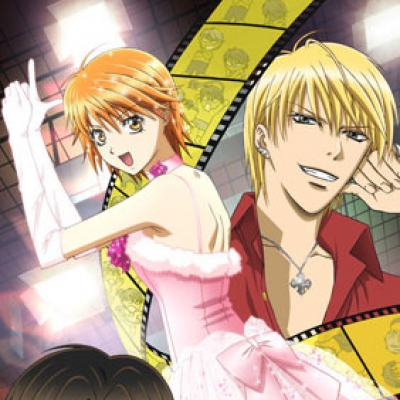 Uploaded by ToukaKirishima
Comments
Top
Popular
Newest
If sheer awesomeness was a genre, Skip Beat would so come under it. It's got everything a great shoujo manga should have, lovable characters, laugh out loud humor, beautiful art, the occasional tearjerker, and just pure fun. You just can't help but cheer on Kyoko! She's a unique heroine, one who doesn't always just wait around for her knight to rescue her. Ren too isn' t your typical prince. I'd really like to thank the mangaka for creating such an epic work! If you haven't read skip beat yet, you're missing out. Its a manga that gets progressively better so don't let go of it!
First off, Skip Beat shows Yoshiki-sensei's style in drawing. It's rather different to a point that some of my friends don't like the drawing but hey, it's still very good. And when an exceptional quite unique style of drawing couples with a unique refreshing plot that has almost all dose of genre and amazing characters that people can relate with one way or another, Skip Beat is really one of my all time favorite manga after 8 years of reading manga and counting. It's really recommended.

Also, while the story ships Ren and Kyoko, I don't know people can hate me and all and maybe I do have first love attachments, because ShouxKyoko also have so much feels. I love you Yoshiki Nakamura sensei!
Well, skip beat taught me acting is not merely an acting at all. It expands my knowledge about the world of acting. Every chapter is thrilling because you never know when you will laugh until your stomach hurts, moved until your tears will come out, dumbfounded until you come back to your senses, and many more. All the crazy expressions of the characters were really funny. Once you finish the latest update, you will crave for more or repeat the chapter all over again. This manga won't let you down
This is so far the very best shoujo manga I've ever read. When I first picked it up, I didn't think I would be as into it as I got. But the main plot is so compelling and the story arcs are interesting, not to mention that the characters are truly amazing and just wonderfully complex. I also love that there is a supernatural element to the story, but it's not a main focus. Kyoko is by far my favorite, but Lori the president of LME is just so outrageous, funny and eccentric. The character interactions can be truly painful or fantastically satisfying. This is just a really, really good series. Please read and fall in love!
Skip Beat is my favourite manga of all time and Ren and Kyoko are my favourite couple ever. This isn't a romance, but a story about a girl trying to discover her true identity, it's comical, tear-jerking and super duper brilliantly written. Of course, the romance is woven in here, but due to Kyoko's almost traumatising heartbreak at the beginning and Ren's own dark past, it comes slowly and surely.
Although I love other mangas like Maid Sama and Ouran, Skip Beat stands out.

It has a main female character, who is beyond a doubt the strongest, most terrifying and funniest girl I've ever read about. The plot is amazing. The mystery of Ren/Kuon is driving me crazy. And the refreshing fact that Kyoko is averse to love keeps me on my heels the whole time (WHY CAN'T YOU REALIZE YOUR FEELING ALREADY? )

It deserves to be first.
Of course I just simply love this! For me this is my 3rd in rank after Gakuen Alice. Its humor is really one of the best but the one thing I like is Kyoko's hidden talent in acting. I just can't help but be amazed on how good she is from the very start. Although she still have lots to improve but that's because she had built a trauma after her first love had failed her and that also goes for Ren with a different reason though.
Skip beat is very intense! I have not seen or read anything like it.. The romance is slow, which makes me impatient; however, it's worth the wait when you finally see spark fly between the main chars.

Ren x kyoko are the best anime couple!
It's hilarious and up beat but can make you cry. I love manga like that. At first though, I wasn't sure about Kyoko but overtime she became such a lovable cute character! Skip Beat is one of a kind and too wonderful for words!
I like that the romance in this book is 1. Not the main plot and 2. Slow moving. I like that it takes 25 volumes for a kiss on cheek. It gives you just enough to stay interested and so little that you feel constantly hungry for more. Perfect in every way.
I actually had this manga that I checked out at the library at school. It really interesting. Never read much manga although I loved anime! The only entire manga I read was Kingdom Hearts. I was a fan of the game.
Kyoko is just amazing, she is strong and develops a lot and has determination. She always amazes me with what she does each chapter. The plot is original and unique and you never get bored with the story. Skip beat is a must read!
Skip Beat is hilarious! It has a great storyline and really REALLY interesting characters. The art isn't my favorite, but it's definitely not bad either. It was my first manga and I really loved it. I still reread it sometimes.
I have been reading skip beat for a long time and I find it very different from every other manga I know. Kyoko is a girl that you won't find in any manga, she has to learn how to love and grow up in the show biz, but I find her talent so amazing.
Ren is also really intriguing, and I can't help myself waiting for the next chapter. I just love this manga
Best manga of all time, I've read heaps of different ones but this one is a sure stand out!
I can read this over and over! I laugh like crazy at her antics, I sometimes cry, I'm sometimes shocked. I LOVE this manga! It's one of the few that I eagerly wait for a new release.
I think this is the best shoujo manga I've read! Everything about this manga makes you fall in love with the characters, with the story, and with the mangaka! You won't find a victimised female protagonist looking for a male's protection; instead you'll see an independent girl finding her own path. You can't help but cheer her on! And the romance is just wow! It's not very out there, but it's the sweetest and awesomest there is! Moreover, Ren is just super hot! Definite read!
The first manga that makes me willingly wait every month only for the next 30pages... Truly an amazing manga :) Not too focused about love story and has it own pace... Lovely!
The character actually shows a dark evil side instead of being portrayed as a perfect princess
Absolutely amazing! Kyouko is so cute but becomes a badass when in a role. The characters are awesome, the art is quite good as well so is the humor.
It's just awesome! First of all it has the weirdest shoujo protaginist of all times. Kyoko's mind definitely works different from other people's. And there's Ren, that falls in love with her despite her being like that but not doing anything because of his secret dark past... My favorite manga!
It's made me laugh, it's made me cry. It's made my heart stop and made it beat faster than I thought possible. If you haven't read it, GO READ IT NOW!
You have to watch skip beat! The girl does whatever it takes to get her revenge on the guy who broke her heart, and even gets crushed over!
Great story! Interesting female lead, it is made even greater with male lead Ren's story that is really moving!
Although I haven't finish the manga yet, but I was impressed with its anime adaptation.
In the end I started it over again.
THUMBS UP!