Top 10 Best Shows for Preschool Age Children
The Top Ten
1
Bear in the Big Blue House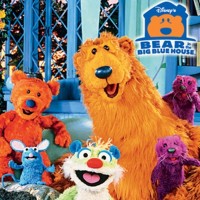 Bear in the Big Blue House was a preschool variety show which was the most famous, popular, and fondly-remembered Playhouse Disney show, produced by the Jim Henson Company. The host, the titular Bear (Noel MacNeal) used his gentle charm and mannerisms to communicate with his audience of children. Topics ...read more.
Bear was much better than Barney and I follow Noel MacNeal on Instagram. He was the one who performed and voiced him. He was told to use his natural voice for Bear
Guys just to let you know that most of these shows (including this one) were my childhood. But I now hate it. What's to like about a huge bear running around a house with other random animals. I've seen this show before after outgrowing it and I can't stand it. And if you are telling me that I ruined your childhood, I don't care.
The show was canceled because the real creator died
I feel memories now
2
Blue's Clues

Blue's Clues is an American children's television series that premiered on Nickelodeon in 1996. Producers Angela Santomero, Todd Kessler, and Traci Paige Johnson combined concepts from child development and early-childhood education with innovative animation and production techniques that helped their ...read more.
I loved this growing up, used to have blue clues bed and pillow and blue clues dog on my bed as a pillow I think
This was my favorite show as a kid, I loved blue clues and stuff, I used to have blue clues blankets, pillows, and sheats on my bed as well, I remember watching this as a kid, I used to also enjoy when my grandma read me blue clues books
I loved this show! It's creative and funny. I especially loved, "Mail Time! "
My child hood
3
Arthur

Arthur is a Canadian/American animated educational television series for children, created by Cookie Jar Group and WGBH for PBS.
Old Arthur and new sucks. Who likes a show about a few kids going on with a normal life. Plus the lessons are too real it's frightening. They are 3rd graders but they talk about due assignments, getting grades up, and more. Plus they walk around town by themselves. They act like teens and they are only 8.
Arthur is the bomb
I will not watch WordWorld I will watch this baby show
4
Between the Lions

Between the Lions is an American children's television series designed to promote reading. The show was a co-production between WGBH in Boston and Sirius Thinking, Ltd., in New York City, in association with Mississippi Public Broadcasting, in Mississippi.
This show is really creepy. How did I watch it as a kid. I even heard a Creepypasta on it before.
It was a good program, especially the parts of Cliffhanger
5
Sesame Street

Sesame Street is a long-running American children's television series, produced by Sesame Workshop and created by Joan Ganz Cooney and Lloyd Morrisett.
This show is pretty good I know some characters from it, I kinda remember watching it at some point when I was little
The fact teletubbies is above this shows how retarded people are
My dad says that if you don't like Sesame Street you are not mature
Sesame Street Should be #1 they have been running longer than any other show on this list since 1969 these people and characters have Inspired me especially Julia, Big Bird And Snuffy And Alice they are my favorite characters on Sesame Street
6
Teletubbies

Teletubbies is a British pre-school children's television series created by Ragdoll Productions' Anne Wood CBE and Andrew Davenport, who wrote each of the show's 365 episodes. It is owned by Canadian Studio WildBrain, which is the largest independent Children's and Adolescent's Film Studio
Me and my friend used to be obsessed with this show this is making me feel memories
Its either cute, odd, scary.
I thought it was cute.
The baby in the sun was weird.
I remember watching this before as a little kid
The Teletubbies where supposed to be astronauts. It was a nice show, I think it was more popular in the 90s. Wait the Tiddlytubbies (reboot) are they baby astronauts! I will remember the animals the rabbits, the animal parade, the lion and the bear. Tinky Winky trying to wear a turban you know the tutu on his head. BIG HUG! Back in the day it was weird seeing a face of a baby in the sun but she was awww her giggles. Their house with the slide. I will remember the magazine with making the tubby toast thing.
7
Where In the World Is Carmen Sandiego?
I see him much until they started repeating much bull
It's meh.
8
Cyberchase

Cyberchase is an American–Canadian animated television series on PBS Kids. The series focuses around three Earth kids, Jackie, Matt, and Inez, who are brought into Cyberspace, a digital universe, to protect it from the evil Hacker. Cyberchase was created by Thirteen. It was first shown on WNET as ...read more.
It's not a preschool show, it's a kids show. Besides preschool is before you learn math dude.
If this was a baby show, it wouldn't teach maths,
The best, but canceled it forced
I never really liked this show
9 Schoolhouse Rock!
10
Thomas & Friends

Thomas & Friends is a British children's television series. In the United Kingdom, it had its first broadcast on the ITV network in Great Britain in 1984.
I remember thomas as a kid, I remember watching it at some point
I love this show, it's very baby-friendly, but is still appealing to an older audience
This show is not a baby show there is always a train crash
My Babyhood Show!
The Contenders
11
Bill Nye the Science Guy

William Sanford "Bill" Nye, popularly known as Bill Nye the Science Guy, is an American science educator, television presenter, and mechanical engineer.
This one I actually like.
12
My Little Pony: Friendship is Magic

My Little Pony: Friendship Is Magic is a children's animated fantasy television series developed by Lauren Faust, produced by Hasbro Studios and DHX Media Vancouver. Despite the target demographic of young girls, Friendship Is Magic has also gained a large following of older viewers, mainly young and ...read more.
Not a baby show
Yes it is, the show in UK is on Tiny Pop the channel for under 5s.
I do agree, MLP is far from a baby show and just so happens to be favourite T.V. Show of them all, but this is supposed to be a best list.
'It is for babies because it's rated T.V.-Y, which is for 2-6.'
Two to six year olds aren't babies.
13 ZOOM
14
Bob the Builder

Bob the Builder is a British children's animated television show created by Keith Chapman. In the original series, Bob appears in a stop motion animated programme as a building contractor, specialising in masonry, along with his colleague Wendy, various neighbours and friends, and their gang of anthropomorphised ...read more.
I heard the theme song in my head when I saw this, I remember watching it when I was little as well
Oh my god this idiot in my class sings the intro song all the time. He even dressed up as bob on Halloween.
15
Rolie Polie Olie

This a good baby show the teacup house is cool, I remember liking it a bit when I was younger
16
The Magic School Bus

The Magic School Bus is a Canadian/American Saturday morning animated children's television series, based on the book series of the same name by Joanna Cole and Bruce Degen. It is notable for its use of celebrity talent and combining entertainment with an educational series. Broadcasting & Cable said ...read more.
My teachers used to let us watch that show in science class. I so feel memories
I remember watching this a few times as a kid
What baby show teaches scientific concepts like chemistry, astronomy, and physics to toddlers? I actually watched this as a toddler but didn't grasp many of the concepts until around elementary school.
17
Clifford the Big Red Dog

Clifford the Big Red Dog is an American-British educational animated children's television series, based upon Norman Bridwell's children's book series of the same name. Produced by Scholastic Productions, it originally aired on PBS Kids from September 4, 2000 to February 25, 2003.
R.I.P. John Ritter
18 Sagwa, the Chinese Siamese Cat
19
Peppa Pig

Peppa Pig is a British preschool animated television series directed and produced by Astley Baker Davies in association with Entertainment One, which originally aired on 31 May 2004. It went on a hiatus for just over two years before re-premiering on 14 February 2015.
Don't be stupid, Peppa is a cute character.
I think you can ripped Caillou now.
She is Kim Jong Un
20 Wishbone
21
Fetch! with Ruff Ruffman

Fetch! with Ruff Ruffman, sometimes shortened as Fetch!, is an American animated television series that was on PBS Kids.
22
The Berenstain Bears
I loved this growing up I remember reading the books and watching the show
23
Wow! Wow! Wubbzy!
Great songs and morals, why so many older people and teens still love this show.
24
VeggieTales

VeggieTales is an American series of direct-to-video children's computer animated films created by Phil Vischer and Mike Nawrocki featuring antropomorphic fruits and vegetables in stories conveying moral themes based on Christianity
I used to watch The VeggieTales Show when I was little, but now I'm older! I hate this show! I hope it gets cancelled right now! So, leave me alone...please!
What! This is not a baby show! It's so funny you guys don't know what you're missing!
Archibald is a mayor
I'm a tween, and I still love VeggieTales!
25 Play School
PSearch List