Best Shows On Hungama TV
The very best shows on the Indian kids channel "Hungama T.V." since its inception almost a decade ago.

The Top Ten

1 Shin Chan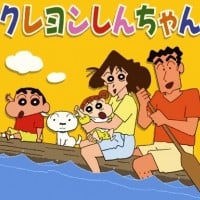 Easily the most popular, well received and ratings-fetching show on the channel.
Quality declined ever since new characters were introduced and censorship was applied to its content.
It's the best show for children and adults. Although shinchan is a notorious
Character he has a heart of gold which he often doesn't shows. He can do anything for the ones who are good. Shinchan is the best!
Shin Chan show is a adventures show. This show has so many episodes. This show is so much comedy. This is my favourite show forever.
I know Shin Chan is good and very funny cartoon, but Doraemon is always number 1. I think Doraemon should be in this place.
2
Perman

Perman is the best anime I have ever seen. So I request hungama TV to broadcast it daily for at least 3 hours. Why always showing shinchan. Although shinchan is also nice but it is clear through number of comments that most of the people would also like to see perman. Showing for just 30 minutes is injustice. Please it should be at least for 3 hours.
This is the best cartoon I ever seen. I love this cartoon in 7 year old . I love this cartoon . Please telecast the cartoon in hungama.
The best love storyline I have ever seen in my life I am a die heart fan of perman and I will always support perman in every campaign and please everyone watch this anime once and carefully understand the storyline once you understand the storyline I am damn sure you will start loving this anime.
It is best of the best. Because of the humanity learning perman. Saving and fighting for the truth and has the best friendship and love story ever between perman and pako and super trust between them.
3
Kochikame
Arguably the most entertaining and hilarious show ever aired on the channel.
Sadly another victim of idiotic and narrow-minded Indian censorship rules, which ultimately led to its demise.
I liked riyotsu's determination to achieve what he wants. yeah he is sometimes very much greedy but also helps others when in need and all his schemes and ideas which always create problems for him and the people around him. nakagawa is quite calm and smart doesn't show off despite being quite rich and always gives good suggestions. next is riko. first of all she is much more like nakagawa rich and also exceedingly beautiful. chief ohara is strict but cares for his colleagues. terai is just simple but a hilarious character and aslo shows courage when necessary. all the other characters make it the best anime I've ever seen
One of the best shows ever. The only show which comes close to this one in terms of comedy is Shin Chan.But sadly in both shows most of the comedy parts are adult and are removed (all thanks to India censorship rules).
It was the best show ever in my life till now... I still love watching it... I have my childhood memories with it.
4
Doraemon

Doraemon is a fictional character in the Japanese manga and anime series of the same name created by Fujiko Fujio, the pen name of writing team Hiroshi Fujimoto and Motoo Abiko.
I love Doraemon... It's not only a anime, It's my emotion, life sadness etc. I hope Doraemon come to us with new episodes in hindi... (Season 18- to up)
I wish I will see Doraemon in hindi in the future... Thanks
One of the best shows to exist! This was my whole childhood and they had so many cool gadgets and it was just so entertaining to watch.
doreamon cartoon is my very very fevorit cartoon . Plese the doreamon cartoon return the hungama chanel. Plese ,Plese, Plese Irekuest you .
Doraemon is always best cartoon, it tell us think about future and do something. Also good songs, storyline, movies with something new. The best cartoon in Hungama.
5
Detective Conan

Also known as Case Closed, the show follows the adventures of Jimmy Kudo, a prodigious young detective who was inadvertently transformed into a child after being poisoned.
I was,I'm and I will be a big fan of this show. it was an amazing detective story and I liked those gadgets /, conan's intelligent observation, the mysterious and frightening shows.I thinks it contained all things which a child wants. I would be dearly happy to watch this again on T.V.
We want it back on it.. It's the est detective show for kids and there was always a mystery in it I love that show...
I think Detective Conan is the best anime I ever saw. I think that it should be in the first place.
6
Yu Gi Oh!
Yugioh a... this is a show that change my whole life.. when it was vanished from hungama T.V. I didn't feel anything because at that time I was a kid.. but one day yugioh return in my life. It's a game of yugioh. After then my big bro started downloading all shows of yugioh. After which I m able to meet JADEN YUKI The guy who never take tension. Now that's the turning point of my life.. with help of jaden I'm able to enjoy the world. I thanks to all of the yugioh teams, and I have no more words to say anything. Please bring yugioh GX on hungama T.V.
One of the best anime aired on this channel, kids of today don't know what they missed. Should be above SPD
Shinchan, Doraemon, Kochikame, Yu Gi Oh!, Detective Conan.. these actually made hungamatv popular.. I think sonic was aired on this channel too! (if anyone remember toon blast)
The ruler of the scene until Shin Chan arrived; Yu Gi Oh! Can be credited as one of the shows that carried the channel on its back during its initial years.
Yugioh is best show ever aired in India.
Fero teach us to stay strong in any conditions and our true friends are our strength.
7
Pokemon

Pokémon, abbreviated from the Japanese title of Pocket Monsters and currently advertised in English as Pokémon: The Series, is a Japanese anime television series, which has been adapted for the international television markets. It was first broadcast in Japan on April 1, 1997, in the United States ...read more.
I just Love Pokemon! It's so Hilarious and entertaining show! I Just Love itttttt!
Hungama TV should telecast more and more episodes of Pokemon!
Pokemon is real good but why aren't you showing new episodes? By the way, try showing Pokemon origins and do not delay in showing the movies. Ash is such a loser and red is the best because he is a Pokemon master and champion plus he caught Mewtwo. Why is ash more famous than red?! My favourite Pokemons are lucario garchomp and charizard. Pikachu is lame and weak but famous because it is ash pathner
Pokemon is HILARIOUS! So many roasts from Ash which makes it more entertaining , it gives the audience exactly what they expect.
Love you Pokemon ash pikachu mishti broke jiglipuff togepi and everyoneCartoon Network dubbing is better, but thanks hungamatv for bringing the old and the best series back.
I prefer to watch it even over the new Pokemon:BW episodes on Cartoon Network.
Pokemon (from indigo to johto) is the best cartoon ever.
I love all Pokemon episodes when I feel like they are real.
8
Power Rangers: SPD
The longest running Power Rangers show on the channel.
Why humgama channel is not broadcast this show
I love it the red one
Now start this cartoonon 27March 2015.
9
Dragon Ball Z

Dragon Ball Z is a Japanese anime television series produced by Toei Animation. Dragon Ball Z follows the adventures of Goku who, along with the Z Warriors, defends the Earth against evil. The action adventures are entertaining and reinforce the concept of good versus evil. Dragon Ball Z teaches valuable ...read more.
Dbz is great fighting cartoons the best episode is goku fights freeza or goku turns ssj first time...
Best show ever made please let this series air on hungama
Dragon Ball z is best show in anime shows my best show
Bring it back whatever old version you are getting
10
Gol Gol Gulaam
A Hungama-original show; in fact the best of the exclusive ones. Gol Gol Gulaam was entertaining and well received by most people.
It featured 4 teams (6 in older episodes) competing for a range of prizes.
Want to see it online
Jaikishan Thakur used to love this show
The Contenders
11
Telematch
A German game show from the 70s; featured two teams competing against each other in time challenges or races.
The Hindi commentary dub was really good.
Remember this one so clearly...
ah...
12
Beyblade
I am a great fan of Beyblade because of kai and blade breakers and the comedy and actions in it and I am very eagerly waiting for Beyblade v force and g revolution to come on hungama T.V.
It is amazing but from many days Beyblade shows old so please show new shows.
My 2nd best show after Pokemon is Beyblade but I hate digimon
Beyblade is my favorite cartoon and I vote for this only it is best
13
Shaka Laka Boom Boom
Who doesn't know about this show?
Sanju, Magic Pencil, Adventures, Fun.
I am like it because he is a dream show
You are nice, but Shin Chan in fantastic
Again telecast this shoe send me link
14
Sanya
The show was about a girl named Sanya, who just could not say "No". She was the friend to everyone in need, and the most popular girl on the college campus.
Aired around 2005-06 and asked people to SMS vote on what she should do next.
I loved that show! If anybody knows where can I find that show now, please tell!
Tell mi the link where we can see sanya serial's all episode.
Tell me the link where I can see the drama
15
Kiteretsu Daihyakka
I loved it in my childhood as it was same as doremon.
I founded it on every cartoon channel but I did not found it.
please bring this cartoon back.
It is coming on Saturday night and Sunday night at 9:59 pm
Kitretsu is very intelligent and curious and korosuke is best friend to him
My best favourite show
16
New Doraemon
It is the remade Doraemon which is more thousand times better than the previous one
Have new graphics and some remake episodes are also there to watch for fun
Doraemon should ranked in number 1.please vote this cartoon
This is the best cartoon series I like this show too much it should on the top. right?
17
Hero
Sir hungama channel par now serial hero bhakti hi shakti hai kyu nahi deta hai aur yeh serial net par bhi upload nahi hai so I am requested to you please upload all eposide of serial hero bhakti hi shakti hai in hd and running on hungama T.V. plesemail Sir
Sir plzzz I beg to repeat this show once again on hungama T.V.

It was my best childhood T.V. show

Sir not only I but many more are there who like this show

I have seen one youtube channel of hero and there are more than 2000
Subscribers and 907812 views

So sir please repeat this show once agin sir plzzz
Please please please retelecast this show! This is my earnest request
It's best show for me in my childhood
18
Osomatsu-kun
I like this show!... I want ot back on hungama T.V... please
This was so awesome... I wish this cold come back again..no shows can match this...
19
BoBoiBoy
I am the world's biggest fan of Boboiboby. I wish that Boboiboby Galaxy should be dubbed in Hindi too. I have seen all of its movies and seasons but in English. IT should be shown full day on Hungama TV like Shin chan
It is worlds best cartoon. I didn't like hero bhakti hi shakti hai. It is such a worst show because it take place of boboiboy. So please don't off this show. It is best cartoon. Dhamalastic
I like it fire power so please change it time
I like Boboiboy very much this is my favorite cartoon. Dhamalastic
20
Ultra B
Ultra B is an alien but friend to michio
Best cartoon in my life ub
Ub is sooo cute
I like ultra B
21
Digimon Fusion
It is the best show I have ever seen in my life
Digimon is best
One of my childhood favourite anime. it was quite interesting show. 'all that adventure,action, emotion and thrill which most of the cartoons lack today.i used to wait eagerly for this show on a regular basis. but just like all good things, it also ended.i would like to watch it so that I could treasure those old happy days.
I donot like this cartoonnn.
22
Vir the Robot Boy
Well I don't know why it's next episodes are not coming on hungama from a month that is July and today is 9 august but it still didn't came, anyways I love this cartoon but had anyone noticed that MDS had not made a single movie of it right?
Yes, vir the robot boy is the coolest hero of all but you know I have a list of ideas for its movie if MDS made like two suits one for goodness and the other for badness or it could be like motu patlu and vir the robot boy Mix movie isn't it a good idea,these are like adventures movies please please,please do make a movie of vir the robot boy MDS please.
This is the best cartoon I've ever seen. it should be number 1
It is best show. I like it. please made more suits of vir
23
Slugterra
I request hungama not to change its timing so much. If u people stop the CRAP shows like ulta b and air this instead, a lot of people will watch these shows. And give proper ads about slugterra. A lot of people used to love it when it was in, I'm sure people will love it in hungama too
Slugterra is better than digimon
Yaa you should not change the timing and we want new episodes
Slugterra is a fantastic cartoon
24
Majuba Ka Ajooba
I love it show... Please give me majuba ka ajooba full episode link.
This programme was awesome
Hungama should start again
I LOVE to c this show one more
I want to see it once again
25
Lumba
Misisng the days when.I was a child can I see it again on hungama as it always a memorable serial for me I watched it daily with my mom she is no more please may I have it again on TV please
I want new episodes
Lumba serial nic show
PSearch List