Top 10 Shows That Should Have Never Aired On Nickelodeon
Top 10 T.V. shows that should have never aired on Nickelodeon. Shows that were either terrible, creepy, or down right inappropriate.
The Top Ten
Sanjay and Craig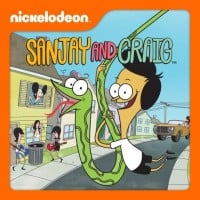 Sanjay and Craig is an American animated comedy television series that aired on Nickelodeon from May 25, 2013, to July 29, 2016, for three seasons and 60 episodes. The series is about a 12-year-old boy named Sanjay Patel who owns a talking pet snake named Craig.
Probably the worst show on Nick currently. - Minecraftcrazy530
Do I really need to say anything?
It has way to many tacky butt and underwear jokes that AREN'T even funny.
Breadwinners

Breadwinners is a 2014 animated comedy television series produced by Nickelodeon. It is about the adventures of SwaySway and Buhdeuce, two ducks who drive in a rocket van delivering bread to their customers.
It's as tacky as tons of these shows with too many butt jokes like tons of the other shows on nick. Coming to think nick has WAY too many butt jokes.
Lots of butt jokes.
Marvin Marvin

Marvin Marvin is an American science fiction slapstick comedy television series that aired from November 24, 2012 to April 27, 2013. The series stars Lucas Cruikshank as the title character Marvin Marvin, an alien teenage boy adjusting to human life.
The clips from commercials already made me want to throw up. I really gave it a fair try though, and its just not good... - keycha1n
It's bad. That's all I've gotta say.
Fanboy and Chum Chum

Fanboy & Chum Chum is an American 3D CGI animated television series created by Eric Robles for Nickelodeon. It is based on Fanboy, an animated short created by Robles for Nicktoons and Frederator Studios, which was broadcast August 14, 2009 to July 12, 2014 on Random! Cartoons. The series was first ...read more.
Really annoying and has references to adult movies that kids wouldn't get (Movies like A Clockwork Orange, Silence of the Lambs, The Exorcist, etc).

I should've put it higher above the list.
Henry Danger

Henry Danger is an American superhero sitcom television series airing on Nickelodeon. The series was created by Dan Schneider and Dana Olsen. The series revolves around a 13-year-old boy who becomes the sidekick of a local superhero. On March 2, 2017, Nickelodeon announced that a new animated series, ...read more.
I liked this one.
It's as tacky as Awesomeness T.V. and is extremely pathetic. It also has the cliché no one notices this kid is gone cause he's a hero/sidekick cliché.
Invader Zim

Invader Zim is an American animated television series created by Jhonen Vasquez for Nickelodeon. The series centers on an extraterrestrial named Zim from the planet Irk, and his mission to conquer Earth and enslave the human race along with his malfunctioning robot servant GIR.
Way too dark and scary for kids. I even heard that Jhonen Vasquez (The show's creator) wanted to kill off a character named Iggins in the episode Game Slave 2. But Nickelodeon wouldn't allow that because they thought it would be too harsh (Which now they don't even care anymore about what kids watch since they let inappropriate SpongeBob episodes like The Splinter, A Pal for Gary, One Coarse Meal, Squid's Visit, and House Fancy air).
Ren and Stimpy, Rocko's Modern Life and Sanjay and Craig are way darker than Invader Zim and Squid's Visit wasn't half as bad as the other new SpongeBob episodes as mentioned here. - nelsonerico6
Stupid cartoon.
AwesomenessTV

AwesomenessTV is an American sketch-comedy reality series based on the YouTube channel of the same name and is created by Brian Robbins. Both seasons contain 20 episodes.
It's not even funny at all. It's only about a bunch of kids messing up things. It's super dumb. Ergo it is the exact opposite of its title.
Possibly the stupidest and least funny show I've seen in a long time. - turbomustang2001
The Ren & Stimpy Show

The Ren & Stimpy Show, often simply referred to as Ren & Stimpy, is an American animated television series created by John Kricfalusi for Nickelodeon.
Well... The only 3 times blood and death were ever on Disney were on Gravity Falls. Though there's absolutely no slapstick humor! - keycha1n
Lots of toilet humor and abuse. Plus, it even shows blood in the episode Ren's Pecs.
So silly, blood is an agency of the body has nothing bad to do in cartoons
Shoudln't this trade with Fanboy and Chum Chum? - Turkeyasylum
Fred: The Show

Fred: The Show is an American television series, created by Lucas Cruikshank that originally aired on Nickelodeon, in the United States from January 16 to August 3, 2012. It was cancelled after the first season due to low scores.
Did Fred really need his own show?
Victorious

Victorious is an American sitcom created by Dan Schneider that originally aired on Nickelodeon from March 27, 2010 through February 2, 2013 . The series revolves around aspiring singer Tori Vega, a teenager who attends a performing arts high school called Hollywood Arts High School, after taking her ...read more.
Really cheesy and mean-spirited.
The Contenders
Mr. Meaty

Mr. Meaty is a Canadian-American television series created by Jamie Shannon and Jason Hopley. The show centers on two lazy teenage boys named Josh Redgrove and Parker Dinkleman, who work at a fast food restaurant.
Really creepy and UGLY show! Who in the right mind thought this kind of style would be good for a kids' show?!
iCarly

iCarly is an American teen sitcom that ran on Nickelodeon from September 8, 2007 until November 23, 2012. The series, created by Dan Schneider, focuses on teenager Carly Shay, who creates her own web show called iCarly with her best friends Sam Puckett and Freddie Benson.
The characters say "Oh my god! " a million times. Plus, Sam is a HORRIBLE role model! She abuses Freddie everyday for no reason! What has he ever done to her?!
They used Oh My God in Drake & Josh also, and people loved that show so much, but WHY? It only had jokes, two brothers fighting over each other, along with a laugh track and saying God's name in vain, Where's all the hubba, the adventures, the slapstick, the real action and the special effects? - nelsonerico6
Harvey Beaks

Harvey Beaks is an American animated television series created by C.H. Greenblatt for Nickelodeon. Originally announced to premiere on March 29, 2015, the series instead premiered on March 28, 2015 following the 2015 Kids' Choice Awards.
Because of the butt jokes and peeing. - nelsonerico6
JonTron: There's a Lot to See in This Life, Not Wasting it Here. - kcianciulli
Same ol butt jokes. - nelsonerico6
I know a lot of this stupid bird.he is not really cute and it is very worser show than bread winners.his stupid friend phee and phoo that's it I'm kind of hate this show! This is not fair I want this must end because this is make a lot of butt jokes and its not funny anymore.and I'm glad! This stupid show is bad for kids and adults but I'm sure this stupid show will be aired on this monday and harvey is a jerk
Wendell & Vinnie

Wendell & Vinnie is an American sitcom television mini-series that premiered on Nickelodeon on February 16, 2013 and ran until September 22, 2013. The series stars Jerry Trainor and Buddy Handleson. The first official promo for the show was released on December 21, 2012.
They were talking about very inappropriate things on a KIDS show.
More like Wendell and Skinny.
Rabbids Invasion

Rabbids Invasion (French: Les Lapins Crétins : Invasion) is a French/American animated television series which premiered on August 3, 2013, on Nickelodeon. The series began airing on Nicktoons during its second season in late 2015. On June 23, 2017, the series finale ended during its third season. ...read more.
Nicky, Ricky, Dicky & Dawn

Nicky, Ricky, Dicky & Dawn is an American television sitcom produced by Nickelodeon. The series focuses on 10-year-old, later 11-year-old quadruplets Nicky, Ricky, Dicky, and Dawn Harper. They have nothing in common and often fight, but they must work together to solve everyday situations.
Planet Sheen

Planet Sheen is an American CGI animated television series. It is a spinoff series in the Jimmy Neutron franchise, focusing on the show's comic relief, Sheen Estevez, as he gets stranded on another planet. The show was hated by critics and fans for not using any of the original cast (besides the obvious), ...read more.
This show was so horrible. Jimmy Neutron was 100x times better than this piece of crap.
Sam & Cat

Sam & Cat is an American teen sitcom that originally aired from June 8, 2013, to July 17, 2014, on Nickelodeon. It is a crossover spin-off/sequel of both iCarly and Victorious.
The beginning of the moment Dan Schneider ran out of ideas. - nelsonerico6
Pig Goat Banana Cricket

Pig Goat Banana Cricket is an American animated television series created by Dave Cooper and Johnny Ryan for Nickelodeon.
Bucket & Skinner's Epic Adventures

Bucket & Skinner's Epic Adventures is an American teen sitcom that premiered on Nickelodeon on July 1, 2011.
This show as SO NOT FUNNY.
The Naked Brothers Band

The Naked Brothers Band is an American children's television series created by Polly Draper for Nickelodeon.
The name alone just gives you very uncomfortable feelings.
Big Time Rush

Big Time Rush is an American television series that originally aired on Nickelodeon from November 28, 2009 until July 25, 2013. It was created by Scott Fellows (also the creator of Ned's Declassified School Survival Guide and Johnny Test and the head writer of The Fairly OddParents)
Not a bad show, except that they shouldn't have talked about making out, because that means to have sex. - nelsonerico6
The Brothers Flub

The Brothers Flub is an animated television series produced by Sunbow Entertainment and co-produced by Ravensburger.
Absolutely terrible! Plus, it even has the most ANNOYING theme song that you'll ever hear in your entire life (I'm not kidding. Go look it it up. It's WAY worse than the Fanboy and Chum Chum theme song! I'm being dead serious).
The Troop

The Troop is an American-Canadian live-action, single camera comedy-adventure television series about a trio of teenagers who fight and capture monsters and other supernatural phenomena that invade the fictional town of Lakewood.
Unfunny and just down right mean-spirited. The designs of the monsters were pretty cool though.
React to That

This show is proof that Nick is all out of ideas. And I don't even like The Fine Brothers (Their reaction videos are bland, uninteresting, and only have people react to modern pop culture. Seriously? You guys can't think of anything else for people to react to? ).
PSearch List