2NE1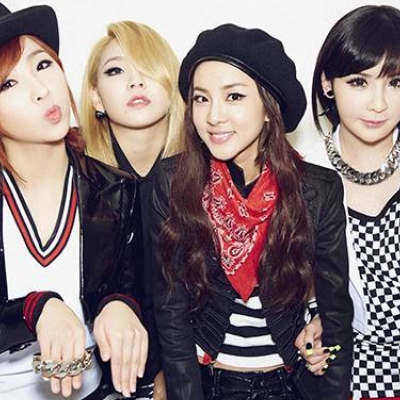 Found on allkpop.com
Info
2NE1 is a South Korean girl group formed by YG Entertainment in 2009. The group currently consists of CL, Bom, and Dara.
Comments
Top
Popular
Newest
Best girl band out there right now by far. They have all the right qualities not only to make it big in Asia, but all around the world.
They are amazing performers and they are incredibly strong singers. They could change the mind of people who think that K-Pop only has cutesy girls. They deserve to perform, and they are well known around the world and I am sure that many people would tune it to watch them perform. I will definitely watch the Olympics if they were performing. But if they don't perform choose Big Bang. They are from the same entertainment company, and they are extremely well known unlike most other boy groups. Even more than Super Junior. Not to mention that BIGBANG and 2NE1 has one of the biggest fan bases and they have a very small amount of haters. So choose 2NE1 for the performance you have always dreamed about. Oh and it's 2NE1, not 2NE.
2ne1... This girls rock the stage every time their performing.. They are global superstars... Celebrities like Will.I. aM, Apl. De. AP, Snoop Dog, Dr. Dre and others Loves them and their music... Especially Will.I. aM he adores them he said that they are hard workers! They are global superstars... They showed that when they one MTV iggys BNB(best new band) in the world! This girl have a long way to go and not on their carrers peak yet but they won so many awards and accomplished a lot of things!

They are not just an ordinary KPOP group... They are different from other KPOP groups in KPOP... Other groups show their legs and act all girl... But this girls are the baddest girls in KPOP.. They don't have to be girly just to be popular... Their fashion and music is the one that makes them stand out from other girl groups... Especially their music its different from other girly groups... Other groups are all about flirting and being all girly... While this girls... Sings I AM THE ...more
I grew up listening to their music and this is like one of the best Kpop group, so please vote
They are the ones who made me who I am today! Their music is so inspirational and I think that if 2NE1 came to England, their giant fanbase and 2NE1 themselves would be so happy! Just imagine your dream come true! Please vote for 2NE1! Thank you
2ne1 is my favorite girl group in Korea. Their songs are very powerful.
2NE1 would be a great opening I would watch it and many more kpop people will I also like suju so if any of this 2 perform I'll watch it. I already vote for SUJU and 2ne1
2NE1 forever go 2NE1 you are the best it is hard to pick a favorite out of all of use and I love all your songs to vote 2NE1 and get them to first place I have all there CDs laugh out loud what fan doesn't so go 2NE1 vote vote vote vote VOTE for 2NE1 go CL, Dara, Bom and of course Minzy they are the BEST tell all your friends about it get them to vote 2NE1
2ne1 rocks their music is so inspirational their amazing especially I am the best and their song can't nobody their amazing and I would really want them to sing on London
IF YOU WANT AN EXPLOSIVE AMAZING PERFORMANCE YOU NEED 2NE1. THEY KNOW HOW TO OPEN AND FINISH IT MORTAL COMBAT STYLE
2NE1, Should perform in London because the world needs to see how amazing these girls are. They're one of a kind, and influential performers.
They have the best live performance 2NE1 would blow your mind with their performance. After their performance you will end :O like this
2ne1 because their song I AM THE BEST fits for the olympic where athletes from all over the world competes to be THE BEST!
2NE1 IS THE BEST! They are a worldwide crowd pleaser! INVITE THEM TO PERFORM AT THE OPENING CEREMONY AND SEE THEIR AWESOMENESS
2NE1 is the most friendly, the best female group for me. They have the great vocal, they dance nice too. So, vote for them.
2ne1 is super duper talented and they achieved so much in their 2 years in the industry...
2NE1 is the BEST girlband of South Korea. They're talented and amazing, and it's a opportunity for show it.
2NE1 can speak English, they can perform English or Korean or whatever songs, they can rap, they can sing, they can dance, their stage performances are perfect every time. If you want a group to represent Korea (or Asia in general), choose 2NE1. They recently won MTV Iggy's Best New Band in the world and they are soon to release a US album that Black Eyed Peas' Will.I. am produced. Many famous non-Asian celebrities love their music and they're one of the few groups that will be able to perform LIVE wonderfully.
Its 2NE1 though...

Anyway, they sings songs that relate to girls a lot, and it shows lots of girlpower. The songs are also fun to dance with even though if one can't dance well.

Other girl groups songs are nice, but I am not a Korean so I can't relate to the acting cute and the 'Oppa' things, you know - girls acting cute.

So, Yeah, 2NE1!
2NE1 are the best group IN THE WORLD! Their songs are so catchy and they all really deserve this opportunity! They won the MTV IGGY best new band in the world award, which just shows how awesome they are: out of so many groups from so many countries, they were picked as number 1. They should be making their US debut this year, and performing at the Olympics would really help them succeed there, and it would show the UK how amazing they are too!

2NE1 have loads of Blackjacks (fans) all over the world, but they haven't been to meet their UK Blackjacks yet, so we could finally meet them if they came to the UK to perform in the Olympics opening ceremony!

All of 2NE1's music is so good, and I can't think of anyone who deserves to perform in the Olympics more! 2NE1 fighting!
2NE1 are superb! Their song are catchy and epic and original. Since 2NE1 stands for the new evolution of the 21st century, I believe that they will become more and more popular one day. They are already catching everyone's eye, their music and of course, their style too! Each member of 2NE1 have their own unique charm and beauty. It's amazing that they manage to catch the attention of Jeremy Scott, Will.I. am, Kat Graham and plenty more. They are even in magazines from different country. The best thing of all is when they manage to win the MTV IGGY's award as Best New Band in the World, beating other famous and talented singers/group. From the moment they debut, everyone have high hope for them like their senior, Big Bang. 2NE1 are just rocking and definitely a group to watch out for in the near future.
This is group was awesome, they always give their best at the beginning of their performance...
This group was one of the best band of the world in fact, the mtv iggy's crowned them as new band of the world...
They album to anyone is successful to one of the top 10 albums of the world...
And their single I am the best is one of the top 25 songs of the world...
And they are the bes k-pop girls..
When they perform on stage, always expect the shocking performance they give...
2ne1 the best...
Obviously, these 4 tallented, beautiful girls should perform because they really put up a show. Do you want some girl group that wears pink and sings all cutesy or do you want a girl group that has swag and a great sense of fashion? Really, they are THE BEST... According to the world! Did you hear that this female group won the award "MTV Iggy best new band in the world"? Yeah, did girls generation win this? NO! 2NE1 won this and they performed in times square! Yay 2ne1! Go blackjacks!
It's 2NE1! 2NE1 is an awesome girlband, full of girl power and many talents. They're not just awesome singers, dancers and performers. Do you know that every single girl of 2NE1 can speak at least two languages? Dara can also act, Bom can play many instruments and CL and Minzy can rap very well. 2NE1 fighting!
2ne1 is not only another k-pop group, their music is global. They represent all the people that appreciate the beauty of uniqueness. Their amazing vocal and dancing skills make the stand out among worldwide artists. These hardworking girls are a true inspiration and deserve to perform in this global event!
Related Lists

Best 2NE1 Songs

Best 2NE1 Members