2PM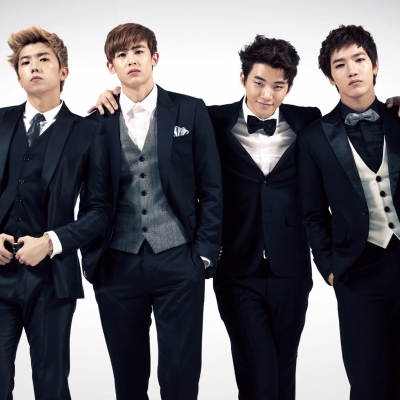 Found on kpopmusic.com
Comments
Top
Popular
Newest
2PM is a very talented group with six AMAZING singers! Each member has their own unique personality, and they are all very different, which makes them a really cool group. Looking at them, I can see that they are a VERY good group, and their dances are like, AWESOME! I really want them to be able to perform because it will give them an opportunity to become more famous and be able to have concerts worldwide. Like I said, they are really good people. They deserve this chance. I've seen their shows, and they are like, the funniest people EVER! They are talented, and can speak more than just Korean. Like, I know there's this one guy in the group called Nichkhun, who can speak 4 different languages. He is like, really successful in not just his home country Thailand, but in Korea too. That's impressive considering he is a foreigner. And the others are just as successful too. They have even done commercials. I mean, really, it would be the greatest thing ever watching them perform. It will ...more
I love them very much! 2PM and Khuntoria fighting! From Kazakhstan! I'm HOTTEST!
2PM is unique, each of member has their own characteristic; Taecyeon is really good at rapping, Junsu has incredible amazing voice, Junho is very good at acrobatic as well as singing skill as same as Wooyoung, he is amazing, full of effort and Nichkhun, Mr. Can do, is full of desire to be succeed, and Chansung, the youngest, he is good at dancing. Even though, they are different but as a group they are perfect together. With their super hot and energetic performance, the opening ceremony of Olympic would be definitely awesome.
2PM consist of 6 members with different personalities that can entertain you guys! They are so good in not only singing but they also good in dancing, acting, joking and they can speak in others language too like Korean, Japanese, Thailand and English. Even two of them, can speak fully in English. Their songs are so great! Junsu, their eldest member can compose songs very well and he's using the name 'Jun. K'. With their great talents, they can cheer the others. That's why I know that they would be the best at the Olympics! For me, they are greater that Super Junior and Girls' Generation...
I believe that 2pm can make it in overseas market since they're so different from any other k-pop groups... And London can introduce them to the world.. They've been through so much and they deserve this
2pm is the best group ever and I feel that they must be more appreciated and recognized for their talents and skills! 2PM FIGHTING!
2PM best of the best boyband in the world,
Hottest 2PM=ONEHEART
6 guys are cute and Handsome.
They are performance always amazing and awesome,
2PM FIGHTING!
Junsu voice is beautify and his smile is very cute
2PM FIGHTING!
They are 6 hot beasts! Seeing them perform makes my heart melt. Ever since going to their concert, I officially became in love with them.
2PM's stage gonna rock the stage and make you feel the heat of the HOTTEST boy band. Their Asian tour and Arena tour around Japan have proved it
2pm is an amazing, talented and strong, they're the beast idols which would go with the Olympic them, they're one of the top k pop band in Asia, they make fan go crazy just seeing them walk up the stage, choose them and you won't be disappointed! GREAT DANCERS AND SINGERS! PERFECT!
2PM is the most wonderful boyband! All they are great singers and funny people.. By the way they can do all people there dance&keep moving on!.. 2PM JJANG!
They're surely pull off the best performance! And They symbolize best the Olympics with their acrobatic performances!
These boys have so much heart and you can tell that they are talented and each bring their own talents to the group. They act more like a family than just another music group. Everything about then is genuine! Plus they don't hurt to look at.
2PM's performance full of energy will make you fell energetic, they are all strong they like do sports in usual. So I think they can bring us a wonderful show.
If you're talking about Live performance -- 2PM is the best and the hottest. They suit the Olympic best cause they can heat up the stage and make the audience feel hot~! The hottest band!
They deserve to attend this prestigious event. They are lively and high energy performers who are internationally known.
2PM AND 2AM CAN MAKE THE CROWD GO WILD~ they are just like the best ever. I think that the public should know about their songs L.
When it comes to live performances,2PM will always give their best for it...
Be it acrobatics, dance break, shuffling, lazer show, abs wave... You name it, they'll do it.. =]
2PM never stop, they amazing! & Hottest always here for 2PM
2PM is the great group ever. Chubby cheek Wooyoung, dancing machine Junho ( so attractive), great singer Junsu, handsome Nickhun, maknae Chansung and rich teeth Taec. They are greatest group and they are so funny (laugh to dead if you watch their show) definitely have to vote for them
2st is always be in 2pm heart
I live all of you
I got in love with this guys music, in 2011, and now at the beginning of 2012 I already have all their albums in Korean and Japanese! Variety abilities, sings and raps really well, dance is amazing, and are an example to their fans! We are HOTTEST!
They are known for their explosive performances due to the amount of energy they bring to the stage. In addition, with their latest song 'Hands up', I believe they can liven up the atmosphere and bring the party!
2pm is daebak
They have any talent
They so funny and good singer and dancer
The number one in my heart
2pm fighting 'SEMANGAT'
These guys, they're the best! I love them performance... It's very hot and strong and just amazing) I LOVE 2PM)))
Related Lists
Favorite 2PM Members

Best 2PM Songs