Backstreet Boys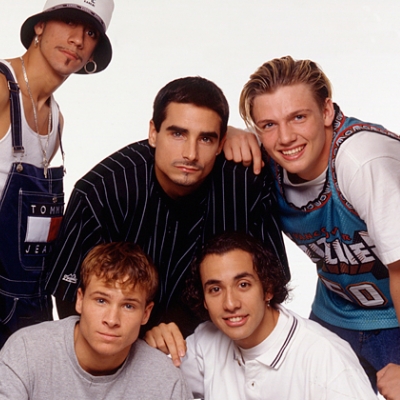 Uploaded by DynastiNoble
Comments
Top
Popular
Newest
The Backstreet Boys are true legends of pop music! Backstreet Boys are one of the most successful bands of the 90s, they are present on the pop scenery for 18 years (! Which is pretty rare to be honest) and still make amazing music that makes thousands of people happy! We love them, everybody loves them!
They are the best! I really want to see them in the London Olympic Games! So please!
Having Backstreet Boys perform would set the Olympics over the top... Great performers! They never fail to shake the whole house with an amazing show!
Backstreet boys has been in the music industry for so many years. I love Backstreet Boys since when I was in grade school. I still have their cds, official & unofficial books in my library at home.
They are the best! They care for the fans by doing fan pages, websites, fun apps, games, stores, retweeting or replying to messages, etc.
FOR MANY GENERATIONS, Backstreet Boys STILL ROCK THE WORLD! VOTE NOW!
They touched so many hearts with their asongs and their personalities &they still touching hearts & souls I don't hve words to explain how talented they are & beautiful inside & out KTBSPA FOREVER BACKSTREET'S BACK ALRIGHT! THEY'RE NEVER GONE!
They are such talented and amazing people! I've been a fan since 97 and haven't stopped since, and to see them perform for this would be amazing and truly a honor! Their presence would b e appreciate for many of us and viewers. A lot of people don't give them a chance when they should because they are missing out there are more than just a boy band as people call it they are just very TALENTED and they also never disappoint their fans!
They are the best group in the world! And they deserve to celebrate their 18 years in the Olympics! They are the best representation of the nineties! And they are going to be a success in the 2012! They still full of lot of stadiums all around the world and are loved by millions of fans!

I think it's the best band in the world, his music always accompanies me in the saddest moments and it's always my comfort...
To see their videos listen to your music is always a lull in my life. I think they've managed to make thousands happy girls around the world with his music, his concerts and especially so kind as to treat their fans... I love these guys, their music and especially to Nick, I want to clarify that there are very good artists, soloists and groups within this vote they are great and I like his music, but definitely the best for me, is Backstreet Boys.
It would be amazing and something to remember - the shows are always massive which suits the occasion well!
Eminem, Elton John, Rolling Stone magazine, and many other big names have all said that these men are incredibly talented singers and no one else comes close to them in their genre! I am personally a huge fan and love them so much! All (five) of them can sing their butts off and have so much passion towards what they do. It'd be a shame if they didn't perform!
This is one of the best bands that have had the music world. Beyond the "likes" and "dislikes". Their work -of almost two decades- deserves being recognized.
Get everyone to vote. Mum, s dad, brothers and sisters, friends, EVERYONE! Backstreet Boys NEED TO OPEN THE CEREMONY! Don't let some artist who's barely even been around do it! We want someone who DESERVES it!
There is nothing more I would love to see than our boys represent our country. No matter who you are or where your from or what you believe. At one point or another in your life, YOU HAVE BEEN IN LOVE WITH THE BACKSTREET BOYS! They would do us justice
They're without any doubt my favourite music band ever! Their music has always been the original soundtrack of my life, so they absolutely deserve to be at the London Olympic Games. They're the best!
Backstreet Boys IS THE BEST BAND OF ALL THE TIMES THE ARE AWESOME AMAZING AND I LOVE THEM SO MUCH, THEY ARE BETTER THAN THE ALL BANDS AND SINGERS HERE THEY ARE JUST PERFECTS THE SING BEAUTIFUL
Love these Boys so much and this would be an amazing opportunity for them. So deserve it. They have changed my life for the better.
The Backstreet Boys are great entertainer who bring a unique energy to every performance. Their fans are always enthusiastic and energetic making them a great candidate.
Backstreet Boys and Spice Girls have to perform in London 2012. I'm sure that they still can make a perfect show and whole World will be happy
I think that Backstreet Boys are a great band. His members have spectacular voices, they deserve that! I never stop to hear his songs, the new songs and the old songs. Everybody knows songs like "As long as you love me", "Everybody", "Larger Than Life", and much more. You have to admit that his songs are catchy. Whatever, if you agree with me, please, vote for they! Thanks!
Throughout 18 years, they definitely haven't lost any of their quality! They're interesting, energetic, and most of all very skilled at what they do! All the members are amazing singers, and their dancing definitely adds to a performance. They would be a wonderful addition to the Olympics ceremonies.
They are an Amazing band and the sweetest guys I've ever met. They take their time with fans and are super talented. Backstreet all the way! Keep the backstreet pride alive baby!
Backstreet's back! They have the best attitude towards their fans and such big, amazing hearts. Backstreet Boys should be there - they are amazing vocally and as people.
I have no words! I simply LOVE THEM! They are the best group and I belive it would be the BEST CHOICE to do the opening! Their music touches everyone and it is music with meaning. They've proved that they worth every award they've won and even more! LOVE Backstreet Boys!
I am a huge Backstreet Boys fan and it would be such a honor to have Backstreet Boys at the 2012 Summer Games as they are so talented and have proven that they can stand in the music industry. I have met them twice and they are the nicest guys I have ever met too.
Vote for true artists with real talent and amazing career. Generate their own music decades ago, and clearly not a band of fashion, but it persists and persists over time, as the real good things that make stages and are icons!