Miss A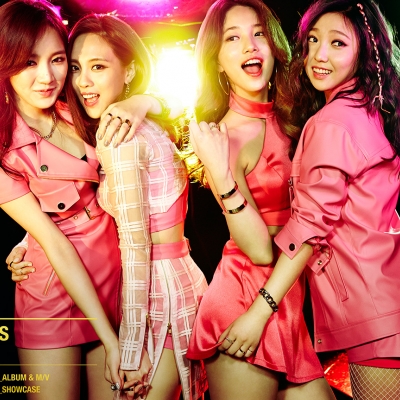 Found on soompi.io
Info
Miss A, stylized as miss A, is a South Korean-Chinese girl group based in South Korea formed by JYP Entertainment in 2010. Their group name stands for Miss Asia and the highest rank, A.The group consists of three members: Fei, Min, and Suzy.
Comments
Top
Popular
Newest
Miss A is a mixed nation (Korea and China) girl group and this factor alone represent racial harmony among different nations.. A factor that will leads us one step closer to world peace. China and Korea has also been consistently placed among the top 10 countries with the most medals won at Olympics Game since the 80s. Last but not least, they are not ordinary kpop girl groups with just another shake-ass dance or pretty faces. The amazing results produced by the girls come from their sincerity towards their audience, genuine hard work and effort in every performances and also their down to earth attitude. Give them a chance and they will give you a 100% result! Win-win deal!
Miss A is the best! I love them. hey work hard. They music is pretty nice. I think they deserve it. 1 Being the next rising idol group in Asia, this is time where they should expose at the other side of the world. With their energetic moves and powerful voice, I am sure they can rock London! 1
A Korean girl group so talented, powerful and classy that you gave no idea! They know how to rock the stage and have a great English
MOST POWERFUL KPOP BAND LET'S GO!
They are 4 very lovely young ladies. That will capture your heart and have you singing and dancing there songs.
Miss A are wonderful performers, they can easily change from fierce and edgy to graceful and feminine (as seen with their performances of Good-bye Baby Good-bye, Bad Girl Good Girl, and Love Alone).
Miss A is a awesome Korean Band! I love Min, Fei, Jia, and Suzy! Breathe, Good Bye Baby, and Touch are really good songs! All of the songs are good. Please vote for Miss A! Miku couldn't give as much as Miss A could! Miku isn't real, people! - MissA
I love miss A so much. Especially, Suzy is really beautiful and talented. In, fact, they are all really good. I love them. I am their fan of all time. It would be fantastic to see them perform on the stage.
They work hard. They music is pretty nice. I think they deserve it. /
Good Bye Baby, Breathe, Bad Girl Good Girl on Olympics air? Undoubtedly, definitely so!
Miss a are the best they are really talented and they dance well and especially jia and min

Keep it up well done
This group is made up of 4 young girls, they come from China and Koera. It is a international group. The Olympic Games' spirit stands for the national friendship. This group is a good choice!
This girl group contains of 2 Chinese and 2 Korean girls
They are the best performance group out there
Miss A is awesome and it would be amazing if they could perform at such a big event. Miss A Fighting!
This is very talented girl group in the Asia! They very adorable and talented! Lets support them! Please!
I love miss a they cool and dance really beatifully ilike touch and goodbye baby best
Related Lists
Top Ten "I Miss You" Songs

Nations Most Likely to Win Miss Universe 2013
Top Contenders for Miss Universe 2012
Top Ten Reasons Why We'll Miss Sevenlizards