Take That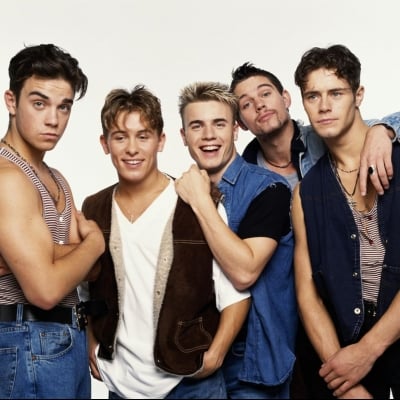 Uploaded by DynastiSugarPop
Info
Take That are an English pop group from Manchester, formed in 1989. The group currently consists of Gary Barlow, Howard Donald, and Mark Owen.
Comments
Top
Popular
Newest
I cannot think of a more qualified band than Take That to open up the London Olympic Games with their iconic classic Greatest Day. With the emotion generated from this most beautiful song Britain is showing the world that this is our Greatest Day. Gary Barlow suggested this song was written with a sporting event in mind and what bigger event than the Olympic Games. Take that are National Treasures and would embrace this honour the same way they do with every single tour giving 110% and demonstrating that they are the Best Of British
This shouldn't even be a discussion. They are British music at it's most perfect point; everyone secretly or not so secretly loves them. They're so feel-good and would bring spectacle. Plus "Hold Up A Light" could have been written about the Olympics - "People take their seats, there's no room left in this house, if life is your stage, I'll be watching"
TAKE THAT ARE AMAZING! They can entertain an audience of many different ages for a very long time! They have been around for 20 years and are world famous! They are hugely talented and I LOVE LOVE TAKE THAT! With or without the amazing Robbie Williams, they are the best band in the world!
Take That is one of the most successful bands in England, and Europe too. They are involved also in charity works, and have wide rage of fan-base all over Europe from teenagers to adults. They earned to perform there, and they never let anybody down with their performance. Take That means high quality of entertainment.
Take That smashed in the past as after the comeback. They're proud to be British but they are well known & loved all around Europe, their songs are in the movies, their last tour was phenomenal. I'd like to see them as a 4 or as as 5 (with Robbie). You can't find better than Take That.. Just tell me another band where you have members like Gary Barlow - the best pop musician, voice of an angel - and (if 5) Robbie Williams - the best lyrics writer, great entertainer.
Because they are the symbols of Britain! Best representatives of the country. Nationals treasures. They made the vest live shows!
Who better to represent Britain than their best most legendary boy band TAKE THAT! Unlike other boy bands (not naming any) they release their OWN songs write their OWN lyrics and pretty much manage themselves! I went to see them this year at wembley stadium and they put on the best most entertaining show I have ever seen! They have the ability to capture every single member of the audience, it's magical to be a part of. Such talented boys. Truly inspirational.
One of the most loved band to come out of Gt Britain. Greatest day and rule the world what uplifting and aspiring music to start the Olympic games
They're the biggest comeback in the music industry. They have sold millions of records and tickets for their concerts getting a worldwide records. One of their members Gary Barlow was named "The Biggest songwriter in UK" and they have been in the music scene for 20 years Need more reasons?
Take That are national treasures and are loved across the world. Their songs put everyone in a good mood, this would be a great way to start the Olympics. They are massive inspirations, everyone loves them. Never fail to put a smile across everyone's face!
When I listened to The Flood, it's their new single in their new album "Progress", I have this feeling that Take That is the right choice to perform at Olympics opening ceremonies. They are great band and I'm not even from UK but they are massive band. I really want them to perform.
One of the most talented band Britain has ever had! It would be a shame if they didn't represent this beautiful country! Vote for them and you know for certain that they will make an amazing show and the whole country will be very proud, believe me!
Take That are representative of Britain, they are an awesome British band and deserve to represent us at the London 2012 opening ceremony! The crowd would go wild with the four/five of them singing out their fantastic songs, they are also incredibly good live, better than everyone else
The real BOYS from England. They are a MUST! They've been around for 20 years! They represent the United Kingdom in every single way!
Since the Olympics are held in London, shouldn't it be a British band playing at the Olympics? Take That put on the greatest live shows and they are legendary across Europe. It shouldn't even be a question. Of course Take That have to perform!
Take That are fantastic live, they can entertain the old & the young. They will make you happy to be apart of it all, the best way to start the olympic games 2012! They are the best group to show that everybody can get along no matter who are. PLEASE CHOOSE TAKE THAT!
They are the biggest & best band to come out of Britain in a very long time. Typically British & stand for what Britain are for & know how to put on a big performance, just look at there tour history! Take that for the Olympics all the way.
Absolutely brilliant live, suitable for all ages and they represent the British music industry.
Yes for sure with Robbie too! Would love to see the boys open the olympics in the same style they toured with last summer! Fingers crossed
Take That is the best group live, they know how to put on a great show and they have some great songs, they must be at the Olympics. They would really get the crowd going, I also agree that they are National treasures. They've been voted the Best Live Band.
'cause they are one of the most representative band in UK and since the Olympic games will be in England I think they deserve this honor.
I also think they have a sound that is able to touch people's feelings everywhere... As well as the Olympic games are able to involve people from every continent!
They make me proud to be British! End of. You cannot get a better live act, real crowd pleasers!
Vote Take That! They will put on such a good show for everyone. Britain should be proud to have them
I can't think of anyone better at all
They're the biggest band in britain with a HUGE fand base. They've got cracking songs and an extensive back catalogue (seriously - who doesn't know a take that song? , and one of the best singer-songwriters in the world among their ranks. Not to mention the quality of performance that they as a group give. If Britain hosting the olympics is supposed to be a chance to show off what the country has to offer, then surely, music wise, only those at the very top should be given their chance to perform. Take That are undoubtidly right at the very top.
After seeing them on their astounding Progress Live tour this Summer, I can honestly say that they would guarantee a quality performance! They are the most successful British man-band by a million miles, with fans across the world! Their music uplifts and unites.