Westlife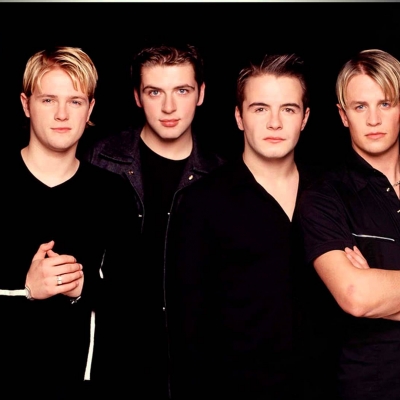 Uploaded by DynastiNoble
Info
Westlife were an Irish boy band, formed in July 1998 and disbanded in June 2012. Originally signed by Simon Cowell and managed by Louis Walsh, the group's final line-up consisted of Nicky Byrne, Kian Egan, Mark Feehily, and Shane Filan.
Comments
Top
Popular
Newest
Definitely westlife. They are the King of Boy Bands in Europe. And they are one of the best live performers in the world.
They deserve to perform cause they are the best. It will also be one of the highlights of their career. It's a wonderful way before they end their career as a group
WESTLIFE ARE EPIC! THEY ARE THE GREATEST BAND OF THE DECADE AND BROUGHT WONDERFUL MUSIC AROUND THE WORLD. SO IT WOULD BE GREAT TO SEE THEM PERFORM IN FRONT OF THE WORLD ALL AT ONCE..
They are the best boyband ever. I'm so happy that when I was in grade five, I learned their song, my love. And I love it. I'll never regret the day that I started idolizing the band. They all have good voices and talents. It looks like from dust to rug. When I watch video during those time that there was no Westlife yet, I cried. As I realize how they are now. How they work hard. I will always love them. WESTLIFE will forever be loved.
I think it would be a great opportunity for westlife and a great chance as they are set to split in 2012 an would give them a amazing exit from the music career and they absolutely deserve to perform on such a massive scale such as the 2012 Olympics and they are one of the best boyband in the UK with 14 number ones,40 million sold albums and have been together for 14 years, it would also be great for the fans, such as me to say goodbye and see them perform for the very last time. COME ON WESTLIFE!
Absolutely deserved to perform next year before their split up.
They totally deserve to perform, they're living legends! They're the MOST SUCCESSFUL BOYBAND in the world! 14 years of bliss with them and I would really like to see them perform next year there!
I think Westlife deserves to perform at the London olympics at least before they split.. They are the best boyband around the globe! 14 years with 12 albums! Who can beat that? They've weathered the times, broken record sales, won prestigious awards, survived the boyband era and still exists even though the music have really changed a lot.. They really deserve it.. We just all love Westlife..
I think this would be another great achievement for them and they are the perfect band for the job! It would be the perfect end to their reign over the UK and it's well deserved. They have been an inspiration to me throughout my life and through difficult times, I would love to see them perform. I give them my vote as a Thank You for everything they have done not only for me but for all of the people they have helped. Thank You Kian Nicky Mark and Shane I hope you win this! (Thanks to Brian too for 6 years)
Their the greatest band I've ever known, I so love the way they sing their songs. It's as if I'm listening to an angel singing. Their songs were so solemn I could cry. I love them. Go WESTLIFE! We're all here to support you all the way. I LOVE YOU! You're UNBREAKABLE!
They are the best pop act in Europe, they've shared the most beautiful songs and they are a great artist.
westlife ruled england for a decade, they deserve this.
As one of the best boybands in the world, WESTLIFE should have the opportunity to perform for this event for the last time before their split. Did you know that WESTLIFE will end it on high? They have the right to shine even more than ever. Their success is one of the factors to inspire the "involved ones" in this event.
2012 is the last yr of westlife and their one wish was to end on a high. Singing at the olympics would not only b a highlight for them but also an amazing memory for the fans! VOTE WESTLIFE NOww! You know you want too. Shane, kian, nicky and mark would be perfect for the event due to their angelic voices which are famous world wide with sell out tours in not only the uk and Ireland but also Asia South Africa and Dubai. One of their latest songs beautiful world would be an uplifting, uniting song that would perfectly suit the event.
Westlife deserves this! They are splitting next year, so if they could sing for the Olympic, it would be the perfect event for their career this last time. Westlife are such a HUGE part of my life, and the whole world must see how amazing they are, before it's too late! WESTLIFE ALL THE WAY!
-> I would really love to see Westlife performing for the very LAST time at 2012 London Olympics, and I'm really looking forward to it! They should deserve the final STANDING OVATION from not only the fans, but also from everybody!
They deserve to be there because of all their accomplishments throughout their 14 year career. This would be a fantastic way for them too end their time as a group. They harmonize amazingly and would be a great group.
I believe they are one of the best male band that grazed the UK hit charts. They have given great melodies and songs worth an airwave for years to come. Please give them a chance to perform... One last time.
For all the things that Westlife has done to this world, particularly for England and Ireland, they deserve a chance to perform in Olympic 2012. It would make their splitting up more meaningful... Westlife, you guys are the best. Your music is one of the most powerful and miraculous thing in this life. I'll love you forever!
I think that an artist like Westlife with a history of more than 14 years, deserves to be in a major gala ceremony. Your success in Uk is indisputable. They are a quality artists.
This would be the highlight of there career before they split I think this will be the cherry in top of the came for there 14 year long career and the fans would love it..
They are 100% should perform at the 2012 London Olympics Opening Ceremonies.. They are one of the greatest bands in UK and their lovely songs will makes everybody excited.. I hope they could perform at the 2012 London Olympics Opening Ceremonies before they split up.. It would mean a lot to everyone and themselves.. LOVE WESTLIFE!
Just love westlife most amazing boyband in the world. Be a nice little thing for them to do before they split next year
Hi shane, mark, nicky and kian...
First of all... I'm Harjas, a 15-year-old from India and I'm a huge fan of yours...
I would just say that you guys are truly amazing... But I'm sure you have heard that... So here's something you may not know...
This is my story:
I was a really really short-tempered guy. I was an angry young man... Hated love... Didn't interact a lot with girls... Didn't even have a lot of friends due to my angry nature... I was emotional-less... Never cried... Didn't smile much... Well that was till JUNE 2010...
On 13th June 2010, I accidentally opened your song: "I Wanna Grow Old With You". I didn't like this kind of music but I fell in love with the song the moment I heard it... It was amazing!
I downloaded a few songs of yours... Loved each and every one of them... So I bought all your albums... And I love most of your songs...
And your songs totally changed me... I am rarely angry now... Have loads of friends... Girls say I'm a ...more
Westlife are loved worldwide, it would mean a lot to fans and westlife themselves to take part in the Olympics Opening Ceremony. They are outstanding singers and have been around for a long long time. However, they're splitting up next year. Them singing at the 2012 Olympics would be an amazing send off for them and fans. After everything they have achieved, this would be another fantastic highlight in their career. Also out of all boybands Westlife have been through a lot, they are great idols to thousands of dreamers out there. Their music is inspiring and like the Olympics it's about achieving and putting thousands of smiles on peoples faces. Westlife have done this throughout their career.
Westlife is the most talented boy band ever. They don't use auto tune. In addition, they are from Ireland and they are able to represent United Kingdom. Singers from other country like Super Junior blah blah blah are not able to represent United Kingdom as the their language, culture are different, moreover, their language is not popular, English is the only international language. Thus, choosing a English singer would be more appropriate. Also, Westlife is going to disband in 2012, this would be the very very very last chance to see them and let them to perform. They are popular no matter in 90s, 00s or 10s, they sang so many well known songs such as "My love", "Seasons in the sun", "Fool again", "Desperado", "Swear it again", "If I let you go" which can knock audience's socks off! Then song " You Raise Me Up" is a hymn and it is known as the favorite song of mothers in UK in 2012, isn't it good? They have the best, healthiest image, no any bad news of them. With most beautiful ...more