Wonder Girls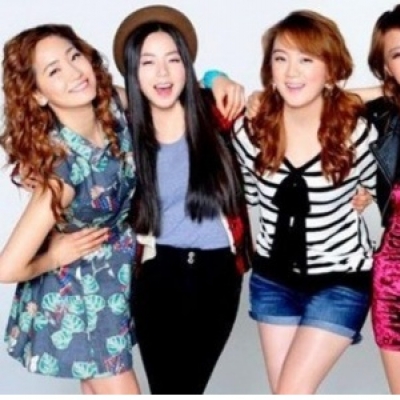 Uploaded by DynastiNoble
Comments
Top
Popular
Newest
Wonder Girls are world singers. They are trying to break into the North American music market, not only for their career but to represent Korea and their culture. What better way to represent their country than to again appear at an Olympic event? They are the ambassadors for the Special Olympics in PyeongChang 2013. They are also completely fluent in English.

These girls are hard workers and strive to better humanity, especially their leader, Sunye. Their music is catchy and easy to follow along to; no doubt able to get an audience to dance with them. What better way to start the Olympics than with with happy faces and energy all around?

Wonder Girls are a perfect candidate for the opening ceremonies. Not only to spread the Hallyu wave but also to get people excited and thrilled for the games.
Their live performance really cool.. Their sound and music is the result of combination both west and east... They're just great!
Wonder Girls are some of the greatest role models you'll find in the entertainment industry. They really embody the saying, "Reach for the stars. " No one has worked as hard as these girls, which is why they represent the Korean wave, which is spreading Korean culture to the rest of the world. At such an event where athletes have worked so hard and risked so much to stand on this international stage, Wonder Girls would be most suitable in representation of their own sacrifices!
Wonder Girls started the girl group boom, they have are very talented after going to the USA for 2 years, and know they can speak English well. Their recent album, Wonder World, has contained their experience and the members have involved in the production as well. They're going to release a new single on Wednesday and have their own movie on February. They are no ordinary group, they have gone through and worked hard more than anyone else. Wonder Girls deserve the support by fans all over the world.
They are one of a kind (: they bring joy to each and every fan out there. Every time they visit a different country they always manage to take some time to learn their language and commute with the fans. The wonder girls work hard at everything they do and take criticizer well know how to deal with antis. They are basically the best of the best. This is what they love to do the most that's why we the fan will always stand by them to cheer them on and keep them going. They are ANGELS. The wonder girls knows how to lift the mood and keep the audience entertain and happy they are my idols and forever will be.
K-Pop sensation. One of the most treasured girl group in Korea. They are the first ever K-pop group to enter Billboard chart with the mega hit Nobody. In 2010, WG was the first Korean group to tour in the US, covering 20 majors cities. They rose to no16 on Billboard's list of top stars under 21 years old. The Wonder's effect with retro style, catchy dance moves and fancy outfits have capture the hearts of many fans all over the world. These wonderful girls are planning to hit off 2012 in US market, with their first movie " Wonder Girls at the Apolo" on Teen Nick T.V. show
EVEN THOUGH THEY'VE BEEN AWAY FROM THEIR HOME COUNTRY SOUTH KOREA QUITE A GOOD TIME, THEY'VE IMPROVED TREMENDOUSLY WITH THEIR STRONG STAGE PRESENCE AND GREAT VOCALS. Another reason till why I chose these girls is because they always bring something new to their fans which I personally enjoy and appreciate. They I think deserve the most to get this great honor of performing in the Olympics this summer.

The Wonder Girls are simply amazing by being true and down-to-earth. They have been through hardships like any other artists but they took on the biggest challenge other international groups (mainly in Asia) are afraid of taking: entering the most challenging music industry, America's music industry. As years passed by, others may say they didn't succeed in their American venture but their loyal and amazing Wonderfuls knows and believes they have succeeded and will succeed more in the upcoming years. And most importantly, they have gain such great wisdom and maturity as they liblve abd start from scratch here in America. The Wonder Girls deserves this and an opportunity to represent Asia in Europe.
Wonder Girls. Every Korean knows them. They debuted way back 2007 but they are still one of the most popular Korean Idols in and outside their country. They just recently released their American debut single "The DJ Is Mine".
Wonder Girls started the KPOP wave in ASIA with hit songs like "Nobody" which is a Korean Anthem song
And "Tell Me". They are not only humble but also the representative for the Winter Olympics in KOREA. They have already performed in Greece at the Olympics.
They are 5 beautiful talented and sweet Girls
They are amazing there hit song "nobody" is WOW
I want nobody nobody but you &
And also they have awesome songs like "tell me" "so hot" "irony" "2 different tears"
And the new amazing song "Be My Baby"
Wonder Girls : Sunye, Yenny, Yubin, Sohee, Lim
FIGHTING! &
I'm from Saudi Arabia
Spread Wonder! Wonder Girls! Wow. I think wonder girls is the best girl group in the world yeah!

Wonder Girls are the best, they opened the way for other kpop artists. They are great representatives of Korea.. Are adored by their musical quality and personality of each. Son the best! They are loved not only in Asia around the world! U.S. succeeded in something that others are just trying but not there yet!
Wonder Girls' singing has that special something, call it charisma. Maybe it's love. It's definitely beautiful voices with 100% sincere hearts. If you want the best representatives for love and world harmony at this Olympics, Wonders Girls are it. Listen to their ballads, not just their catchy top hits. These girls are versatile and sing all types of music with their heart and soul.
Wonder Girls started the KoreaN wave! All over the world! Search for the facts!
5 talented girls from South Korea, who started the Hallyu fever with their hit song, Nobody! They have 6 consecutive number 1 songs. Wonder Girls have always brought addictive dance-moves and songs, that I can't stop listened too because it gets stuck in you brain. After their hit song Tell me they were named Korea's little sister by the citizens. They are truly the best of the best!
I saw them perform in Greece Olympics and they are awesome. I want to see them again, and of course, their new song "Be my baby" has a English version so that we can understand them. Although I love the other Kpop artists but I hate to listen without understanding what they sing!
EVERY member possesses decent English conversational skills, so I guess viewers WORLDWIDE could comprehend them without the use of an interpreter on stage, thereby even more so bridging the 'gap' between audience (who may or may not know them) and the girls. Also, the Olympics is an epic event where people of ALL races meet, congregate, compete and make friends and so having as many artists from diverse racial backgrounds as possible to perform in such a major event suit the theme of the Olympics.
They performed in special olympics in athens. Why shouldn't they perform in London olympic too? They are the new faces and ready to conquer the world. Just like the new faces from each country in olympics. They share the same dream but in different path. TO BE THE BEST AMONG THE BEST.
Wonder Girls were in the Special Olympics Greece 2011. They are the Queens of Kpop. They are Korea's Little Sisters because of the songs they sang. The Wonder Girls created the dance craze in Korea for 3 years: So Hot, Tell Me, and the famous Nobody! They're even going to debut in the United States soon. They are really humble, respectful, and have so down-to-earth personalities. The Wonder Girls are like no other group.
WG is the best! The first Korean singer to reach the billboard hot hundred.
That's right they are the most humble group in Korea they have lots of charisma on stage when they are off stage they are kind and friendly their song is catchy and anyone can dance to their song and they gonna release a album in English at New York...
They're known world-wide; They've been on the Worldwide Billboard charts a number of times. Most people connect K-pop to their song Nobody. And they've got catchy songs which people can dance too whether or not they know the lyrics. They've got a variety of vocals, not auto-tuned. People just can't deny the Wonder Effect
Wonder Girls are the queens of Korean Pop. They are known because of their worldwide hit Nobody which is the first South Korean song to enter the Billboard Hot 100 chart.
They're the one who got me into kpop. Their style is their own and doesn't copy anyone. Their English is good, every member knows how to speak English and they had their experiences in the US and they always smile while singing and dancing. They always cheer everyone up even though they are very tired inside.