Arnel Pineda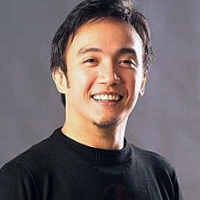 Found on kdramastars.com
Info
Arnel Campaner Pineda is a Filipino singer and songwriter. He came to prominence in the Philippines during the 1980s and internationally in 2007 as the lead singer of the American rock band Journey.
Comments
Top
Popular
Newest
Being a great singer is more than range (Arnel's is huge), timbre (he has rasp when he needs it and clarity as well). It is how you interpret the lyrics and connect with your audience. When you hear him sing on a recording, you feel he is singing to you. When you see him in person, you KNOW he is singing to you. He is not just putting on a performance (and his performances, indeed, demonstrate the energy, fervor and gymnastics of someone half his age), but establishing and maintaining a connection with his audience. Plus, he is a very humble, down to earth person who appreciates everything he has.
Arnel Pineda is passionate, loving, caring, down to earth and his life's journey has been an inspiration. He is an optimist who makes opportunities of his difficulties and he will be remembered as a blessing to everyone. - globetrotter53
He certainly deserves to be higher up this list. He is probably the finest rock singer of the 21st century. Vocal quality, range, technique, showmanship and charisma combined in one singer in this level is rare. He does justice not only to Journey songs but many other classic rock and power ballads, even songs sang by female artists like Anne Wilson and Adele.
His vocal range is out of this world! Hard rock, soul rock, ballad, power ballad, name it... From Air Supply, Sting, Foreigner, Heart, Bryan Adams, Queen, etc. He can sing anything. Awesome!
An excellent singer can be determined by his vocal range, versatility, stage presence, voice quality, and rich voice timber. He is also the Best singer with the way he conducts himself, his humility amidst his fame and fortune. His concern for his fans and his inherent goodness. I have seen only one singer, who embodies all of these, and that is Arnel Pineda. My hats off for this outstanding total performer!
A-wesome!
R-ockstar!
N-ice!
E-nergetic!
L-ovable!

Go vote for Arnel Pineda!
Let's move him up!
Why he's now on the #15?!
He's the best because whether in concert or recording, his vocals are astounding! He has a powerful voice that transmits when he sings. He sings with passion and emotion; not many singers can do this. He has great showmanship and stage presence. You've got to watch him perform to feel how it truly feels to be in the presence of a great singer!
ARNEL is best in singing he have a big voice. Even do the high notes of the song can he song. And I vote for him because he is Filipino. Proud to be Filipino
Arnel is the best... He can sing anything and he has a powerful voice and very energetic... When he sing he put he's feeling in it... Arnel is the best ever...
Arnel Pineda is truly gifted. Always compared to Steve Perry, who has fine, high-pitched voice sometimes androgenous, Pineda has great vocal range, sometimes raspy, definitely male. As a performer, he energizes his audience, he draws them into the song, he caresses his audience with his voice, engages them, smiles at them happily, all at once naughty and vulnerable. I hear he's also a generous and gracious guy.
Arnel is amazing singer. Can sing all ballad and classic songs. His voice is very powerful. He brings new life to the band Journey. No Arnel no journey today.
New Front man of Journey. He's got the monster voice. Simply amazing and incomparable.
I feel Arnel has the best voice and the most expression and heart. He not only sings the songs he has them in his heart and soul too - mandytrue
His really an awesome singer, he has a very very high tone, he can sing any top songs today, and one of his great qualities are he feels what he is singing, he can sustain his high note voice very very long.
ARNEL HAS A VERY POWERFUL & SOULFUL VOICE... A LETHAL COMBINATION! - sylsml_ph
He's a total performer complete with charisma, tremendous talent, high energy performance level--he knows how to please the audience, who feels his passion for his music with every song he sings--even when he's not feeling quite well. Truly one in a million singer...
Arnel is always "spot on" with his vocals. He can sing and sound like any artist. He is just as powerful an beautiful at the original artist. He is truly an angel from above, sent to bless our world with the gift of song.
Not just an amazing vocals but always committed to deliver every song the best he can - vallasuvas
Simply one of the best singer now because he was personally chosen by the best band of all time the journey he deserves to be one of best singers
He is the simply the best. The guy can sing everything from ballad to rock. He is magnificent! - qwin27
I vote for ARNEL PINEDA because he's the best singer best performer very HIGH energy He Can sing all type os Songs ROCKS or NOT HE Can do it ALL that's WHY WE LOVE LIKE HEM AND WE LOVE HEM SO MUCH FOR MOST he's A VERY VERY GREAT HUMAN BEING...
Arnel is a gifted singer. He is born to sing even though success came late, it makes him a better person because he knows how to handle it. GOD BLESS YOU and all your love ones. Thanks for the music you share and your warm personality.
He has the voice that anyone would love! Journey Rules! - iMAGIO
ArneL is the ever he's great performer high on energy He can jump High on the Stage while he's singing and He is very very good and kind kind Human being he's the best ever
Arnel sings with such emotion, depth and love. He can sing any song and sound like the original artist. I have never heard a singer like Arnel. He is the best vocalist.