Enrique Iglesias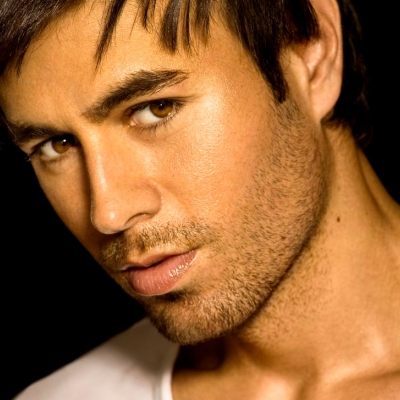 Found on latinoworldradio.com
Info
Enrique Miguel Iglesias Preysler, known professionally as Enrique Iglesias, is a Spanish singer, songwriter, record producer and actor.
Comments
Top
Popular
Newest
What... Who the Hell made dis list!, I can't believe that Enrique's on "No.41"
Enrique Iglesias rocks..
He is better than Michael Jackson. He has the BEST voice. No one can compete with him. All his Albums and duets English or Spanish are worth Top 3. His voice is awesome, amazing, fabulous, spectacular, lyrical, magical and the Best, they can't be defined, All the lyrics written by him are Treasures and r priceless. He is an all-rounder a singer, a song writer and an actor. He is one of the most nominated singers in the Grammy awards. No one can make me dance only Enrique's Songs can do that.
He should be in the 'TOP 3'If you wanna here Best music here any of his songs. His crystal clear voice will touch your Heart. All songs are AWESOME! Enrique deserves to be number 1. He is my inspiration, My Mr. PERFECT. Hats of 2 you Enrique you Enrique!
HE IS MY FAV SINGER HE SHOUL BE IN THE BEST 10 AND DESERVES TO BE IN 1ST PLACE. THIS TOO TOO DISGRACEFUL TO SEE HIM IN 76TH PLACE. HIS EMOTIONAL SONGS JUST PULL ALL MINDS TO HIM. HIS ADDICTED MADE ME ADICT TO HIS SONS
His father was the most popular latin singers but he didn't want his famous surname to help him in advancing his own career... Releasing his demo album by name "enrique martinez" & now he is the best latin selling artist in d world... Nobody has the pour soul he got... Rite from his debut album "enrique iglesias" in 1995 to "euphoria" he has maintained that in his melodies but still he havn't got what he actually deserves isn't it bad!... Common make him to the top & let the real music stay alive
He is just AWESOME! He really CAN SING any kind of music! He has worked with a lot of great artist like Jennifer Lopez, Juan Luis Guerra, Lionel Richie, Whitney Houston, Pitbull, Usher, Ludacris, Nicole Scherzinger, Akon, Lil Wayne and more! And even Britney Spears wants him in her world tour and HE SAYS NO! ('because he was doing Euphoria Tour, one of the most lucrative event in USA! His songs are always in all the rankings! He won a lot of awards! And, THE BEST ABOUT HIM? HE LOVES HIS FANS AND HE LOVES HIS FANS AND DEMONSTRATES IT! THE CONNECTION THAT HE HAS WITH HIS FANS IS JUST AMAZING, INCREDIBLE AND I ADMIRE THAT! Other artists should learn from him!
So if you ask ME if he should be the NUMBER ONE? I'll answer you that HE IS THE NUMBER ONE!
Enrique is one of a kind. He can bring a smile to your face, a tear to your eye, and goosebumps all over. He has charisma, and totally gives it all for his fans. He jumps to every angle of the stage so fans can see him. His voice puts a notch in his competitors voices. The texture of his voice can be varied to please all. His beat is right on, and makes you want to jump. He continually writes songs that have a stand out lyric or Spanish fusion of both English and Spanish.
Enrique should be the beginning of the list. He has the talent to beat everyone, including Michael Jackson. Enrique rules!
He was the first singer which became my my favorite from the first song I heard of him he should be at least in top 10. NO ONE CAN BEAT HIM. PLEASE VOTE FOR ENRIQUE AND IF YOU HAVE NEVER HEARD OF HIM THEN HEAR 'HERO', 'I LIKE IT'

See sing from his heart I love him very much I want to meet him it my dream I hope my dream come true enrique keep singing in you life god is with you
Though I love most of his songs but the most beautiful song is MAYBE... It makes me click the repeat button on my ipod again and again...
This man has the wonderful, magical voice that suits with every kind of songs. He is the top male artist who has most no one on billboard top chart. Enrique iglesias is just great. He is the greatest. We all live you so so so much enrique. Guys keep on voting more and more for enrique and bring him on the top. He deserves to be there.
I think Enrique should be next after late Michael Jackson, He deserves the best. When he sings I fell my soul get fly higher... Like Enrique he is the best young singer.. Long live Enrique love You.
Enrique is the best singer of the world and it is not fair that he is on the list on 44 he should be at least on the list by the most top ten, better he should be on number 1. nobody can compare with the greatest singer of the world, all his fan's over the whole world are agree with me that he doesn't deserve to be on 44, he deserve to be on 1 because for all his fan's is Enrique the Number 1!
Why him? Because there is no word to describe his talent. There's no word to describe his conection with his fans! There's no word to describe how he WORKS, LIVES, GIVES HIS BEST all for his fans! Because he is one of the best artist of all the time, since 1995 he is the best and he still is the NUMBER ONE. Because he's a sexy latin, has talent, HE LOVES HIS FAN AND HE PROVES IT every time HE GO ON STAGE, because his songs always are in top 10 of the best ranking all over the world. BECAUSE HE IS ENRIQUE IGLESIAS!
He even deserves to be on the top ten. Super duper awesome singer... Every body likes him he has a huge fan followers.. Come up guys and cast vote for him...
Enrique is the best on the world! He is better than Michael Jackson! New song "Dirty Dancer" is beautiful. Video for that song is very nice.! But all songs and videos Enrique are the best on the world! Enrique - You are my number one!
Enrique is one of the best voice I have ever heard. Enrique is great not just best he is fantastic superb and best. If anyone think that he is not a good singer so according to me, he/she doesn't have feeling because enrique sing from his heart...
I LOVE you ENRIQUE SO MUCH.. I CAN'T EXPRESS MY FEELING BY TYPING...
U DOESN'T WITH ME, BUT BY YOUR SONGS I FEEL THAT you R WITH ME
I love Enrique his songs are the best. For me he is the best singer and he always deserve the number 1 position I love you Enrique give us more beautiful songs. Whenever I here U.songs I think I am so lucky that I am in such a world where I can here songs love you from your best fan
Are the voters here biased or are they clueless about what singing is? I mean, enrique has the best voice.. MJ can't be termed a good singer... He had range but that's about it! Chester is very good, avril has a nice voice too but enrique should be there at the top!
he is very awesome singer and he has a great rhythm in his voice

Enrique iglesias is enrique iglesias.. Then what the hell is he doing in 39th? Just listen to him he can sing dance hits, RandB, solo, soft rock and everything. His music can cheer you up and also tear you down. He is the best at emotional songs. But now some kinda stupid plastics like taylor swift, lady gaga, katy perry and Justin Bieber are mostly topping. Come on people come to reality, it's about music not about hell. He deserves to have musch more. All I can say is Enrique Iglesias is the best singer of all time.
ENRIQUE IGLESIAS IS MY HERO AND PROBABLY THE BEST SINGER IN THE WORLD IN MY OPINION HE IS ONE OF THE GREATEST Spanish SINGER FROM THE FIRST SONG BAILAMOS TO THE SONG THAT I HEARD TILL TODAY ALL OF THEM WERE SUPERB AND THE VIDEOS WERE TRULY AWESOME. IN EVERY SONG THAT I HEARD IT TRULY TOUCHED MY HEART AND IN MY OPINION HE IS STILL THE number 1 POP SINGER IN THE WORLD
Enrique Iglesias has a nice voice with an impressive range, but I believe that his placement at 59 is correct. The comments I've seen so far have been loaded and biased by fangirls, with no evidence to support them. If you would make such an audacious claim as to say Enrique Iglesias is better than Michael Jackson (and, by the same notion, better than Freddy Mercury and Matt Bellamy), I would at least expect a specific song to examine.
No one can sing emotional songs better then him, he should be in the the top ten best singers list; as he is my favorite., and I'm a huge fan of him; Long Live;Enrique.
What makes Enrique Iglesias the greatest singer ever is his ability to relay what he is feeling. When you hear his songs, it's like his feelings are almost tangible. His personality is just dynamic and fun loving too. He is an awesome person and an amazing singer, and I personally don't think that he is given full recognition for his amazing talent. He really deserves to be number 1.
He is the Youth Icon for any generation.99% of his songs are top most songs and none can compete with him. This ranking is absolutely wrong. He deserves the TOP 1 or else in TOP 5 but here is completely reverse. I request the editor of this site to not prepare the list based on the votes voted only on this site and please once again conduct the poles and alter the TOP 10 LIST.