Josh Groban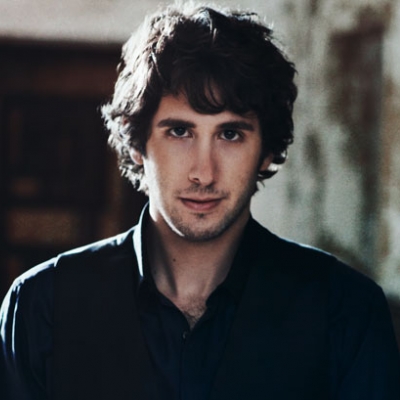 Uploaded by ParasN2000
Comments
Top
Popular
Newest
Could David Foster BE anymore correct when he said that Josh's voice had a place in this world - David knew this when Josh was 17yo! Since hearing him on Ally McBeal, I've been in love with that voice. Watching him grow as an artist/entertainer and the humble/humorous/generous person that he is, places him as a permanent resident in my heart. I have never been moved to join a fanclub before in my life until Josh Groban came along. It begins with that incredibly rich & expressive voice of his. It can be so powerful one moment, then lullaby gentle the next. Josh's voice completely fills, satisfies, and heals me. It is absolutely transforming. If Josh's voice and music could somehow be transmitted throughout the world everyday, I'm convinced we would finally have world peace!
Josh has a voice which, once heard, can melt the heart and soul. He is a legend in his time. Many artists would love to have the fanbase Josh has. His popularity grows by the hour. He is loved and respected by many in the music industry for his dedication and commitment as a singer songwriter. His contribution to humanitarian issues is well documented too. He will be around for a long, long time to come.
Josh Groban is an incredible singer as well as person inside and out. His foundations and charitable works speak for themselves. His voice is a delightful enigma for genres and touches the hearts and ears of all ages. It is a truly unique gift that is being utilized against different styles of melodies from around the world to create incredibly soul-filling music. As previously mentioned, his voice is just like that, if not better, than that of his albums. When listened to live, it feels as if the arena he is performing in cannot hold such a powerful voice. His music speaks to the soul and he as a person has a heart as big as the world.
No one has ever moved me like the voice of this angel. His music touches my soul. He sang me through a depression. He can always lift my mood. His live appearances are a zillion times better than his cds and his cds rock the earth. he has an awesome personality and is an all around good guy. There is no way you will ever do better than Josh. He is one of a kind and no one will ever fill his shoes.
Josh's voice is like no other. He not only sings, but he feels and shows. His looks, his voice, and everything about him makes me melt! He has such a great personality, and if he never was able to sing again. Then he could make a career out of stand-up comedy. Every time I ear his voice I want to scream. Every time I look on my twitter, he at least has 100 new followers. Literally, how could one NOT like the INCREDIBLE Josh Groban?! He will someday be in the Hall of Fame in the music industry. He's truly inspired me to be a professional pianist. Josh Groban, you are my hero!
Why wouldn't someone vote for Josh Groban? He has the most amazing voice range I've ever heard, hitting low and high notes in a matter of seconds. He's one of the only live performers that sounds exactly like, if not better, than he does on his albums. Josh's songs can melt a heart of ice, pierce the soul, and his music connects with all generations. I was thirteen when I heard my first Josh Groban song, You Raise Me Up. I'm eighteen now and still head over heels in love with his music and him. Humor, raw talent, heart, and emotion all rolled in to one. He deserves to be number one!
Not only is he an amazing singer, he's an amazing person, on Oprah, I think it was, he sang a special rendition of his song awake for a girl who asked him to her prom, he couldn't go with her because he was on tour in Europe, but when he got back he sang for, even inviting her on stage with him. And musical examples are songs like "Awake", "You Raise Me Up", "Higher Window", "February Song" and "Closer To You", he's bar none better than everyone else on this list, because of his clean vocals beautiful lyrics and amazing instrumentalists, he's just incredible.
Josh, with his angelic voice can stir your soul and melt your heart. When you look unto his chocolate brown eyes, your brain goes numb and no words come out. But he says he's just a man we say he's not, a friend for all times, he loves and appreciates his "Grobanites". His boyish antics and love of life give him a humorous side that totally unprepared you for that super sexy performer you get a glimpse of on stage. To say there are many sides to love of Josh is an understatement. To hear him is to love him.
Not only he is naturally gifted with an amazing baritone, but he works hard on his range through voice training. It shows, he is always on key with a lush melodic timbre and outstanding range. There is no equal today in Pop. His voice is not something you get tired of hearing. There are once in a lifetime voices that have the ability to make the hairs on your arm stand up - his does that. Not only that, his live performances need no augmentation and what you hear on his CD's is his real voice.
Josh is the top artist of all time for me because he is both professional and passionate through his work. It is an art to be able to sing the way he does. He's a humble person, generous and very giving. I know of no other artist past or present who gives of themselves as he does to his fans. He is loved and respected for being himself. Josh brings so much joy and pleasure to those who appreciate him as an artist and the lovely person he is. - Jerusha
Josh is an angel sent from God to illuminate our lives his angelic voice can heals broken hearts and heals dead souls, as for me he lights up my life and whenever I feel down I listen to him, he's my daily dose. Last year I had an operation I had a tumor in my right ovary and I went through hell because of the pain after the surgery but Josh's voice was my consolation and for that I'll always be thankful for him and I cannot wait to see him and thank him in person
A voice made in heaven. He touches my soul every time I hear his music. I never would have thought that classical music could appeal to a young audience but Josh Groban closed that generation gap. Now the songs that my Father loved (which I hated as a child) have also become songs I now love. Truly Josh, you are one in a million. The music industry is blessed to have discovered your talent and have shared it to the world.
I've been through a lot so far in my young life. I'm only 20 but have been through three heart surgeries and three years worth of hospital life. Josh's music was the only thing besides God that kept me going. My dream is to actually meet Josh to tell him my full story (which would be a good movie script) and personally thank him for what his beautiful voice and music has done for me. I Love him so much
I was originally going to vote for Freddie Mercury, but I decided to vote for Josh Groban because I feel like no one really considers him. I don't really listen to him a lot, but when I do hear his voice, I'm always amazed, even though I know how good he is. His voice is indescribable. So unique; you can't teach someone to sing like that. You have to be born with it. Definitely one of the greatest voices ever.
Josh works extremely hard to keep his voice in the best shape possible. How can I tell and how do I know this? Well - first of all I'm a fan and keep up with this guy. I know he takes his own vocal coach with him on tour and that says it all right there. He is an incredible singer - gifted no doubt. - Suzypooh
Josh Groban - he's just perfect. A voice like an angel, a songwriter extraordinaire, an actor, smart, courteous, a wicked sense of humor, a true philanthropist and - as he matures - extremely good looking. His voice live is better than on CD and the banter between songs will have you laughing your a*s off. Truly, destined to be one of the great entertainers of all time!
Josh's voice is the most beautiful sound I have ever heard! It calms me when I'm angry or freaked out, it lulls me to sleep at night. His music is the one thing I can depend on and I hope I get to hear it live one day. He's sweet and funny and that voice is to die for! If I only had to listen to one artist for the rest of my life, I would choose Josh Groban.
Josh is awesome! HE is every mothers dream for a son in law! I just
Want to bring him home with me. I listen to his songs and weep. I thank
God for him and his parents who did a brilliant job raising him. Had ticket
To go see him and woke up that morning with severe eye trouble and the doctor
Said I couldn't go - - - I think is an amazing singer, compassionate and he
Shows it when he sings. My 23 year old son passed away and when I hear "To
Where You Are" it is so touching. He is the best ever and will ever be and
So EASY on the EYES! Love you Josh Groban
Josh Groban has such a beautiful voice and is also a beautiful person. He is definitely a role model for any and all people to follow. His talent is uncanny in being an all around entertainer and his voice just flows so easily with his lyrical ability to captivate an audience. He is my favorite singer and entertainer of all time!
Josh has a wonderfully unique voice. He is so loved by his fans not only for his voice but for the amazingly kind and genuine person he is. He is loved and admired by people of all ages from 5 to 75. He is also a brilliant songwriter and musician and should go on singing and playing for the longest time. Keep doing what you are doing Josh, we all love you
Josh Groban's music transcends not only many genres of music, but many generations of fans. He has helped me through SO much. I've been a fan from the very beginning. I've had the chance to sing with him, to talk with him, and to hear his incredible voice live on multiple occasions. He is an incredibly kind and generous person and I love him to death
Josh's voice is a phenomenon. Right off the bat, every high-level singer wanted to sing a duet with him. His unbelievable natural talent combined with his vocal training have clearly optimized the appeal of his voice. A voice like Josh's comes along very seldom. I'm sure Josh's voice is classic enough to be around for centuries. He's that good.
He has the purest, most powerful voice that gives you goosebumps. It is a sound that reaches deep inside you bringing up emotions that you didn't know you had. Aside from the singing, he is the most compassionate person there is, always giving to those around him. HUGE heart that guy. - anetnut
Joshua Winslow Groban has been an inspiration to myself as a vocalist/pianist. His voice is angelic and his range remarkably large. No one has ever moved me like he has. I am only 14 now, and have had the blessing of meeting him. Upon confirm of his ongoing support to several charities, not only is his voice simply amazing, but his heart as well.
Not only does Josh have an AMAZING voice, he is an AMAZING person. He genuinely cares about his fans. He has such a good heart, and it truly shows whether he is doing a one on one interview or performing in front of thousands. His music is so positive and uplifting, which is rare in the music industry. What else can I say, JOSH GROBAN IS THE BEST!
Related Lists
Top Ten Best Josh Groban Songs