Myles Kennedy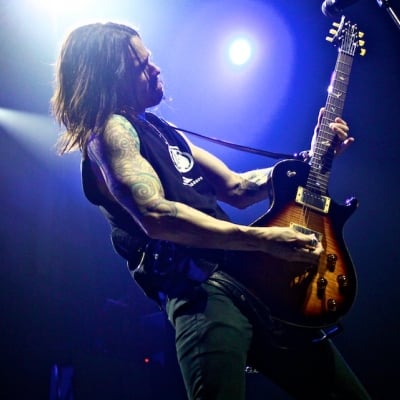 Found on maytherockbewithyou.com
Info
Myles Richard Kennedy is an American musician, singer and songwriter best known as the lead vocalist and rhythm guitarist of the rock band Alter Bridge, and as the lead vocalist in Slash's current band: Slash featuring Myles Kennedy and The Conspirators.
Comments
Top
Popular
Newest
Myles Kennedy is just one of the best rock singers of all time, and here's why: The quality of his live vocal performances, his frontmanship abilities and his beautiful lyric-writing style match those of great legends like Mercury or Plant; not to mention he can sing any of the stuff from pretty much every big rock band of the past, as he has shown many time in Alter Bridge first, covering Led Zeppelin, Deep Purple and Ozzy's stuff, and then with Slash, singing again Zepp (who also gave him a shot rehearsing with him for a never done Plant-less tour), many Guns n' Roses' stuff, not to mention a Lenny Kravitz cover, and songs from Velvet Revolver and various Slash's solo works. No matter how many shows he plays in one week, he gets the job done; he has a great technical knowledge, and knows how to properly use his agile tenor voice both in studio recordings and live stages.

You say that's not enough?

Yeah, well, he's also a great guitar player and songwriter. Check out ...more
There's not much to say, I started listening to his current band Alter Bridge quite a few years ago now and since then he has blown me away time after time. Now I listen to many of his older bands, including The Mayfield Four, Citizen Swing etc. Not to mention his own version of Hallelujah... Just AWESOME! I can't tell you how excited I am for his solo album that should hit the stores this year! Love the fact that he's getting more recognition, as he deserves, now that he's singing with Slash as well...

I gotta admit that there are some very capable and incredible singers on this list (while some are less fitting) but this guy has just got that extra spark.. The emotion he pours into every song and live performance is mind-blowing, not to mention that he is an amazing songwriter. If you haven't heard of Mr. Myles Kennedy before, give him a listen, you won't be disappointed!
Yeah, Freddie Mercury is a legend (and I love him), Michael Jackson is an icon (and I like him too). But Myles Kennedy is AMAZING. His voice gives me shivers and I'm addicted to it (and it never happened before! ). Just try to listen to Alter Bridge songs like Shed My Skin, Blackbird, Words Darker Than Their Wings. He sings with his heart and soul, really. Not convinced yet? Then go find out his work with The Mayfield Four (Summer Girl, 31/12, White Flag, just to name a few... ). Do you STILL have doubt?! Go to YouTube and listen to his acoustic versions of Hallelujah and Travelling Riverside Blues. He DESERVES to be AT LEAST in the top 10. He is an amazing, kind, humble human being too. Seeing him under names like Bill Kaulitz and Ville Valo is unbelievable... And who are the guys at the 2th and 3th place?! I checked them on YouTube and I was like "what..?! "
Some of the people on this list are being chosen for success or fame or for the quality of the songs rather than the quality of their voice. While I am a huge fan of Myles' humble attitude towards his success and the depth of meaning in his lyrics, I would also vote for him based on quality of his voice alone. His range is incredible, and he can hold a note for so long that most people have to stop to take two breaths. The emotion in his tone conveys the meaning of the lyrics so well, especially Blackbird which has a profound and painful inspiration. The way he sings it, every waver and quiver in his voice, makes it more like a storytelling experience than a song. You should never listen to Myles Kennedy as background noise, because most of his songs have a real message behind them, and his voice is the perfect instrument to put these issues across to an audience.
Myles Kennedy has the greatest voice range not only for Rock, but in almost every music genre. Myles has hit levels so high and crisp live in concert better than anyone it is ridiculous that he was voted 84. This man along with Alter Bridge has changed the rock world this past 10 years and Myles continues to defy Rock in it's entirety. I would put my college education betting that Myles Kennedy has the best vocal range out of anyone in today's music. No one has ever belted kit so clear and smooth like he has in concert. Not a single bit of raspiness comes off of his voice in concert. This man deserves to be #1 on this list. AB Nation baby! Blood type AB! Keep rocking strong gentleman.
Myles Kennedy is matched vocally by very few. He is by far the most talented contemporary singer on the world stage right now. Possessor of a 4 octave range and incredible breath control, he is simply outstanding. His pure emotion that he can bring to any song can take a listener's breath away, and he is as good live as in the studio. Slash, who took him on tour as his lead vocalist and is currently recording an album with him, said the reason he chose him to do so is because his talents are so varied that he was the only person he could think of that would be able to sing all the different types of song that Slash had written over the years - he has to go out and sing Axl Rose songs, Scott Weiland songs, an M. Shadows song and even one by Fergie! As an overall musician he cannot be doubted, as he is as good a guitarist and writer as anyone in the world. He is simply untouchable.
An incredibly versatile musician and artist- the total package; just ask Slash, Van Halen and members of Led Zeppelin He plays guitar brilliantly, can sing hard/soft Rock and acoustic ballads with ease. He is a self-made success- went from guitar instructor to huge rock Front Man in a matter of 5 years(while in his mid-30s). His Lyrics are earnest and passion-driven, with intense purpose and worth. He is fantastic in concert His singing motto is, "Sing like your life depends on it, "... He is great with fans and with interviewers... And is not the cliche mold of a Front Man. He is a classy success, and is grateful for every second he has to perform. I hope he's able to perform and write music for decades to come.
Looking at this list is kinda depressing.
I don't know how many of these folks are actually basing their votes on the actually singing ability of the person they vote for or if they just pick their favorite entertainer/songwriter/singer or whatever.

It's ridiculous and utterly sad how many great singers are so far down on this list and Myles would most likely take the No. 1 spot if I were to create my own top10 list out of all these people here.
Just listen to that live version of "Watch over you" in Amsterdam. Seriously.
He's unbelievable! The range of his voice, the way he's singing, his variety, the songs full of power and emotion. I love each AB song, and you shouldn't miss to check out the Mayfield Four ones as well. His work with Slash - I can't think of any other singer who's able to sing Guns N' Roses-songs the way he does. Not even close - it's sending shivers down my spine every time I listen to them. You don't just hear Myles sing, you can FEEL his voice. There are no words to describe his live performance - it's miraculous, to say the least. He's having you spellbound. Can't wait for his solo album, AB's Wembley DVD and for another opportunity to see him or them live. Ok, you got me - I'm addicted And my blood type actually is and will forever be AB (not kidding).
4 1/2 octave range that encompasses every note of his band's predecessor Scott Stapp's low, throaty growl while still avoiding being a late 90's vocal caricature and delivering a consistant, soulful, inspiring performance that is relatable to the average listener's ear. This followed by the effortless ability to raise the vocals to an unprecedented male range that rivals many females, while still preserving the interest and emotion of the song. Few singers can reach as low OR high as MK does, regardless of the material he is singing. Even fewer can still have such a range without sounding thin, operatic or weak. The power Myles displays in his top-end notes is breathtaking and reminds us what it used to take to become a famous musician... Other-worldly talent, an understanding of true musicianship and most importantly, the willingness to push one's limits daily in the name of creating something beautiful.
Here is a man whose live performance quality is so great that his band's shows are frequently visited by musical dignitaries such as John Paul Jones, Eddie Van Halen and Robert Plant. He's been joined on stage by the great Paul Reed Smith himself, and Slash, whom Kennedy also tours with in his solo project as lead vocalist, and will be providing lead vocals on the entire second album. He's jammed with members of Led Zeppelin, been approached to sing for Velvet Revolver, and has been holding off on his own solo material due to the sheer success of the other projects he's involved in. He's got a history of singing blues, jazz, fusion, funk, metal, rock and acoustic versions of many others.
Such versatility is testament to the man's talent, and more than sufficient reason for him to be voted up! A lot!
His vocal range truly came full circle on ABI. It is impossible to deny he is the best vocalist in rock today. Look at how many different musicians have wanted him to track vocals for them.

One of the most impressive things that he brings to the table is an amazing ability belt, where most scream. His technique is amazing for a non classically trained singer.

In terms of pure vocal ability he is in the top 5 in Rock history, because this is a list of who can sing the best, not who has the coolest scream, or who has the weirdest sounding voice.

In term of vocal ability alone, he stands at the top with Steve Perry and Freddie Mercury.
Myles is number 1 on this list - be it with Mayfield Four, Slash or Alter Bridge. Period. His vocal work especially on ABI and Blackbird surpasses anyone currently on the music scene. He recreates live what he has done on his records To add to that he is an incredibly talented guitar player - the soulful bluesy sort that can give shredders like Slash and Mark Tremonti nightmares.

To be considered for the Led Zeppelin Reunion at one point in time is proof enough of his brilliance.
I would like to share to you all.. Watch the Movie "Rockstar" With Mark Wahlberg.. Amazing "True" movie about a fan that over powers the vocal range of his favourite bands lead singer And takes over.. At the end of that movie..

Myles Kennedy over powers the vocal range of (Mark Wahlberg's) vocal range and takes over yet again.. Will give you butterflies when you see you it (Honest)

Even though Myles is ranked 27.. If you check out The live acoustic performances from him.. Then you will know..

Myles kennedy was sent from the heavens above to repent us from our sins with his music.. Much love Myles.. Hope to see you live someday
Myles has to have the greatest voice of our generation! He is incredible live and also an excellent guitar player. His passion for what he does is reflected in how hard he works, if you watch some of alter bridges webisodes on you tube they are always talking about how hard he works and never takes days off. I highly recommend a listen to slash and myles doing an acoustic cover of sweet child o' mine of slash's Australian deluxe album, if you can't get the song watch it on you tube!

GO MYLES!
He is the best live rock band singer of all time. There is no comparison and this list and record sales compared do Britney Spears (seriously?) does not do him justice. He writes all of his own songs and there must be something said to headlining the Slash tour. Anything by Alter Bridge would be able to prove how far he has come in vocal range and I'd reccommend Find The Real, All Hope Is Gone, or Words Darker Than their Wings.
Myles is simply amazing he delivers perfect pitch in every performance that you ever hear from him. From his old jazz stuff to his songs with slash and through to Alter Bridge he shows complete command over stage and his voice, not many men or even women can hit notes like him and he uses them with assassin like precision! You simply don't hear anyone like him anymore and you can't fault any of his songs in the slightest. This is a man who can bring entire arenas to a hush as they take in the amazing voice that he delivers. He is simply in my opinion one of the greatest rock singers of ALL time!
There is only one singer, who is above Myles, that could be compared with him - Freddie Mercury. The only one I agree with. But you must be kidding placing Jared Leto, Rhydian and all others above Myles. Myles vocal abilities are more than amazing, more than impressive. Myles always sings with heart and passion. He gives everything he's got to every single song. When you listen to Kennedy, you don't even feel how strongly he and his vocal performance effects you. There aren't enough words in any language to describe how good he is. I hate when a bunch of untalented "singers" are above such a great vocalist as Myles.
Myles voice brings out emotions no one ever dreamt of singing. Alter bridge and myles, together with mark T. Scott P. An bryan M. Sing and create works of art, not songs. Unlike the likes of Bieber or rihanna or spears, their songs set out to reach a meaning dark and deep within all of us. The albums weren't created primarily for profit (though denying profitability would be an irony) but intended to start a revolution. Move away from crappy songs about clubbing or sex or money or alcohol or sum cussing lists peppered with Auto-tune. AB and Myles let you listen to meaningful and well thought out music, in it's raw artistic form.
No one can deny what a great voice Myles has. You don't have to be an Alter Bridge fan, you don't even have to like his style. But he has an amazing vocal range. He can do so much with his voice and it is so pure and.. Well heavenly. He always shows lots of energy on stage and then his vocals are sometimes beyond perfect. I even think his live performances are better than the ones on CD, yet different every time. Even if you decide not to vote for this amazing singer, he is worth checking out.
Really Myles most be in the Top 10. because his voice it's so fantastic and unique. More than Axl Rose, more than every rock n' roll singer now a days. Every song that he sing, make it a master piece, and with Alter Bridge, it's a great composer and guitarist. He is the master of master of rock today: Mr. Myles Kennedy

Alter Bridge Blood Type runnin' thru my veins n_n
How many octaves is it now 4-5... Amazing singer from low baritone richness to balls out passagio smashing belts... Its ridiculous that some of these people are above him with rangeless richless studio voices.. This. Guy tours with slash and sings balls out. Guns N' Roses day in day out.. Not even axl could keep up.. The only reason I think he's not at least top ten is because people don't know myles kennedy, they know him as the guy who sings with slash... Myles you need to start making some headlines or race a batmobile or something..
If Rock wasn't as low in popularity as it is now, Alter Bridge would easily have been a Guns n Roses of this generation. The vocal range is amazing, his live performance is amazing, and he has done nothing but rise in an area of music that's dying. When a guy like Slash comes out and tries to recruit you for Velvet Revolver THAN does a collaboration album (to be released this year), there is no denying talent. I hope Alter Bridge at least gets one platinum record in sales. The fan base, and the rest of the Rock world deserve it.
Myles has an extremely impressive voice. I only just became a fan, but I truly could not believe his power. He has my complete attention with every song; his careers in both The Mayfield Four and Alter Bridge are outstanding. Blackbird and Isolation are masterpieces, with a very strong musical and vocal presence from Myles Kennedy and more importantly, his live performances are ecstatic and energetic. Its very difficult to think of someone above him on this list. Kennedy has a bright musical future and I look forward to hearing it.
This guy is the future of rock.. There's no one like him out there nowadays, he has an extraordinary range, a vocal tone never heard before and he's one of the few that can express himself as good live as in studio.. He's a great frontman, plus he's an outstanding guitar player.. How not to vote him? You just have to.