Sonu Nigam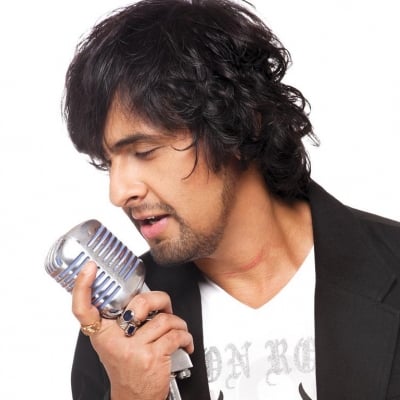 Uploaded by chriss_moyer
Comments
Top
Popular
Newest
Undoubtedly sonu is the unparalleled Indian singer and one of the best in d world.. No singer can match his versatility... His fantastic and heart touching voice... He can act, dance, sing, mimic voices of actors and most singers, sing in female voice... He sang in 54 voices for the song 'TEES MAAR KHAN' which is a record.. He justifies every musical genre(classical, semi classical, ghazal, qawali, sufi, Indiapop, rock, English, filmy, patriotic, bhajans... Anything... He justifies them all.. He's the best.. So vote 4 him..
Sonu nigam is the only one person who can sing everything there is also song his name catch it here " sonu nigam = son g(u n I am) " it mean song what you can not imagine that can sing I am :- its full mean of sonu nigam
So according to me the best singer in the world is not other one that is only one
Sonu Nigam
And whatever he sing that makes history because every his song is totally different
And he can also mimic all the singer
For more you will have to watch his live concert because he fire the concert floor
And wish that he may get more achievement or success god bless him for future
At last
There is no one like sweet Sonu Nigam at all, Jesus gave him a beautiful and sweet voice even a beautiful face, he has every quality which should be in a best singer even he can sing any kind of song and has been proved to the world that he has sung every type of song, so there is no one in the world who has done it before whatever sweet Sonu Nigam done. I have a lot to say but I don't have words to describe this rare gem of the world of music.
Hey! Sonu nigam can't be down here...
he must be at least in top 10... Any indian based guy can not forget this legend at least till this century ends.. We love sonu nigam.. Still listening while I am writing this comment. Best singer of the world I would say. I know my comment would be far away from sonu nigam. But he z close to my heart and always will be. I grab every feed of him and never miss a single song. Just love him upto brilliant limit. I would and world too would once see him as bight star among all others. HE IS JUST THE BEST.
The most versatile and talented singer with a most touching voice and genius-like musician I got to know, with nearly 2 Mio followers on FB and non-countable fans worldwide. His recent collaborations with Jermaine Jackson and Britney Spears has risen high interest among western music lovers too. He definitely deserves to be at least amongst the top ten - so please vote for Sonuji
To be the only Indian in the list of stalwarts speaks volume about this humble and magnificent soul. A singer born once in a lifetime. All you world kindly listen to this sensation called Sonu Nigam and am sure he will be voted to be in the top 10 if not top 5. He has sung majorly in Hindi but has collaborations with Avicii, Britney, Jermaine Jackson.. His concerts makes him stand apart as he is inimitable there. A true music lover will surely agree..
He is the best singer of all times. He has great voice and versatility in his singing is something no one in this world can match... Undoubtedly far far better than any English singer... Because all other singers across the world have a particular style or genre of singing but Sonu can do all that all by himself... He is THE master.
According to me after Michael Jackson he is the best singer ever in the world. Please vote for him and also tell your friends to vote. He is ranked at a very lower rank here.94 is not a deserving rank for him. He deserve nothing less than top 10. vote for him and also tell your friends to vote. He is ranked at a very lower rank here.94 is not a deserving rank for him. He deserve nothing less than top 10.
He is extremely talented.. With every day passing he is taking a step forward and master the talent he has.. He is indeed a LEGEND! And all the Indians are proud to have him as one of the best singers in the country.. All best wishes for him..
Are you all totally crazy Sonu at #23 he should have been in top 10 he can control his voice and sing in over 54 voices and in tees mar khan song he almost sang in all of his voices and even gave live performance he is best in India at least in top 10 in world. He is the miracle creation of god
I think he is the best singer of the world... The talent he has is the most appreciable and the greatest... The reason why he is not well known in world is that he belongs to India.. I love him and pray to god for his bright future..
Sonu Nigam is known for his versatility in the field of music. He's not only a great singer but music composer, lyricist, performer, actor, mimicry artist, he's a true living legend, Sonu should be in the top ten.
Blessed by the Music God of India, Md. Rafi, Sonu Nigam is the best living male singer in India, or I should say World in our time. The man with the golden voice is himself a blockbuster in India, and has sung a number of memorable songs!
He is one of the most talented singers across the world. He can sing in different genres and in different languages and also in different voices. He made it to the Guinness Book of world records for singing the title song of Tees Maar Khan in 54 voices. I highly doubt that any singer has achieved such feat before.
Come on guys, vote for his sweet and amazing voice. He deserves to be in top 10.
Sonu has an incredibly beautiful and soothing voice... He sounds like a cupid of love while singing... Probably the best vocalist from india... Great voice great technique and never disappoints you with his singing
Nothing like him he is really deserve in top 50 and he has nice control on his voice and no singer like him in India who can sing song in many languages and if I'm not wrong then he is only singer in the world who can sing song in more then 20 languages


Please, I don't even have to describe why he's my favorite.. He's versatile, handsome and his voice is soothing to the ears and mind.. If you need proof, listen to his work on his albums.. Although he's outstanding in playback singing also.. I LOVE SONU NIGAM..
Best Singer and Best live performer ever :) He has got great knowledge of different style of music
I always was thinking: "who will be the amazing, sweet voice I hear in almost every hindi movie? " I didn't know him till last weeks. I was watching "Mirchi 2012" and watched his tribute to great Indian singers. Oh, my God! He sang songs I thought are impossible for any singer to handle! And he sang them so fluently! Then, for the first time in my life, I became fan of a foreign singer!
He is extremely versatile and the best singer, performer, musician, impressionist, talent show host, judge, like how much can I say about Sonu Nigam. He should have more votes.
Best singer in India today, deserves to be in top 10, just because Hindi is not a world language, he's still unknown to world stage. Have a suggestion guys, listen to his songs and vote wisely, I think his rank will be better!
Sonu is one of the best singer, with a magical voice, he is the most versatile and brilliant singer I have ever known.. I listen to all his songs and have collection of all his album.. he knows mimicry and sing in other languages too, marathi, Tamil, English etc... I love all his bhajan songs, he is such a wonderful singer.. his voice is so soft. He is amazing, awesome. God bless sonu nigam..
Sonu is one of the best singers in India who has sung in almost every Indian language with accurate pronunciation without loosing the rhythm.. He is the best!
God of Music in India, what the hell is he doing in this position? Deserves to be in top 3, my opinion to music listeners outside India, listen some of his samples, and change your mind!
He is the best singer in the world... I love him and his voice very much. he has very soulful voice. I love his singing very much. And he is also a very versatile singer. he can sing any type of song. He is my favourite singer and he is always great.
Related Lists

Best Sonu Nigam Songs