Steve Perry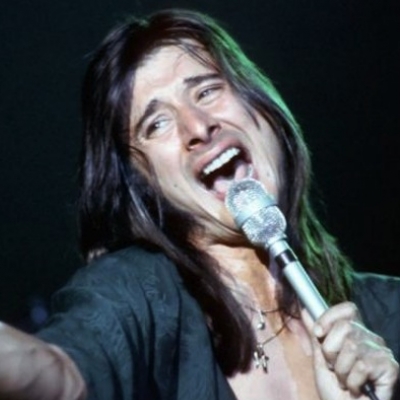 Found on ultimateclassicrock.com
Info
Stephen Ray "Steve" Perry is an American singer, songwriter, and record producer. He is known as the lead singer of the rock band Journey during their most commercially successful periods from 1977 to 1987 and again from 1995 to 1998.
Comments
Top
Popular
Newest
In comparing all the male singers since the days of recording music, in my opinion Steve Perry holds the title of the best singer ever for a variety of reasons. Obviously his range remains unsurpassed by anyone. I'm not saying that an opera singer can't hit the same registers, but it's different. When pertaining to rock, pop, and ballad music, Steve stands alone. And it's not just the range. It's the USE of this range. It's not just belting out ridiculous high pitches for the sake of belting out high pitches. Mariah Carey is a perfect example of one that has an amazing range, but in many of her songs she sounds like a mouse that's been slowly squashed by a devil child. No, Steve Perry hits the notes not to overwhelm the song with his range, but rather to augment the feeling the song is supposed to generate.

Another completely unique quality to Perry's voice is his ability to practically "curl", for lack of any proper word, certain notes. This is demonstrated in such ...more
Steve Perry is the best singer hands-down in my opinion - such a wonderful emotional-sounding voice - such clarity and range. He makes you think he means every word of every phrase in every song he sings. His vibrato - the way he sings "Whoa..." - his high notes in Mother-Father and Lay-it-Down and Sweet-and-Simple and his lower register voice in the songs on his solo albums - all classics. I love the clarity in his early work but I love the slight raspiness he developed later as well. He can sing such a range of styles - hard rock, classic rock, blues - jazzy - pop - ballads. He has a very rare talent. I love just about all the late 60s, 70s, and early 80s music, but it's mostly the lyrics and the melodies I'm drawn to. With Steve Perry/Journey music, it is "the Voice" I'm drawn to (even though I also love their lyrics and melodies). More and more people are realizing that Steve Perry was one in a million. He REIGNS! Short story: I am a teacher. One day I got on ...more
Late 70's he delivered high notes, somehow amalgamating with the 70's Jazz/Blue's instrumental-heavy group, transforming them into something new altogether. You can't stop his voice crawling over your skin during the high notes of Any Way You Want It etc. Then the unforgettable melodies of 80's, they delivered classic after classic. Then in the late 80's and especially in 90's when his voice got raspier, he brought an altogether different element to the group's direction vocally, and they all gelled, musically delivering us a masterpiece like Trial By Fire. That's called improvisation to it's best and converting it into an art. Hail Steve Perry, the VOICE!
There is a reason Steve Perry has been dubbed "The Voice". This Smalltown Boy never stopped Believin in his dream of singing and performing despite many obstacles. In an interview, Steve said: "If you're a guitarist and you get calluses on your hands, well that means you can really burn. If you're a drummer and you get calluses on your hands, well that means you can really play. If you're a singer and you get calluses on your vocal chords, you're finished." Steve treated his Voice like an instrument and many times didn't speak between performances, he used different elixirs and such to keep his voice primed for each and every show. Given the fact that Journey is known for being the band with one of the toughest Touring schedules in Rock N Roll, to have performed as he did vocally is astounding. No auto tuners, no technologies just pure, raw vocal talent. Steve put the cool in the Power Ballad and made it okay for other male Rock singers to also sing their own Power Ballads. Steve is ...more
Steve Perry has an awesome voice. Crazy range, better live, sounds clear like an angel, yet has a bit of a rasp at the same time. How is that possible? I don't know... But kids 10, to college age, to 88 year-olds love him. I love Journey and would probably pay to see them today. However that's the problem. I want to pay to not just "see" them but to "see, hear and feel" them. I've seen them several times throughout the years and honestly the replacements are good. Very good. Especially the last one. Ask the current lead singer yourself. Now I am extremely thankful that Journey has been able to carry on but that's just what this is... A journey. I know things happen for a reason but this journey is going to swing back around and pick up Steve Perry to finish its route. Steve's voice is and was a driving force and it is a disservice to keep that magic from continuing..
What can be said about the man blessed with the golden pipes dubbed "The Voice"? It was one thing to listen to Steve's vocals on a recording and another to see him take his vocals to an entirely stratospheric level live in concert. It was nothing short of stunning and miraculous that there was a man who could sing anything and everything from Rock N Roll to the most intimate Ballad. Yes, Steve Perry pretty much made the Power Ballad and paved the way for other Male Artists to think it cool to do so. Steve so deserves to be on the List of Best Singers of All-Time due to his incredible range and the emotions he injects into each and every tune he's penned and/or co-written. Many have attempted to sing like Steve and be like Steve but the fact remains there is and can be only one Steve Perry! He's the real deal who needs no auto tuner, no bells and whistles to enhance his voice. What you got seeing him live was something that you can't duplicate in 2015 with all the bells and whistles ...more
STEVE PERRY IS the BEST-ALL-ROUND SINGER! He is not known as "THE VOICE" for nothing! He can do anything and do it better than anyone else! He can sing ANY KIND of song from rock to ballad, from soul to reggae to pop! The man knows no boundaries! He can sing any range of notes, and he puts more feeling into his songs than anyone I have ever heard! If you are not familiar with Steve Perry's music, you owe yourself the opportunity to listen! STEVE PERRY SHOULD, AT THE VERY LEAST, BE IN THE TOP FIVE, PEOPLE! IN MY BOOK, THE MAN WILL ALWAYS BE NUMBER ONE!
I can only say, when Steve Perry's new album comes out I will make a holiday of that day, I am so excited! Actually, there is a lot more I can say. This man has such an amazing voice. His ballads melt my heart with the depth of emotion he is able to convey. He sounds so sincere, and every note carries a perfectly balanced embellishment, so that no part of the song could ever be considered flat. Another thing I admire about Steve Perry is that he stretches the limits. He uses difficult patterns and extreme ranges to accomplish a unique and quite impressive sound. His technique is flawless and he maneuvers between difficult intervals with apparent ease. His songs, "Something To Hide," "Stay Awhile" and "Mother, Father" are a few that always make my heart skip a beat. He never just sings a song, he makes it come to life. In front of an audience, each night, on an exhausting touring schedule, Steve Perry performed, giving it his all. As a result, Journey was one of those bands that was ...more
Steve Perry's vocals can not be touched. He can sing anything! His songs and voice are outstanding! He sings with such emotion. His songs have stood the test of time. Every song that Steve Perry sings tells a story that everyone can relate too. Every generation he gets more and more fans! He is a very moral person. One to whom we can all look up to.I grew up listen to him on the radio, juke boxes, albums, eight tracks, MTV and now on my Ipod. I do believe that he will be put down as the greatest singer in rock history. This is why they call him "The Voice".

All off the people that you got on here are good singers but I have never heard a voice that was better than his! Even almost 40 years later! He deserve to be #1 and should be. So put this man where he belongs...#1!
I fully agree that our Steve is indeed "The Voice"! I miss hearing that powerful, yet melodic voice of his. I will always be his fan. I enjoy only Journey music with his vocals on it. All the other "singers" are just posers and imitators!

NO ONE can sing like Steve Perry! He truly deserves any and all praises that his fans and new fans give him for sure! He looks great for 62 years young. Everyone can see, hear AND enjoy him on You Tube for sure!

Rock on!
There is no other singer listed here or not listed for that matter that can A- Claim to have a 4 octave range, B- Tour for over 180 nights a year for 6 solid years, C-After all that touring still be able to sing in tune, D- Have the best hair in the music biz & E- Be as sexy as hell.

Steve Perry is called 'The Voice' for a reason, because he is the best singer ever.
I love Elvis, Freddie, and Robert Plant, and Frank Sinatra, yeah him, too. I love Michael Jackson's music but not impressed so much with his voice. Whitney? Powerful but does nothing for me. I liked Dolly's version of her own song better than Whitney's. It sounded do much more heartfelt, I am sure, because she wrote it! I love the Beatles but not so much the individual voices. But there is just something about Steve Perry's voice that really gets to me. I listen to his music daily. If I'm feeling down I listen to "the Voice" and inexplicably it picks me up. Come back, Stevie, we miss you,!
You no as years go by so quickly and many new artist brings out there talent. Generation changes. I know me growing up jumping and danceing around with a hair brush in my hand protenting to be a singer. Those where the specail times in mylife. I wanted to be a rock stair; but times have changed, Steve has changed, music still changes. Steve Perry is a man with a voice and he shared a great and beautiful journey with his true fans. I no myself will always remember the way he made my heart feel. Steve will always live on inside my memories. When I close my eyes who do I see Steve. When my mind keeps racing who do I hear, Steve amazing voice sing to me. Memories are the best gift god gave to a human mind. God gave Steve a gift and he shared it with the whole world. Thank you Steve for your beauty from deep inside. Fan forever Michelle Ingram
Steve Perry has to be the greatest singer ever! He sings with passion that will melt your heart. From the seventy's till today he has ranked at the top. He was the one who made Journey what they will be always known for, the best! And even on his own, he is the greatest. Just listen to "Foolish Heart"and tell me that you have never had that conversation with your head and heart before! Steve Perry is the "REAL DEAL! "
Steve is one of the hardest working performers I've ever seen. Never settles for less from himself than 110%. I could listen to him sing all day long. His vocal range, the emotion he puts into his performances, and the power of his voice is unmatched in my opinion. All that and one of the best role models in the entertainment industry! A true gentleman! Thank you Steve!
I am 63 and let the 80's go by without listening to the groups that were popular during that time. This was a HUGE error on my part. I missed the chance to see and hear the greatest voice I've ever heard, that being Steve Perry. He sang with such passion and POWER in a natural high voice without straining. I wish he would tour again, if only for months, so we who never noticed at that time could see and hear him.
Steve Perry has the most amazing voice of any singer in the world. He never ever gave a bad performance and made the fans always feel so welcomed. I have never ever heard of anyone that didn't thoroughly enjoy themselves and at any of his performances. Steve can sing any sing and make it his own. He has away of making you feel like he's singing it just for you. Besides being the best singer he is a great song writer. Steve tells the stories that touches all of lives in one way or another. Steve Perry deerves to be at the top of this category for the contribution he has brought to the music industry. He is known as " The Voice". This says it all!
Steve Perry Is The Voice, and a wonderful entertainer.. I have loved him from the first time I seen him October 27, 1981 in Knoxville Tennessee and have never stoped believing in the words in his songs... Steve Perry is the best singer in the world and in other countries... Vote for Steve Perry, he is the best and always will be... He Is and always be # 1... Don't Stop Believin... Perry On
Steve Perry was the voice of a generation. He sang the soundtrack to our lives. He broke our hearts into tiny little pieces, then put them all back together and sealed it with a kiss from his golden throat. I listen to his songs all the time. Every one reminds me of something or someone from my days of leaving my childhood and becoming woman. Thank you, Steve.
Thank God people are finally starting to realize what an amazing voice this underrated at times singer has! I grew up on Journey, it's my favorite band, and Steve Perry is my second favorite singer of all time alongside Michael Jackson (who is my first). His voice was so incredibly unique and was able to hit practically every note it wanted. His voice could go from gruff and raspy one minute to crystal clear and high pitched the next! Truly one of the best singers of all time!
Steve has the greatest singing vocal range a 8 octave, which is a god given gift. His beautiful voice is unique and unmistakable, other might try to sound like him but that will never be possible only the Voice (Steve) sings his songs with such natural talent which makes his singing sound like the gates of heaven are opening.
EVERY song he sings you get into, and you feel it. His voice has sang to me though the radio since I was a child, and still continues on the charts-- that's a huge accomplishment for an artist. All Steve's songs are immediately identifiable as well as his voice. Every song on his albums are awesome. I don't know of any other albums where I listen to the whole album. I usually just pick out my favorites or favorite. But on Steve's albums, I find myself re-listening to songs, no
Probably the most expressive voice I have ever heard. I wish he would return to singing with Journey. He had a powerful stage presence and held the audience in the palm of his hand. His replacement Arnel Pineda signed on with Journey this year and runs a close second. The found him on YouTube. com. A great vocalist with a clear natural voice without Perry's trademark rasp.
Steve Perry... THE VOICE. Is by far THE "BEST SINGER" of the 1970's thru the 1990's! This man's Heart, Soul and complete and total Passion for his Art is Beyond Amazing! ONE could only Dream of ever being Blessed with Steve's Voice. This is a beautiful man with a beautiful Voice and a Heart to match! I believe Steve Perry will go down in history as THE BEST "ALL AROUND" Rock Singer of All Time! Awesome, Epic & Beautiful... A LEGEND!
I LOVE Steve Perry! He is "The Voice"! God blessed Steve with the voice of an angel. Why isn't he number one on this list? He deserves to be! He's the best singer in the world! His voice is just absolutely beautiful! I'll never get tired of listening to Open Arms or Don't Stop Believin' no matter how many times I listen to it. Steve's voice is just simply amazing. I will be a fan of Steve's forever no matter what!
Related Lists

Best Steve Perry Songs