Tamer Hosny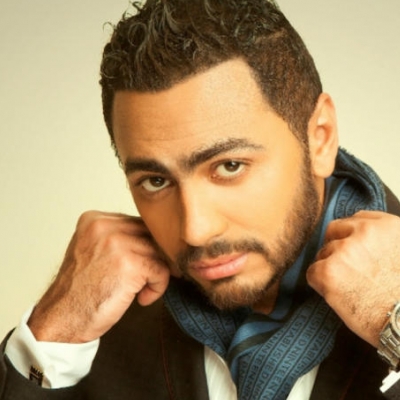 Uploaded by mood333
Comments
Top
Popular
Newest
tamer I really don't know what to say I love you from the bottom of my heart! you mean the world to me! am deeply in love with you becoz of what you are not who you are:ur goodness, your modesty despite of your huge popularity, your ability to love every single person around u, your temper:), your sweetness.. to sum up, am in lov with every single small detail in u! you deserve much more than that! all the prizes n'the titles of the world won't be enough for a great singer and a greater person like u! love u.. tamer hosny! mmmmmmwah - tamermysoulmate4sure
Tamer hosny is the best singer & actor ever

He deserves the best
Who didn't listen to his great songs, try to listen, you will fall in love with every single word he says because of his amazing feelings
YOU ARE the best TAMER
- Ramroomeh
no doubt that Tamer Hosny is The best artist in all the world, He is very talented, very smart & hard working artist. He represent all his generation in his songs & films. He has a great presonality & he praticipate in a lot of charity activities. he is really the legend.
Tamer is great singer
and the best singer in the world no-one compares with Tamer, he is simply the best! He is #1 best singer in the world! No doubts! King-of-generation! We love you Tamer

He Is The Greatest Artist In The Whole World.. I Love His Music, His Acting, He Is The Best Composer As Well, He Introduce New People To Give Them A Chance To Sing, Such As Karim Mohsen, He Was Only Known As A Composer, But Now He Has Introduced His First Album "Koll El Kalam", Which Tamer Hosny Has Helped Him To Produce It To People So They Can Listen To His Songs And His Composed Songs By Him.

Tamer Hosny Is The King Of Generation, he's Number 1 In The World
Tamer Hosny Is The Best 4 Ever
One... Two... Stop
... Tamer Always On The Top...
Tamer You will be In our Hearts
We All Love You
He is The Best Singer ever

King of Africa

Star of generation

Luv him so much

And he is new Michael Jackson coming up
Tamer Hosni is the best singer ever and there is no one like him because he is a legend of this century he Is the king of romance and sense and has the most beautiful voice in all this world... "i love temo"
Tamer Hosny is the most singer who deserve that award... As he's the first singer who composed, wrote lyrics, made films and a recently series which was a nice one, also had an experiment in directing songs... TAMER HOSNY is awarded as the best singer in whole of Africa... That's why he should be awarded this time and he deserve it so much ;)
TAMER 7OSNY:STAR OF ALL GENERATIONS...
YA TEMOO YA KING
TAMER 7OSNY:KING OF SENSATION
TAMER 7OSNY:NEW 7ALIM
TAMER IS BEST SINGER IN MIDDLE EAST
-TAMER should be #1. Are the voters giving late MJ a sympathy vote? I don't mean he is complete trash but I bet he should be under TAMER here. MJ sings and dances great but TAMER is simply an absolutely GREAT singer with the best voice I have heard till now.
No-one compares with Tamer, he is simply the best! He is #1 best singer in the world! No doubts! King-of-generation! We love you Tamer! - topguy
I love you TAMER YOU ARE THE BEST BELIEVE ME
NO one like you
You are the best ARTIST IN THE WHOLE WORLD
ALL THE PEOPLE LOVE YOU TEMOS
SO YOU ARE:
THE PERFECT SINGER
THE PERFECT ACTOR
THE PERFECT DIRECTOR
THE PERFECT COMPOSER
THE PERFECT PRODUCER
THE PERFECT MUSICIAN
THE PERFECT MAN AND HUMAN


tamer hosny... the best singer ever! and he is the KING! and good luck 4 him.. and sure he is on the top!
king of generation.. you are an amazing person!
best singer 4 now & forever!
tamer hosny tamer hosny... no we can say the king of music!
and sure he will beat anyone.. and sure he is better than michael jackson! I don't know wt I can say only that we all love you!
ARE YOU KIDDING ME? Tamer is on top of every thing! He's the best singer, actor, composer, songs and movies writer, producer, director! People have a huge love toward him! That's why POLICE chose him to represent it between all the Arabian artists because he's simply the KING!
I vote for tamer and I sure that he is the best for ever and I hope for all the people who love him too make a vote tamer is the best artist in Africa and king of generation in America they say that he us Michael Jackson of Egypt and I see that he is more than that he is ah legend love him for ever
He is the greatest person and singer! And he really really deserves to be the greatest singer of all time.. Listen to his voice and know him well you will know what I am talking about.. He is the greatest=)
We all adore him - RAMROOM
Tamer is one of the best artist in the world. He has great voice, his lyrics are are amazing. his feelings while he is singing the sing are indescribable. Not so many singers can do what he does. He sing music, write music, great acter and write movies. He is the best! - talakhani
if we want to describe tamer, we need days and days and we will never give him his rights, he is an angel with amazing feelings and voice
he expresses all the situations that youth may face
who wants to vote for the best vote for TAMER HOSNY - Ramroomeh
TAMER IS BEST SINGER IN MIDDLE EAST
HE IS MOST ONE EXPRESS OUR FEELINGS
MOST ONE EXPRESS US
MOST ONE TALKED ABOUT US
HIS VOICE
HIS WORLDS
HIS MUSIC
HIS FEELINGS
REALLY HE IS THE LEGEND
HE IS KING OF GENERATION

IF I SPEND ALL MY LIFE TALKING ABOUT HOW HE IS GREAT
MY LIFE WILL NOT ENOUGH HIM
He's simply the best! All the prizes n' the titles of the world won't be enough for a great singer and a greater person like tamer Hosny! Am truly in love with U.. Tamer Hosny! - tamermysoulmate4sure
Tamer is always the best

he's totally absolutely adorable

his voice, his feelings and his good looking, steal your mind and your heart in seconds

i hope he becomes the first - Reem
Tamer Hosny is an Egyptian exceptional pop singer, actor, composer, lyricist, director, producer and novelist.
His name referred to the king of generation and the legend of the century, because of his many talents that no star over the world do all of these works in the same time with that quality.
He's currently one of the top-selling artists releasing albums in Egypt and Arab world and his movies earned the highest revenues of the year.
tamer is kind person before he becomes the best singer--his voice is so wonderful --his feeling can't be described --tamer you are the king of generation --i really love you so much ---GOD WITH YOU ---from (mohamed ramly ) - drmezo
Tamer hosny is the best singer. He does it all! He sings, write music, write movies and plays the guitar. So I think I made it clear for everyone. I love his lyrics! Love you tamer - talakhani
he is always the best, he achieved in less than 10 years what others didn't achieve in 100 years by being the king of generation and the legend of the century, that what germen gackson said that he reminds him of his brother, he singes, acts compose, write, songs, etc I we love him