Arrested Development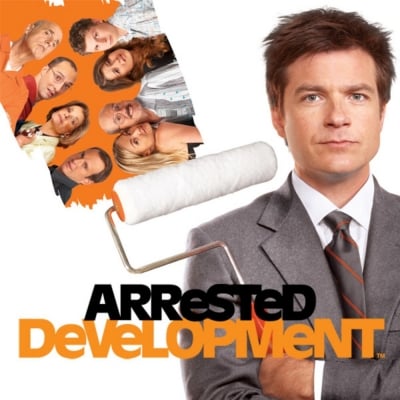 Found on rbl.ms
Info
Arrested Development is an American television sitcom created by Mitchell Hurwitz, which originally aired on Fox for three seasons from November 2, 2003, to February 10, 2006. A fourth season of 15 episodes was released on Netflix on May 26, 2013. The show follows the fictitious Bluth family, a formerly ...
read more
.
Comments
Top
Popular
Newest
Nothing I have ever seen on television even comes close to the complexity and intricacy at which this show unfolds. It's always special when you get a show that not only excels at making you choke from laughter, but also keeps you intrigued by an interesting storyline. AD is the best in the biz at doing both of those things simultaneously. I've never laughed harder at anything in my life. 2 viewings are pretty much mandatory, as the first time you might miss a few things while you sit there mind blown over what you're watching. - Cwk675
If you saw Friends, then you'll know that that show's funnier, Everybody ranked Friends as the funniest sitcom of all time, which means that it's funnier than Arrested Development.
I could write endlessly about how good Arrested Development is and why, but I don't want to waste your time when you could be watching it instead and finding out for yourself. I will simply say this: Arrested Development is undeniably the funniest, most intelligent, best written and fantastically acted sitcom that has ever existed. In my opinion (and that of every soul I've ever met who's seen it), Arrested Development is the greatest sitcom of all time.
An intelligent comedy obsessed with itself, as its characters are with themselves. Demands a patient and educated audience, definitely not mainstream fare. Calls for repeated viewings for the viewer to discover new layers of material after watching the seasons all the way through. The payoff, sometimes instantaneous, sometimes episodes or seasons of build up is always worth it.
Why the hell isn't this show in the top three list? This is one hell of an awesome show. I don't like looking at this show occupying the 14th rank. Send it up. To the first or at least the second. According to me, the list should be - Friends, Seinfeld and Arrested Development.
It is very original and has joke that I never heard things resemble like them. It has superb writing and takes a dysfunctional family to a whole new level! It won 6 emmys and was critically acclaimed. It was ended way earlier than it should of. Even the finally was great. I was devastated that it was canceled.
The funniest sitcom of all time. Aren't sitcoms about comedy? Friends was great, How I Met Your Mother was amazing too. But it doesn't get funnier than Arrested Development. Every episode makes you laugh your ass off.
It's funny alright, I hate laugh tracks, they actually keep the shows from being funny, this one doesn't have any laugh tracks, that's why.
Some of the most brilliant writing of any sitcom, and arguably any television show. So many amazing plots that make the viewer wonder "how the heck did the writers come up with this? "

It's ridiculous that 'Two and a Half Men, ' a setup-punchline sitcom for the masses, ranks above this.
Brilliant. I love the writing and the first episode has some of the most intelligent and subtle jokes that I have ever witnessed. It's a shame it got cancelled so early on, because it had so much potential. It's truly inspires me to write.
Arrested Development is the best written and best casted sitcom of all time. The careful thought that went into this show is beyond anything any other show has ever dreamed of. No question #1 of all time.
Not a surprise that it tops all other sitcoms on IMDB. It is nothing short of marvelous. The plot, acting, direction and humor are all exceptional. Waiting for the Arrested Development movie next year.
Most ingenious comedy of our generation. writing is superb, and it's a show you want to watch over and over because of the number of clever jokes that are impossible to catch the first time through. this hurt it as far as ratings go, but in the realm of television culture, this show has to be considered at least top 5. in my opinion, the best ever.
I don't know if it's the best sitcom of all time, but this show definitely deserves a top 10 bid. Such a dense show, filled with laughs. The greatest show no ones ever heard of. End of story
Arrested development It made me laugh so hard!
Friends You're okay but you can't beat Arrested Development
This show had by far the best ratings by People and critics With the score of 9.2 on IMDB It has so many tunes that make me smile "You're a crook captain hook! Judge wont you throw a book at the pirate! " "You should always read the label you should always read it well" " A squirt of frosting down you're throat with a dose of medication! " I sing these at school everyday I don't have a life but I don't care!
I'm not sure if this is referring to the 2003 version but even so number 20 is not where it belongs in my opinion and it has been named one of the greatest sitcoms in our modern time, it's so uplifting and funny
Are you kidding me? Rank 21? This (well, season 1-3) is definitely the best written comedy series along with Seinfeld and deserves one of the top spots.
I enjoy scrubs and how I met your mother much more than this show, but honestly this is a much better sitcom so I voted against bias. I don't like how two and a half men and big bang theory are so high. Both are ok, but undeserving of top ten. The office was good too, but not after Michael left; for me anyway. The top two are both deserving of top ten.
How this is not #1 or #2 is beyond me. If you haven't seen this show, you're missing the greatest comedy to ever see the light of day. By far the best sitcom I've ever seen.
Brilliant, brilliant, brilliant. Should definitely be number one. Smart writing, constantly rewarding for fans with many references to itself.
It's the best show ever with the best cast members and characters like Tobias, George Michael, Gob, and Buster. It incorporates a style of comedy and originality.
This must top the list, believe me. Most of the sitcoms placed above it don't even come close to it. Arrested Development, Seinfeld, Friends. That's the order.
Funniest. Best writing. Amazing actors. AND THOSE CHICKEN DANCES! "has anybody in this family ever even seen a chicken? " hilarious!
You may not end up laughing all the time, but when you do, you really laugh. Give a chance and you won't regret it. It's the best ever. Come on. Watch it.
I consider myself a connoisseur of sitcoms, but this show has definitely been my number 1 throughout time. The most quotable show on T.V., ever.
The only people that dislike this show are the ones that can't keep up with the jokes. This is the funniest, smartest comedy I've ever seen.
This should be in the top 10 section. I guess not everybody is a fan of humour that makes you think a little bit.