Top 10 Best Skelanimals Characters
If you don't know what skelanimals are, they're basically cartoon animals that are supposed to be dead (as you can tell by the bones and heart sticking outside of their bodies) and there was merchandise sold of these characters at Hot Topic in the 2000s. Hell, there was even a web cartoon at one point. In addition, they all have their own backstories of how they became skelanimals in the first place.

The Top Ten

1 Diego the Bat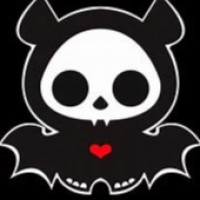 Diego is the bat and I also have a drawing of him in my sketchbook, rawr XD. Also probably the most well know skelanimals character of them all.
2
Kit the Cat

Kit has to be my 2nd favorite skelanimals character of all time.
3
Patrick the Porcupine

He's a cute little porcupine.
4
Foxy the Fox

Foxy the fox was fast and would like to run until one day, she was trapped and became displayed at a museum.
5
Quackee the Duck

Quackee loved to sing until one day when she woke the farmer and later had her for lunch that afternoon. Ever since then, she's been one of the skelanimals.
6
Timmy the Spider

Timmy was a shy little spider and became a skelanimal after he was vacuumed up. He is also afraid of mirrors. In addition, he is one of the few invertebrate skelanimals.
7
Pen the Penguin

Pen is a penguin and became a skelanimal after getting eaten by a killer whale.
8
Dax the Dog

Dax is a dog and he became a skelanimal after getting swooped up by an eagle while he was playing catch with his owner.
9
Elle the Elephant

Elle the elephant would roam around the forest until one day, she became a skelanimal after getting speared by the natives.
10
Roxie the Poodle

Roxie the poodle grew up performing in dog shows until one day when a farmer bought her and made her herd the sheep at the farm. She became a skelanimal after she was run over by a tractor.
The Contenders
11 Chip the Frog
12 Dee the Deer
13 Dolphie the Dolphin
14
Jack the Rabbit

15 Maxx the Bulldog
16 Marcy the Monkey
17 Jae the Wolf
18 Oliver the Owl
19
Bonita the Unicorn

20 Carrie the Horse
21 ChungKee the Panda
22 Cecil the Snake
23 Pudge the Turtle
BAdd New Item