Lionel Messi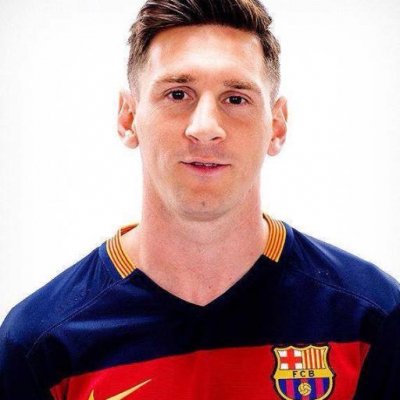 Uploaded by Milkshake
Info
Lionel Andrés "Leo" Messi is an Argentine professional footballer who plays as a forward for Spanish club Barcelona. He is also known as one of the greatest football players of all time. He was born in Rosario, Argentina on June 24th, 1987.
Comments
Top
Popular
Newest
He can dribble a whole team he is like a Maradona except he is younger. He is a player no one can defend he is to good and he's got around 99.99% that he is gonna score when he gets inside the box. For me I think Lionel Messi is the best player in history because of his talent as dribbling, shooting, and passing even though I think Iniesta is the best at creating plays and passing in the world but Messi is the best of a scorer in my life he did more goals than pele in one year and pele was like 10 years older. He also passed Gerd Muller and scored 91 goals! Some people may think Cristiano Ronaldo is a better player but Cristiano is a show off and when real madrid loses he blames it on his team mates. Second off all Cristiano is only good at powerful kicks nothing else, maybe a little bit with dribbling. Third off all I do not think he is better than Messi because he is two years older than him in two year Messi could score up to 700 goals. Also Cristiano is 6 ft. 1 inch. Messi is 5 ...more
He is a fantastic team player (unlike C. Ronaldo)
He can dribble like Maradona.
He has scored more goals in one season in La Liga than Ronaldo (the better one)
He never seems to dive (he realises he has better impact on the game if he stays on his feet)
When he is fouled he rarely flies off the handle. (Unlike Maradona)
He would never (and has never) claimed to be the best player ever over others.
He generally keeps quiet and lets his football do the talking. (Unlike Pele)
Admittedly, I am biased and am too young to have a fully informed viewpoint. I am CERTAIN Messi is better than CR7, to suggest otherwise is delusional...

What! Is this possible? Messi down here? I frankly think you guys should throw away those Black and White televisions and get a better one. What are you even telling me? That Cristiano Ronaldo Ronaldo Zidane Zico Jari Litmanen(No way) and Gheorghe Hagi(Who is this guy anyway) are better than Messi? Even Maradona can't compare himself with Messi, Almost all the things Maradona did, he did them when he was high but Messi doing his stuffs with clear eyes, That guy is almost the greatest and he will be very soon. This is how the real list should be:
1. Pele(No doubt about that)
2. Ronaldinho (The most gifted feet in football ever)
3. Messi (The magnetic touch and heading towards the 2nd position soon)
4. Xavi (The 360 degrees turn master)
5. Cruyff (First apprentice of the total football). Then maybe
6. Maradona (The King of stamina)

Damn why on lists like this is mentioned cristo's being handsome? I mean, it's the game! Not the handsomeness. Yes, Messi isn't a great headerplayer, but

1. He can DRIBBLE. And no tricks - just a little kick of the ball with the left foot and go forward with the right foot - and he's past the defense and even the goalkeeper!

2. Messi can pass the ball! He can pass the ball very well, not like Ronaldo who can't and doesn't pass. Even worse, he doesn't score as much as Messi does. That means Messi >= Ronaldo by goals and also Messi is a very good assister.

3. Messi is a very sporting player, never simulating, its just a damn game - no talking to referee, like 2 yellow cards in a season - while Ronaldo is simulating, getting yellow cards all the game and being a damn show off. Show off doesn't mean that you don't need to celebrate - that's okay - but you don't need to be a damn show off.

I'm not sure that Messi is better than other players, but I'm sure ...more
No one can dribble like Him (see goals vs R. Madrid in CL and Getafe). His passing thru defenses and in short spaces are only rivaled by iniesta and xavi. He scores goals out of nothing. He CREATES goals for others out of nothing. He CAN header (CL final vs Utd, THe ball was behind him and still got to it) he CAN take free kicks, has come close on many occasions and scored some. (while Most of ronaldos have come from GK mistakes). He is more economical with his shots (just one less goal last season, yet 80 less shots) and is more of a team player (tracks back and tackles) Can play in central midfield, outwide and upfront. Scores against the best teams and often. Often scores the first goal when the game is tighter and harder to break down. (ronaldo mostly scores when game is more open and more space). Stats PROVE he is the best and better than Ronaldo. Just think, if he wins World player of year again, he will go level with Zidane with 3 and still not even 25 yet!
I have watched Maradona play and the only difference between him and Messi is the World cup trophy that Maradona won in 1986. Messi is in the same sentence with Maradona because he personal contribution during the 90 minutes on the field can actually impact the outcome of the game every time he plays. He is a playmaker, whenever he touches the ball, he tries to start something and most of the time, it is the trying that finally create goals. His touch, signature moves and ability to take on a double/triple team from another team. His ability to always get in the box is what makes him so dangerous even when he doesn't score. I will have to say that at this time, MESSI is the greatest player in the world who has not won a world cup.
NO MESSI should be 1ST you LOSERS! RONALDO SUX! MESSI ROX! EAT THAT SUCKERS :P sorry but messi I actually better

cruyff has said that messi was closer to the greats than ronaldo and rooney, ronaldo's own ex-teammate said he would rather play with messi ronaldo likes to cry and dive while messi just stands up and goes plus messi beat ronaldo to the fifa player of the year twice now

messi has beaten ronaldo's record of 52 goals per season and while messi won the olympic golden medal with argentina at least, ronaldo disappears in portugal.

SO VOTE MESSI!
-Vanda and Sophie (messi's biggest fans) and yes we are females thats right girls also like football and yes we also play SO VOTE MESSI DAMN IT!
also messi had 3 hat tricks in 1 week! 1 WEEK! hahaha stupid ronaldo fans :P

ok everyone who is voting on these lists is high and deranged. MESSI IS THE BEST PLAYER ALIVE TODAY! the only people who could even maybe compare to his skill is Pele and Maradonna... and I hate pele... anyways, Ronaldo should be after Messi along with everyone else up there.
Do any of you even follow soccer past Manchester United and Real Madrid? comeeon
even PATO should be over people up there - DouglasandSthefany
How can C. Ronaldo be a better player than Messi. Messi is a better dribbler, better passer and he has an exellent accuracy(when hitting on the target), an accuracy which C. Ronaldo will never have. The only thing that C. Ronaldo can do better then Messi is run faster and hit stronger, but thats nothing if you don't have accuracy(from 10 shots only 1 is on the target). He is just hitting the ball(by luck) until one of the will go straight to the goals. So what I whant is Messi is a better player than C. Ronaldo. I hope most of the people will agree with me.
After watching many matches and videos of players throughout history, and taking into account all attributes and not just one, and with the added natural bias I would have towards cristiano Ronaldo (1:I'm a utd fan, 2: English and therefore it maybe wrongly perceived that I hold the stereotype of believing that messi couldn't perform in the premier league. 3: married to a portugues girl) I genuinely believe Leo to be the best. I have never had a conversation or argument with anyone which has resulted in me not just believing Messi to be better than Ronaldo, or the best player in the world now, but ever. Messi messi messi. It is widely said that you need a world cup to truly be considered as the best ever. Pele, and fans of maradona are hiding behind world cups. 5 ballon dors in this day and age? What percentage of world cup winners throughout history have even won 1? You're entitled to your opinion. But for me, this position at the top of this top ten is one contest you can count on. ...more - kakaldinho
100% best player EVER of all time has got to be Messi he's just a goal machine, small in stature he can dribble through giants of defenders and he doesn't have to CHEAT unlike a certain ex man-u and present Real Madrid player, I've read a lot of Ronaldo fans posts WOW you'd think he was superman, I stupidly thought after reading these posts that ronaldo alone played against 11 men as I read on they say Messi needs Iniesta and xavi, well let me tell you a little secret it's called a TEAM of 11 players on each side, ronaldo has his team mates just as Messi does but there is only one little superstar and 4 time ballon 'd'or winner and his name my friends is MESSI.
how come the world best player of all times be here? thats a crime!
guys I think most of you don't watch messi is every game, just watch 3 matches of him, and I guarantee that you will be happy to watch him, watching him for me turned to be like drugs, simply he is the best in every thing, taking 3, 4, 5 players in the same attack is nothing for him.
Messi is only 24 years old. He scored 53 goals in 2010-11, 47 in 2009-10 and 38 in 2008-09. He is set to score more than 500 competitive club goals before he reaches 30 years old. He has won the be'allon D'or 3 times already, as well as a multitude of other awards. He is sublime on the ball, his movement is unbelievable and he is as fast as the wind. He is truly 2-footed and can attack left or right. He is deadly from free kicks and can score from just about anywhere he likes. There is no-one now, nor has there ever been, any player anywhere near his skill and ball control level. He is quite simply THE BEST EVER!
I have never seen a player have such an amazing season as Messi has had so far this year. He has made over 50 goals and numerous of assists and there are still several matches left to play. FC Barcelona are in the Champions League final and if they win it will be hard for any player to ever top Messi's performance in the 10/11 season.
Messi is the best! He scored plenty of goals as compared to cristiano ronaldo and he is going to beat pele's record and he is already the best argentinian player. He stays loyal in Barcelona and plays every game with all his might unlike Cristiano Ronaldo who left the club who created him and went to a stronger club and he is nothing compared to messi as messi play the game as a team while ronaldo solo the match not passing the ball around too much. Ronaldo is strong in Portugal as there are simply not much strong players there but in argentina, there is aguero, di maria, tevez and others whi is quite competitive. Also, messi win more Ballon D'ors than Ronaldo so messi is known as the better player than ronaldo
Messi is the best player out there right now based on achievements. He has won almost every trophy except world cup and has more goals per game for Argentina than does Ronaldo for Portugal. No xavi and iniesta there to help him in Argentina, eh?

Ronaldo has world class players like Ozil and Kaka to help him score yet he has had less or the same goals as Messi in every season for past 4 years. Messi has broke so many records they are too hard to count.

Can Ronaldo run through defenders and score solo goals like Messi? Can Ronaldo stop diving? Messi never dives. Messi also has more assists than Ronaldo, every season. This shows he is a team player and not a ball hog like Ronaldo.
I was born in 1980 & in my lifetime watching Football Lionel Messi is one of the greatest I have ever seen. To top that he has been awarded FIFA player of the year more than two times, he still has more to achiever & that is to be the number one player ever.
Messi is by far the greatest player who ever played soccer. No one can pass him no one is better than him no one can challenge him for the throne of being the best not even pele or Maradona or Johan Cruyff. He is above the highest level of soccer. He is the greatest ever. He can score from any angle he makes things out of nothing and scores both in thight games and free games. No one can challenge that not even pele or Maradona. Messi is the world's greatest ever living soccer legend in soccer history, he is the greatest soccer legend who ever played soccer. He is the greatest ever soccer player who ever played soccer, he is the greatest soccer player of all time in soccer history
He is Considered one of the best football players of his generation and frequently cited as the world's best contemporary player, Messi received several Ballon d'Or and FIFA World Player of the Year nominations by the age of 21 and won both by the age of 22. He also won the 2010 FIFA Ballon d'Or at the age of 23So he is the best player in the world. - utkarsh797
Mess is not number 1, at best he is 3, he has a fan base that rivals fnaf, that's why he's here at number 1. He doesn't have the shot of Ronaldo or pele, he's gets by people with around the same skill as Ronaldo and pele, he is just as fast as final to and pele, and if he was the only good player on Argentina, could he lift his team like final to can? No. He could not. Barcelona is one of the best clubs, not because of messi, I would go as far to say that they could bench him and still win around the same. Before you vote for messi, think. Is he the best of are you just voting for him because you share a country, or you hate Ronaldo, his rival. If it's the latter, please vote for Someone who is ACTUALLY the best player in the world.
Sure ronaldo is good but ronaldo and real madrid just push people around in soccer. Especially in the 5-0 game in 2010. Real madrid was losing so bad and they just act like a soar loser. But messi plays fair by the rules and he does play by the rules. When barca is losing he still is playing by the rules and doesn't push people around like they can't play or like he's the best. So personally I think Messi and barca are the best.

Lionel Messi is far far the best of all times. He is a one man army who can score from all angles, dribble, assist play penalties, free kicks, corner kicks, head the ball and volley he is the only complete soccer player in history of soccer and he shall always be. He is the number 1 in soccer history and he shall always be the best and greatest soccer player who ever kicked a soccer ball.
No doubt best football player to walk on the earth EVER. He is for football what Michael Jordan is for basketball. Only player who can score and assist equally. Player who has broken most of the world records by the age of 24!?! Team player, humble player and most dominant player on the soccer court and I thank God that I have a chance to watch him live doing what he does best!
Lio shows week in week out that he is the better player. both play in top two spanish teams, messi scores more, assists more and completes passes more. he is the best player around right now
Messi is the best. People only cares about attack, but not defense. In the early days, the defenders are extremely naive. What? Pele? Ronaldo? They can only trick some kids who don't even know how to defend these small tricks.C. Ronaldo is good in shots. Ya I agree. But not as good as messi's. He's good in dribbling, passing, tricking. I agree. But not as good as messi's.
Related Lists
Greatest Years of Lionel Messi's Professional Career
Most Interesting Facts About Lionel Messi's Personal Life
Greatest Facts About Lionel Messi

Best Clubs Lionel Messi Has Played For