Pele (Edson Arantes do Nascimento)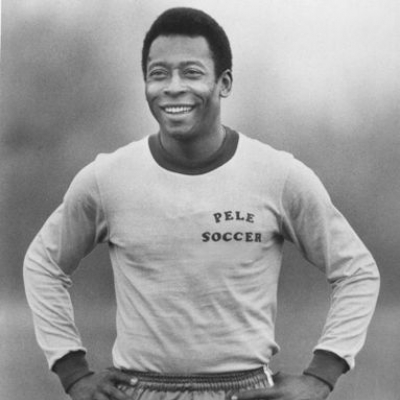 Uploaded by pele10brazil
Info
Edson Arantes do Nascimento, known as "Pelé", is a retired Brazilian professional footballer who played as a forward. He is one of the best players in football, hence why he's nicknamed the "king of football".
Comments
Top
Popular
Newest
Probably the most overrated player of all time. People say he won three world cups...he was 17 during the first one and only played the last few games, albeit as a great asset to the team, but not close to being their best player (that was Didi). The next one he played only two games before being sidelined with injury (an injustice in its own right); the star of that world cup and overall better player was Garrincha. In 1970 Pele was the leader and best player of one of the best teams ever assembled at a World Cup, that would have most definitely won without him; contrarily, Maradona nearly single handedly won a world cup (albeit only one) in 1986.

Pele played his club career exclusively in the Americas. He did not face the tougher competition that Europe had to offer...

Defense was not a priority during Pele's era. If you watch highlight videos, you can see that it was not difficult to simply waltz through a soft defense and score at will. The far higher scoring numbers ...more
Laugh out loud I'm sure whoever voted for anybody else --specially "modern" players like Messi or Cristiano Ronaldo-- have NEVER seen Pele play (just check him on You Tube) OR they are biased people who dislike him for his skin color or nationality. But unbiased people can easily see that Pele is year-lights away from anyone else. He played perfectly with both legs, the head, chest, knees, scored goals, did assists, scored free kicks, penalty kicks, headers, bicycle kicks, back-heeling, I mean he handle 100% of the repertoire of soccer tricks, to perfection, and he was THE BRAIN of any team he played in. He was the planner, the strategist, the thinker, the creator. He was the heart of the Golden era of soccer: 1970 World Cup. PELE, SIMPLY THE KING!
Played in a bad league and scored 0.7 goals per game (I think) which is pretty awesome ( but not close to world class players like Messi or Ronaldinho). Then moved to a better league (this admittedly was probably one of the best in the world) and his rate was 0.4 per game

Wasn't the best player on his team for any world cups and basically missed all of 1 them

500 or so of his goals are fake because of friendlies and exhibition matches and let's remember football is improving rapidly.
I don't think any team from 20-30 years ago is anywhere near top flight teams from today (think money, training even genes). Just watch videos of him on YouTube. I know it's not a great source of information but videos of him are miles away from videos Of Messi or Neymar and the like
This is a century old question that will impact future generations, some say that he won everything with the best team, but in that same thought, remember this is a team game. Pele was terror to any goalie, he only presence in the area shuke fear in their very core. But beyond that a player goes beyond the field, sets standards of living for other players and fans, the only one to positively do this is not but Edson Arantes Do Nascimento, any more questions check his numbers.
Pele winner of three world cups. Voted second best sportsman of the century (Mohammed Ali number 1). Has an almost average of goal per game. This man is definitely the best soccer player of all times. Some might say maradona, cristiano roaldo, ronaldo, zinadine zidane, but none of them were close to pele. Only pele was so admired that Nigeria made a two day truce with biafra so both sides could see him play.
Had he played today, would still dominate his position. Absolute silliness to think we have seen anyone with his combination of wit and skill in a football field. In today's game where a player is sent off for hard fouls, he'd have half the opposite team red carded. He scored over one thousand goals while being hunted on the pitch. The absolute best: kicked precisely with both legs, passed precisely with both, headed brilliantly and in his younger days played defense as well. The most complete soccer player we have seen this far.
Won the world cup three times. No one else has done that so he has to be the greatest of all time. Not to mention he scored 77 goals for Brazil and 1,281 goals in total, and could finish with his two feet. He scored 541 league goals and he could think and work out what he wanted to do a split second before anyone else could. For me he is better than Messi as Messi has scored 55 goals for Argentina, hasn't won the world cup and is retiring from international football aged 29 pele won his third world cup aged 29. Pele is the greatest of all time so vote for Pele.
Why I say Pele is the greatest football player ever is due to these simply facts, in Pele's time there where less rules to protect players, plus the surface wasn't as great as now and the ball either, then there was the fact of racism. He also control the ball on his head, chest, knee, shoulders and with both legs perfectly. Simple the best, a cut above the rest. What these guys are doing now Pele did years ago on his own without any help just share genius. There are lots more to be said but will stop there for now.
Just look at his goals on You Tube, he could whack the from a mile out or dribble them into the back of the net, he was the most complete player the game has ever seen and unlike modern players didn't have the comfort of referees protection... Opposing players tried to kick him off the park. I remember seeing him in the early 70's and frankly it was a time to really watch football rather than spoilt brats thinking they are a lot better than they really are.
Name any player in history. Or scored 4 goals on his debut match for Santos against the one of the best teams in his league, Corinthians. And two years later, when he won the World Cup. And another the following tournament. And again in 1970, recording 12 goals along the way. There was a war in Nigeria and there was a 2-day ceasefire to watch that guy play. November 19th is "Pele Day" in Santos. Scored 8 goals of 11 against one team. 92 hat-tricks, 31 games in which he scored 4 goals. He increased attendance the U.S. by 80%. Name one player in history that got to 4 digits in goals. Or has 3 world cups to his name.

(Besides Pele, of course.)

But if you watch the dude, his stats don't tell the full story.
When you see this guy play, it's like everything else around you doesn't matter. The ringing phone doesn't disturb you. The chatter of the people makes no impact on you at all. It's just him, him and his game. Pele wasn't just another amazing football player, he was an excellent one, a prodigy, incomparable, and probably, someone this world will never see again in the next 100 years. He simply is, a football legend. - kusanagi_sanasara
There is no how Messi is above Pele so far. Actually, I think it's pretty tough to anyone surpass Pele at any time. He is the one who made the football the way it is now. He is the one capable of passing, scoring with both legs, with the head, the fastest player. I think he is the combination of Cristiano Ronaldo and Messi strenghts. He was a machine, the most athletic player (like Ronaldo) AND he was the one who had the biggest talent to play the game (like Messi). So... I understand that people have never seen him playing and vote for Messi or Ronaldo, but the race is not even close...
Pele is actually not the best or even the top tens. Today I could name off many players that are better than Pele. The problem with comparing modern players with old players is that they are not going against the same level of hardness. Back in the time, their wasn't many good players. Good in their time was considered an ok player in our time, and the old times weren't very advanced. But now the players are well advanced in soccer and the standards and ds are better now in soccer. So comparing who won more world cups and stuff won't be a good way to see who is a better soccer with Pele. Also, Pele was a ball hogger. That's how he would make so many goals with the fact the defense and goalies weren't as good as modern players. I'm not saying he is bad, in act he is really good, but he isn't the best. I'd say Messi was the best followed b players on FC Barcelona and Real Madrid.
What is this bull. Pele is by far the greatest soccer player of all time; how can you even think of putting someone who's career isn't even over yet above this legend. 1000+ goals, 3 World Cups, youngest player to participate in a World Cup and WIN, Athlete of the Century... the list goes on. Pele is hands-down the best soccer player ever and not Messi nor Ronaldo can hope to compare to him.
Messi is a good footballer but pele is a legend, father of football, king of football, and he scored 1,283 goals in his career. I'm not trying to say that scoring over 1 thousand goals makes you the soccer player in history, but what I'm trying to say is : Pele is consider to many as the best footballer in the world/history
Pele was the single most amazing player I have ever seen. He split defenses open at will and the ball seemed to be glued to his feet. No-one could ever get to him and he was like some sort of magician- one second he'd be in front of you, the next he'd be past you. And his shooting- like a sharpshooter. Amazing! - top10master
Pele is my biggest football hero I'm following his foot steps so that I can be the best football player in the world, pele's dribbling and shooting skills are mesmerizing he is the best Brazilian soccer player ever since he started playing football he is very good with his tricks and moves
Go to hell with karimi. Pele blew the rivals up and was complete. COMPLETE - gabimartgrena
I think he is a legendary player his shots can break through 20 nets. He can defeat maradona, messi ronaldo and kaka
OMG, don't get me started! Pele is a LEGEND! Sure, Ronaldinho, is a kick butt brazil star, but not even close to pele's revolutionary level that changed the way soccer is looked at and played today. I just want to say thank-you to Pele and other devoted soccer fan out there. ROCK ON!
Why are people voting for ronaldo. He dives (and if he doesn't any more, he used to). Pele scored over 1200 goals, 3 world cups, brazil's top scorer, 77 goals in 92 caps. That's impressive. What's ronaldo done? Has he won any world cups? Has he scored over 1000 goals? NO! - sam11855
Pele is very good Messi is boring the only good thing about Ronaldo is his free kicks Maradona took drugs Zidane head butted a person in the world cup Pele was an all rounder he had skill pace good aim he was fantastic he would always be the best.
If Messi can win at least a few international championships then he can be #1. That might happen one day since he is young ( I know late 20's in soccer is already considered near the end of his prime but for now pele is #1 and Messi is close to kicking him off and I say this as someone who is tired of Barcelona and hate Argentina)
Who else could match this man, or machine! 1281 goals, top goal scorer ever! what more could you want, he was fantastic with both feet, unlike maradona, he could head a ball brilliantly, unlike ronaldinho and pace, unlike ronaldo.
Pele will always be the king and its insane to place him second to Messi who by the way never won a world cup, and Pele won 3, Messi is an excellent player and one of the best of all times but Pele is in another level. this review record must be from some kid who didn't watch pele play.