Ronaldo (Ronaldo Luiz Nazario da Lima)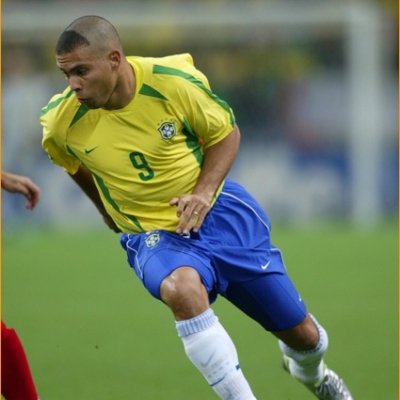 Uploaded by STANCAKE
Comments
Top
Popular
Newest
He might not be the greatest but he will remain the best player in history with the best technical ability like dribbling, skills and tricks efficiency(ahead of Ronaldinho), pace, shooting and even passing(surprisingly good for a centre forward). I've seen many players in the past like Pele, Cruyff, Maradona, Di Stefano, Zico, Ronaldinho, George Best, Denis Law, George Weah, Michael Platini, Beckenbauer, Figo, Eusebio, Kaka, Rivaldo, Cristiano Ronaldo and Lionel Messi and so I can call them one of the greatest and they're certainly in the best list as well but the one that tops the best list is just Ronaldo and none else. If Ronaldo had won the European Champions League he would of certainly been the greatest ever.. Please don't even compare anyone with Ronaldo.. He's beyond comparison..
ronaldo was the most talented player of all times... he only played the half of what he could because of the damn injury but he was still the best... I just can't see how anybody is better then him when he won the world cup with those tortured legs, and his career story is just so interesting and thrilling, trust me people, he is the best...
The man has done it all. Leading goal scorer in world cup history, 3 time world player of the year including the youngest ever, and 2 time European player of the all. He is the greatest striker of all time no doubt, don't forget his comeback in 2002 after his injury which he helped Brazil win their 5th world cup
There are only two people who dribbled a guy out while they were standing! Pele and RONALDO The FENOMENO! And Ronaldo is the only person who was running with a Ball the faster then a defender without a Ball. And he was running 36 km/h with a Ball!
Big Ron was a great finisher. Many strikers like Adriano and Luis Fabiano tried to replicate Ronaldo but ultimately failed. Also with 15 World Cups to his name he is and always will be my favourite player. And I also remember a match when Real Madrid played against Man. United and Ronaldo was applauded by both sets of fans.
Ronaldo is definitely the best footballer ever, speed, power, impressive and unique techniques, he was a miracle, compared to pele, zidane, maradona he is the best, and for messi and CR7, they still far beyond this giant... RONALDO LUIZ NAZARIO the LIMA is the football miracle of all times... Just watch him
This guy had unlimited talent and was improving exponentially year by year before the injuries hit. Most people think his best form was at Barcelona, but he was easily the better player next year at Inter. There are very few people in the history of the game who had the amount of talent it takes to reinvent your whole game after devastating injuries and still be among the best players in the world when playing at 50% potential.
HELLO! 3 time world player of the year, top scorer of all time at the world cup, came back after almost 3 years to win it single handedly for Brazil, 47 goals in 49 games for Barcelona at only 19 years old... BEAT THAT Cristiano! - mikeyeggo
The player that brought the real romance in football and in our hearts. Had it been not for Ronaldo many people today wouldn't even bother watching football. Only a career-ending injury stopped him from being the 1 of all time. We wouldn't be even mentioning the various messi, maradona, or pele today
ronaldo got it all speed, shoots (left or right) the most skillful player ever, he is quite aheader he have adeadly finnish
he won the world player of the year 3 times and he is the world cup top scorer. he is simply the football it self - beeko99
ronaldhinio and c ronaldo are caussing all the confusion.... its a spelling issue! these players are skillfull but are more like dancers compared to the greatest centre forward of all time... RONALDO....
simple the best striker to have ever played the game. at his peak no one was as quick as him, had the dribbling ability and could score as many goals as he did. a 2 time world cup winner, including the leading goal scorer in 2002, what a legend hes the main man
What other player in the world has played for top rival teams like Barcelona real Madrid inter Milan and ac Milan. Not to mention the 12 goals he scored in world cups. He also won 2 of the 3 world cup finals he played in. In my personal opinion if he would of played in the 2006 world cup they would of gone much further.
Do I really have to say anything besides that ronaldo is the best soccer player of all time greatest goal scorer in the world cup of all time the best of the best beyond world class level ladies and gentlemen I give you Ronaldo the GREATEST FOOTBALL PLAYER THE WORLD HAS EVER SEE EL Fenomeno
Ronaldo! The name itself gives me the chill!
According to my experience of all the millions of matches and videos I've seen Ronaldo is better than Maradona, Pele, Johan Cryuff (these guys are no less behind though, maybe difference in just 1-2 points each)
come on guys... yow know ronaldo is te best ever , nobody dribbles like him , he could never be better than pele 'cause he scored over 1000 goals but is second best in history , after these two it's zidane with his magic skills and passes ;)
Ronaldo is the greatest striker OF ALL TIME.At his best nobody can match his skill speed strength and goal scoring record.Greatest world cup scorer of all time.272 goals in 305 apps. Enough said.
He is number one.. Can any player do what fenomeno did, he injured 3/4 times from the best age to play football at 22-24 then he came at age 25 n won the world cup! And before he got injury he score more goals them games.. This is the TRUE KING FENOMENO..
He has the record of all-time best score of the world cup, and obtain the FIFA player of the year three times. He achieved the world cup once with Brazil and reached the final once as well. His club career performance is beyond any doubt. With none, he is the BEST
He was a phenomenon, before his injury in 1999 only Pele and Maradona could compare to him. He also had the greatest comeback of all time, after not playing football for 2 years he came back and won the world cup in 2002.
He is THE GREATESTt! (3 FIFA player of the year awards) (2 FIFA World Cups) (All-Time World Cup finals scoring record 15) (2 Ballon d'Or) (Goal. com's 'Player of the Decade) ----- the list goes on.
- 99
Ronaldo is the best number one in the world no one is near the reason I love football he is the best player of all time and he should be first on this list
The best striker ever when he played people said pele returns. Ronaldo is the king of football
This player had it all! He was brilliant in all ways. BEAUTIFUL goals, passes, strong as a bull, and of course the front teeth of a seven year old kid. Of all the brazillians that I have ever witnessed, this must be the best player of them all.
Want accuracy, and style? want to see defenders falling on the grass? Have you ever seen Goal keepers passed by a classic Full-empty dribble? You've got your man : RONALLLDO EL FENOOMENOO
Has an amazing speed and Outstanding dribbling and goal scoring technique, no doubt that he is the best player in history, become FIFA best player of the year for three times, win two world cup, score the most world cup goals and many more.