Zinedine Zidane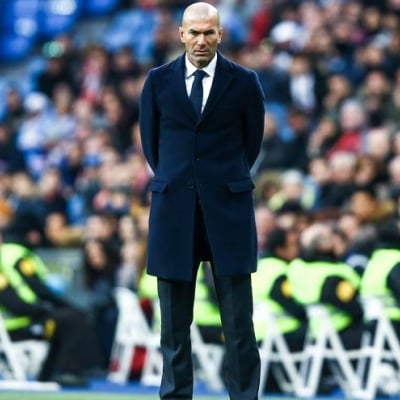 Uploaded by STANCAKE
Info
Zinedine Yazid Zidane, nicknamed "Zizou", is a retired French footballer and current manager of Real Madrid.
Comments
Top
Popular
Newest
Zidane is in a class by himself, he is the most elegant player ever, whenever he is playing you do not want to take your eyes off him because you don't want to miss a magical move or a ball control never seen before. Zidane makes the game look beautiful with his artistic style of play. Zidane did things with his weaker foot most world class players of the past and present cannot do. The man was a football god sent to show us the true beauty of the sport.
Zindane is higher than Ronaldhino.
Ronaldhino cant play big games. He can never use his tricks when he play. The fake u-tube video(gitting the post several times) does not make him great.
Pele ...dont know about hi. Looking at the videos, i dont think he can be compared to Zidane.
Football was different then. It was not competetive.
Pele is better than general but not great because he did not face great opposition and he didnt have magic touches like zidane or other players have these days. he was just a mere shooter like Trazeguet....he got lucky. But zico is better in Brazilian player.

Zidane is easily the greatest soccer player to ever live. The only reason he is not currently respected as such is because of his slight lack of speed. However, he more than made up for it with super dribbling, control, and shot selection.

There isn't a team of defenders out there who could take this guy down. He was on teams with talented players, but they would have been nothing if it wasn't the very Zidane leading those teams.

Simply, a legend.
Zidane deserve it, he is the best player now and ever, he deserve it right, He should be be number 1, zidane is by all means the best soccer player in the world! He is one of the best footballers in Europe and a living legend, Easily the best player of all time. He could everything and did everything better than anyone else ever did. Just watch his matches and see! He is the best player I have ever seen in my life and everyone should learn from him playing
Put France back onto the worldwide football map.

His playing skills were simply marvelous, amazing, punctuated in my opinion by his incredible performance against Brazil in the 2006 FIFA World Cup. At that point of his career he was more Brazilian than any Brazilian at the time.

Always present when needed, he led France to back-to-back major championships in 1998 and 2002.
Came back in 2006 and almost won it for France in overtime with another amazing headshot (his specialty in the Finals) blocked by a certain Gianluigi Buffon, at the top of his craft.

Zidane's name should be well ahead of the two Ronaldo's. Cristiano is a great player but he hasn't won anyhting worthy now and probably won't.
One of the best football players of all time he not only has a world cup win but a European cup and two confederation cups he was the best in the world and will always be a legend.
I haven't seen Pele play live - only a vido, but saw Maradona and Ronaldo, they both had a class of their own and world knows they were good, may be out of the two if I had to select one, I would say Maradona may take an edge. However, for the number one slot, the only player who really inspired me was none other than Zidane. I rate him the best simply because he made me feel as he owns the field the moment he stepped into it, inspiring his team mates and becoming the focus point of entire opponent team to be the one to tackle, and guess what? He still used to manage to get through them - Class above!
Zinedine zidane have won 1 world cup in 1998 in his country, he have beaten brazil 2 times in world cup's, he's also the most modern player, he's middle field position coul damege rapidly the other team, he's tricks the rulette, he's passes. He was going to win another world cup in 2006, but matterazzi make him mad. If he played for brazil he could easily won 2 world cups. Zinedine Zidane the best
If you ask about a playing with individual skills and ball control, if you wonder a player who can use both feet, if you ask about a player of team spirit, the one who knows his team in play - the one who can enhance the play of his team members style of play, the one who knows his opponent game, the one who played a true team game - won titles for his country the world cup and european cup, club titles and remrakably with equal unbiased commitment and determination at both professional and country to country tp country, the one who has found the glory of football, its meaning to people, country and his team ---- its ZIDANE. He is the GOD of Football,
I will never forget the first time I saw Zidane play. What he did with the ball was pure magic. With Zidane you could always expect the unexpected. A true midfield maestro whose attitude made other players believe in themselves. It is a reason why people call football "the beautiful game, it is because of players like Zidane. I am naming my firstborn soon after him, and that's a name he will be proud of.
Unmatched ball control and passing quality, performing best when needed most (e. G. Goals in WC final, CL final). The best athlete comeback ever (at the request of the French president) in WC 2006 where he was voted best player of the tournament. Tragic final though in 2006, I am sure France would have won had he not been sent off.
Pele was great yes when there were very few players who were great but Zinedine Zidane was greatest among the great. I thank God to be among those who saw this soccer legend play and transforming the soccer dribbling arena. That skill he brought into the world will never end till the world ends even children of tomorrow will copy it.
Zidane is the best of the bests, he is not only the best player but also an artist, you never stop wanting to watch, besides that he still plays at...44 years in Madrid charity, and he could still play today better than millions worldwide 20' players, half his age! Come on!
Zidane is far beyond anyone else in terms of skill. If the fact that Zidane is the best in world is still debated, then at least it is universally agreed that Zidane at age 34 was without a single ounce of doubt much, much, much, much (no amount much's is enough for this) better than any other 34 year old player in the history of the game, and definitely better than any other 30+ year old.
He was the best player ever more better than any other player of his time. He was better than maradona and even more than pele. When he had the ball no one could stop him and last his passes was outrageous he win the world cup 1998 and euro 2000 all alone for his team at the end he was best of the best.
There will be superstars and media hypes and greatness showered on them... but when you talk real football and its greatest skilled, Zinedine will always be the last man standing. Even Pele is sometimes doubted with "what if he was tackled like now". both in physical stature and skill I cannot think of a comparable... everyone could only be second best...
Zidane is first period. There is no question he may not have been the shooter or scored the most goals. But he lead his teams they did not even need there coach they could just follow there amazing player who's passing and way of looking at the game surpasses any player.
Zidane won everything there is to win.. He won the 1998 World Cup against Brazil... He won Euros.. He won Champions League with Real Madrid scoring one of the best goal ever in the Final.. He also was about to win 2 consecutive World Cups but barely lost to Italy in penalties in 2006.. and cause he got a red card... Zidane is the only player that will make Brazilians look bad in the pitch.. He also is a good coach he even won Champions League as a coach and player... Give me Ronaldo and 10 players and I will win you Champions League... Zinedine Zidane.
WHY IS ZIDANE PLACED NO.7 IN THIS LIST. HE SHOULD BE number 1 AND CR7 AND MESSI SHOULD GO DOWN THE LIST. THE MOST SKILLED PLAYER OF ALL TIME. A BOON TO FRANCE WHO BROUGHT HIS COUNTRY TO FINALS IN 2006 WORLD CUP FINALS. IF ONLY HE HADN'T HEADBUTTED MATERAZZI, FRANCE WOULD HAVE WON THE MATCH AND THE CUP.
He just have to be number 1,100% Sure better then either Leo Messi. He is one of the most creative player in the world. Don't think so? Watch "Zidane best moves, tricks and goals - When we were kings" video if you have real football heart you will agree with me.
The Wizard, with a football IQ greater than the sum of any football team ever existed. These new kids use loads of fancy tricks and time to do things he did without even really moving.

Forget being 6th, even putting him in a list where other players exist is a horrendous insult in itself
Elegance and precision a unique vision of game an of his own style which the nightmare of all trainer who has him in front of he knows what a number 10 has to make and furthermore he regilt the name of FOOTBALL.
Zidane you are and will stay number 1 (excuse for my English)
Zidane is the best I've seen. Nowadays I watch a lot of football and see lots of amazing players, but no one of his calibre. He was born to play football, a true god of football, one of a kind. Simply the best.
If you haven't noticed, Zidane defeated Brazil in 2006 carrying all these players: Lucio, Roberto Carlos, Kaka, Ronaldinho, Adriano and Ronaldo. All of the players I just said are all-stars and good enough to carry an entire team on their shoulders, but Zidane beat them.
Zidane won against all the great teams he met an official competition like Brazil (World Cup 1998 & 2006), Spain ( Euro 2000, World Cup 2006), Portugal (Euro 2000, World Cup 2006), England (Euro 2004), Italia (Euro 2000), playing as a true number 10. When Zidane was on the ground, French supporters was afraid of any team
Related Lists

Best Clubs Zinedine Zidane Has Played For