Best Soccer (Football) Players of 2012
The Top Ten
1
Lionel Messi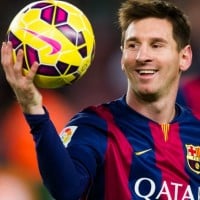 Lionel Andrés "Leo" Messi (born 24 June 1987) is an Argentine professional footballer who plays as a forward for Spanish club Barcelona. He is also known as one of the greatest football players of all time. He was born in Rosario, Argentina on June 24th, 1987.
Leo is the man to beat rite now, he has more skill than Ronaldo, better ball control than Ronaldo, more productivity and creativeness than Ronaldo, better vision than Ronaldo, more awards than Ronaldo, twice as many assists than Ronaldo, I don't think anyone out there has the guts to say he's not a better person than Ronaldo, not to mention he's two years younger than Ronaldo.
Ronaldo is a good striker.. Very good.. But what Messi does we've seen no one do in modern football... He goes through 5-6 players on a regular basis.. It takes at least 2-3 defenders markng him constantly n still he manages 50 league goals.. Besides.. He is a world class playmaker making him effectively more complete than anyone else on the planet when it comes to football!
Action speak louder than words my friends, what Messi did last season 2012~13 is nothing but amazing. The highest no of goals score by any player in a single season. He is maradona of this generation and follow the steps of his countrymen. The way Messi start his carrer and if he play like this in his remaining carrer. Then without any doubt, he is the greatest one ever to play the game of football.
THE GUY IS SUPER DRIBBLER.. I LOVE liONEL ANDRESE LEO MESSI. MESSI IS MUCH BETTER THAN rONALDO. RONALDO IS JUST A BORING PLAYER. RONALDO doesn't HAVE PACE AND BALANCE ON THE BALL. MESSI I THINK HAS A GLUE ON HIS STUDS THE BALL NEVER GETS OUT OF HIS FEETS. MESSI IS VERY MUCH AWESOME THAN RONALDO. LIONEL ANDRESE LEO MESSI IS THE MAN OF MY DREAM...
2
Cristiano Ronaldo

Cristiano Ronaldo dos Santos Aveiro (born 5 February 1985) is a Portuguese professional footballer who plays as a forward for Serie A club Juventus and captains the Portugal national team.
Cristiano is the better player then Messi because he is taller, stronger, quicker, more skillful, both footed, can take penalties, frees, can use his head and has played in the top leagues in the world La liga and EPL and has broke a lot of records in la liga kicking 100 goals in 92 apps being the fastest and has kicked 13 hat tricks which is amazing and messi has played 9 seasons in la liga and has kicked 200 plus goals but ronaldo 3 seasons and 136 Messi is only good because of gun midfielders.
There are stats that make Messi look better but he has two great midfielders behind him to give him more goals. People also say Messi is better becuase he has more passes than Ronaldo. The reason Messi has more passes is because that's Barcalona's strategy, pass and possession, I think head to head Ronaldo is much more complete than Messi. Ronaldo is Faster, Stronger, Taller and can use both feet. He can jump really well to head the ball and takes unstoppable free kicks.
We can't compare heaven and hell guys christiano Ronaldo has proved to the world that he is the best messi will never come even to him so guys its high time for messi to go and find out if barcelona is the only place he can play from... Big up ronaldo you the king of soccer in this generation entertaining and full of magic love hassan forever till we die...?!
Cristiano Ronaldo is just simply the best player in the world right now, Ronaldo has scored more goals than the matches he hsa played some of them he created them himsels. He does at times not perform as expected and or at his best we can not shy from that, but lets face it Ronaldo is just better than Messi and the fact that he has won numerous tournaments in different leagues speaks on its own.
3
Xavier Hernández
He is the best way can't he be number 1 or at least number 2 he is so good
He is the best striker I have ever watched. If there was no such thing as Messi and Ronaldo than Hernandez will be the number 1 and most popular soccer player.
Real machine guy you can ask anyone from Spain #master mind enufsaid#
Hernadez is the best striker in the world by along long distance he would skin messi or ranaldo any day.
4
Neymar

Neymar da Silva Santos Júnior, born 5 February 1992, commonly known as Neymar or Neymar Jr., is a Brazilian professional footballer who plays for Ligue 1 club Paris Saint Germain (PSG) and the Brazil national team as a forward or winger, and is also the captain of the national team. ...read more.
Who the hell puts all these arabs on the list, is it hacked or something. Why doesn't everyone vote for a great, a true great like Neymar. His skills are unreal, better than Ronaldo's and Messi's. He is number 1.
Neymar scored some of the most beautiful goals of the year. He has an arsenal of amazing moves and dribles. He can initiate a drible and change it in the middle of the execution.
A brilliant player with out of this world pace! He never stops running and has lethal shots.
He is a skillfully player and deserves to be captain forever
5
Andres Iniesta

Andrés Iniesta Luján is a Spanish professional footballer who plays for FC Barcelona and the Spain national team.
He's one of the world greatest player I've ever seen. He's passion, and technique is really good. He can pass all defender, and calmly pass it to his teammate. He's a legend
Everyone go to iniestas best soccer goals
6
Wayne Rooney

Wayne Mark Rooney is an English professional footballer who plays for and captains both Manchester United and the England national team.
Rooney really doesn't get the love he deserves! He is the greatest Manchester United player ever and one of the greatest ever. Ronaldo and Messi are overrated, Rooney is where its at.
Rooney is an amazing striker and has great potential. People say that he is very overrated but they are just jealous that he plays on the greatest team ever, Manchester United!
He is a team player, he always helps the defense, midfield and attack and also scores a lot for his team and that is what makes him better than Messi, Ronaldo and others
I love how this guy plays, every touch, every run and every pass is purposeful and direct. He never wastes them either, and he is one of the best around players around
7
Zlatan Ibrahimovic

Zlatan Ibrahimović (3 October 1981) is a Swedish professional footballer who plays for an Italian club AC Milan and the Sweden national team for which he is captain.
He scores goals from 20 feet; that's a man that knows how to play soccer!
Ibrahimovic you scored awesome goals I love you
He Messi, Ronald it's the top 3 in the world
8
Ricardo "Kaka" Izecson
KAKA was the best for two years and still should be, but was injured a couple of times which really hindered his skills. All of the top five should be under KAKA was the best at an early age and is still on of the best if not the best, and is paid one of the highest salaries.
Kaka is always better. His football was once indispensable in the football world. Unfortunately he is now form out. It is because of the carelessness and the transfer to the real madrid. But it is sure that KAKA will return back. WE ARE WITH YOU KAKA... COME BACK...
Kaka is the best player in the world and he's even better than rooney he's a sick player he is simply a LEGEND - jason1290
Clever very clever and he has also great pace even though he is not in his best he gave us only a taste this year of what he is able to do in the court when he has the ball and even when he doesn't with his excellent moves
9
Ronaldinho

Ronaldo de Assis Moreira (born 21 March 1980), commonly known as Ronaldinho Gaúcho or simply Ronaldinho, is a Brazilian former professional footballer and current ambassador for Barcelona. He played mostly as an attacking midfielder, but was also deployed as a winger. Often considered one of the best ...read more.
He is an achiever, an entertainer, a role model, extremely gifted with talent, and one who simply makes football games look like PlayStation.
He knows how to driblil a men. I like his SAMBA Dance celebrations there is no one who can or celebrate like him. He is an entertainer
He is still the most skillful player in the world
He has done almost ever thing on the pitch
10
Robin van Persie

Robin van Persie is a Dutch coach and former professional footballer who played as a striker. Regarded as one of the best strikers of his generation, he is the all-time top scorer for the Netherlands men's national team. He is currently an assistant manager at boyhood club Feyenoord in his first managerial ...read more.
Simply the best striker in the premier league... He's also among one of the best in the world. Maybe the only thing that's keeping arsenal from going under
A brilliant Striker for Manchester United who helped them get to the top of the league. Good pace, Brilliant free-kicks and is always scoring goals.
The way he communicate and the way he play, he's passes and yea every thing he do is perfect. The unmistakebol Robin Van Persie
Pass play shoot! He is the most amazing player go Van Persie
The Contenders
11
Ali Karimi

Ali Karimi nicknamed "Maradona of Asia", is an Iranian coach and retired footballer. He has played for Fath Tehran, Persepolis, Al-Ahli Dubai, Bayern Munich, Qatar SC, Steel Azin, Schalke 04, Tractor Sazi, and the Iran national team for which he scored 38 goals in 127 appearances.
Ali Karimi best player in Iran Asian & world he is wizard football 6. 10, 10, 3
The best football player in the world
"If this player was born in Europe, he would be the best player in the world"
Felix Magath said.
He is the best man in asia. His technic is over than asia. And he famous to asian maradona (sarvar farnaze majidi)
12
Farhad Majidi

Farhad Majidi is a retired Iranian professional footballer who mostly played as an attacking midfielder. He was also a member of Iran national football team. In 2010, he was nominated for the Asian Footballer of the Year award which finished second in voting.
Mythical of Iranian football
Farhad Majidi is the best Asian footballer
He is the best in the world
Farhad Majidi is a legend
13
Mesut Ozil

Mesut Özil is a German professional footballer who plays as an attacking midfielder for Süper Lig club Fenerbahçe. Nicknamed "The Assist King", Özil is known for his technical skills, creativity, agility, and finesse.
Ozil deserves to be up at the top. Whats with everybody, pushing him down to number 19?
Özil is amazing, all you haters need to get it together. Have you seen how many assists he has had this season?
He is a top skill player
14
Mario Gomez

Mario Gómez García ( born 10 July 1985) is a German professional footballer who plays as a striker for German club VfL Wolfsburg, and the German national team. When Stuttgart became champions in 2006–07, Gómez contributed 14 goals and seven assists at the age of 21 and was selected as German Footballer ...read more.
HEY HE THE BEST SCORER IN BAYERN AND IN CHAMPIONS LEAGUE
Mario Balotelli is better then anyone I ask my friends who can beat Balotelli they said no one
15
Steven Gerrard

Steven George Gerrard (born 30 May 1980) is an English professional football manager and former Liverpool player who currently manages Scottish Premiership club Rangers.
He's amazing the heart and soul of Liverpool FC
Best English Midfied Player Off All Time.. He can, pass, shoot, tackle.
Best player ever an best midfielder
16
Didier Drogba

Didier Yves Drogba Tébily is an Ivorian professional footballer who plays as a striker for Canadian Major League Soccer club Montreal Impact.
I love Drogba.. He can do something impossible
Won the champions league scored the game saving goal in the 88th minute and the winning penalty. I'm a bayern fan
DROGBA! He is very good, possibly the best! A ton better thsn Ronaldo and Messi in my opinion.
He beat bay earn in cl finals with his penalty - Chelseafootball
17
Arjen Robben

He scored 2 goals against Spain in 2014 World Cup. He should be the captain of Netherlands. In Netherlands VS Argentina, all the other players were bad penalty shooters from Netherlands. Arjen Robben scored and another Netherlands scored. Wesley SneiJder is not that bad. Arjen Robben should up in Top 5. He went to World Cup 2006 and scored goals. He went to World Cup 2010 and scored goals. Every world cup he went to he scored goals.
I dislike Robben because for all his skill, he is a diver and a bad sport. He basically booted Mexico from the world cup with a pathetic flop in the penalty box
He is good and plays well
He is the best player.
18
Iker Casillas

Iker Casillas Fernández is a Spanish retired professional footballer who played as a goalkeeper. Popularly dubbed "San Iker" for his ability to produce spectacular saves, Casillas is widely regarded to be one of the greatest goalkeepers of all time.
A magnificent diver with brilliant keeper ability.
19
Gareth Bale

Gareth Frank Bale is a Welsh professional footballer who plays as a winger for English club Tottenham Hotspur and the Wales national team.
What are so many poor players doing above bale, was top 3 player in world this year
Most efficient and fastest player... Plays some amazing free kicks
The best player of the football world
20
Ryan Giggs

Ryan Joseph Giggs is a Welsh football coach and former player who is currently the assistant manager at Manchester United and co-owner of Salford City.
21
Sergio Agüero

Sergio Leonel "Kun" Agüero is an Argentine professional footballer who plays as a striker for Spanish club Barcelona and the Argentina national team.
22
David Villa

David Villa Sánchez is a Spanish professional footballer who plays as a striker and also serves as captain for New York City FC in Major League Soccer.
Villa is as good as Messi.l love villa.
David is my love...
I love you so so so so much David!
23
Franck Ribery

Franck Henry Pierre Ribéry is a French professional footballer who plays for German club Bayern Munich.
BEST ASSIST IN BAYERM IN THE LEAGUE TOO PUT HIM IN TOP TEN AND HE IS A MUSLIM
24
Carlos Tevez

Carlos Alberto Martínez Tevez is an Argentine professional footballer who plays as a forward for Shanghai Shenhua and the Argentina national team.
I don't really watch soccer but I used to have FIFA 08 and my favourite team was Manchester United, so whenever I got the ball to Tevez I always knew that it was going to be a GOAL
He sucks but I like him
25
Fernando Torres

Very good ball handling and good striker better then Ronaldo and kaka he can get past defenders better than soccer players
Really talented, really skillful, the fastest, legendary... Yeah, THE BEST!
He is the best striker in Europe... And was the most successfull in Liverpool...
I'm sorry please forgive her old self .
PSearch List