Top 10 Best Footballers of 2014
The Top Ten
1
Lionel Messi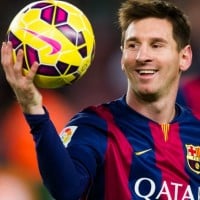 Lionel Andrés "Leo" Messi (born 24 June 1987) is an Argentine professional footballer who plays as a forward for Spanish club Barcelona. He is also known as one of the greatest football players of all time. He was born in Rosario, Argentina on June 24th, 1987.
My opinion is even thought my friends thinks Ronaldo is the best I see messi's potential to be the best I see him training hard to be the best and even thougth he is an illiterate I still know Messi is the best
Ronaldo cannot even come close comparing with messi. Messi is the number 1 footballer in the whole universe! Ronaldo cannot match messi's achievements even in his lifetime!
Messi is simply the best in the world. Whoever thinks it's Ronaldo, think again. Messi has scored 73 goals in a season, that's out of this world. Messi IS NUMBER ONE AND Ronaldo'S NOT!
Messi Messi Messi Messi he is the master of football and dribbling Rinaldo can't even beat Messi if you are watching you ducks you are not even top 10 list Rinaldo sucks Messi is the best cool awesome Rinaldo ducks
2
Cristiano Ronaldo

Cristiano Ronaldo dos Santos Aveiro (born 5 February 1985) is a Portuguese professional footballer who plays as a forward for Serie A club Juventus and captains the Portugal national team.
Cristiano Ronaldo is the best because his skill, shot, accuracy, attitude, personality, and how cool he is. He makes people like him he's the best player in the world no other player is better or ever be than Ronaldo because of that. he beats players in everything and he works hard.
No doubt about it; Cristiano Ronaldo is a clear marathon ahead of any other Portuguese footballer moreover there is only one word to describe his success: MIRACULOUS.
He ever the best player compare to messi, because he played for three giant club, and ever shine and almost score in every match. More so he's physically fit unlike messi
Ronaldo is not one of the best he is the best, he is most skilled footballer I know, his skills is beyond this world no one can match that
3
Neymar

Neymar da Silva Santos Júnior, born 5 February 1992, commonly known as Neymar or Neymar Jr., is a Brazilian professional footballer who plays for Ligue 1 club Paris Saint Germain (PSG) and the Brazil national team as a forward or winger, and is also the captain of the national team. ...read more.
He is awesome player that deserve to be on this list. Even Pele, the best soccer player of all time, compare himself to Neymar. In the world cup, he scored four goals and two assists in five matches. He is a young player player and he is doing many amazing things.
Neymar is best footballer ever so he should be place at first place because he played so well in all the matches in 2014 FIFA world cup so he should be number#1!
Neymar is one of the best football players I have ever seen, he is skill full, talented and he is so kind and nice to his fans
Cutest... Hottest... Everything else I say will be less for this cute guy.. Love you neymar!
4
Zlatan Ibrahimović

Zlatan Ibrahimović (3 October 1981) is a Swedish professional footballer who plays for an Italian club AC Milan and the Sweden national team for which he is captain.
He is simply the best he has strength, shooting and he is a Swedish ninja. He is tall unlike Ronaldo or Messi they are small and they aren't strong.
The flexible Swedish man has almost 15 years of experience however he is inconsistent as he cannot keep is sensational form at clubs.
Most acrobatic soccer player out there now. The World Cup missed him and he is just 6 ft 5in of pure perfection on the pitch.
Panache and skill. Breathtaking football
5
Luis Suarez

Luis Alberto Suárez Díaz (born 24 January 1987) is a Uruguayan professional footballer who plays for Spanish club Atletico Madrid and the Uruguay national team as a striker.
Best player ever. Perfect finishing, great vision and creativity, good strength and speed.
Suarez is the best player in the whole universe! !
A fantastic player if you ignore his biting
He's best striker in world
6
Radamel Falcao
He is a very good Colombian football player
7
Frank Ribery
What what is the difference between "Frank Ribery and Frack Ribery''?
8
Wayne Rooney

Wayne Mark Rooney is an English professional footballer who plays for and captains both Manchester United and the England national team.
Rooney has great strength, pace, power, accuracy and brilliant vision
Wayne is just an exceptional player
Shoot and scores at far distance
Best footballer I've ever seen
9
Andres Iniesta

Andrés Iniesta Luján is a Spanish professional footballer who plays for FC Barcelona and the Spain national team.
Iniesta always plays at his best unlike Ronaldo and Messi but Messi is a big game changer
He has at least 20 medals 3 at least are gold
10
Arjen Robben

He To Is a Dutchman, but he scored loads more goals then Van Persie. The Bayern Munich star is too good for all of
Us.
The first ever person to feinte and throw away the great cassilas he deserves more than this
Starting from here it is all not true
Awesome. Really cool goals
The Contenders
11
Gareth Bale

Gareth Frank Bale is a Welsh professional footballer who plays as a winger for English club Tottenham Hotspur and the Wales national team.
$94,000,000 worth of soccer, there were questions of, "Will he be the real deal? ' Your answer is clearly here! 17 goals and 2 trophies in his first season at Real, he'll be there for many more.
To Amazing. Seriously He is just to good. He also plays for REAL MADRID so he is
COOL
He deserves to be among the best because he is great
He deserves to play for such a high class club
12
Sergio Aguero

Sergio Leonel "Kun" Agüero is an Argentine professional footballer who plays as a striker for Spanish club Barcelona and the Argentina national team.
He scored 27 goals in bpl while falcao scored 4 that's such BS aguero should be in the top ten
Man City are my favourite team
He should be in the top fives
13
Mesut Ozil

Mesut Özil is a German professional footballer who plays as an attacking midfielder for Süper Lig club Fenerbahçe. Nicknamed "The Assist King", Özil is known for his technical skills, creativity, agility, and finesse.
He's my favroute player because he is so high class and a amazing player and has always been amazing
Seriously, he really is good. The German has improved a lot!
This Germany & Arsenal player is the best ever! Never Say no because he is really
COOL
14
Eden Hazard

Eden Michael Hazard, born January 7th, 1991, is a Belgian professional footballer who plays for Real Madrid CF and captains the Belgium national team.
Hands down best dribbling skills in the entire world, his finish is also amazing. He creates chances and is a key part of Chelsea FC's attack.
He's an awesome football player and does the best skills ever!
Eden Hazard is number 1 Why His NO 2
HE is the best dribbler ever!
15
Thomas Müller

Thomas muller is way better than show off crostino Ronaldo Ronaldo is crap
Thomas will kill Ronaldo, messi, movic
16
Ronaldinho

Ronaldo de Assis Moreira (born 21 March 1980), commonly known as Ronaldinho Gaúcho or simply Ronaldinho, is a Brazilian former professional footballer and current ambassador for Barcelona. He played mostly as an attacking midfielder, but was also deployed as a winger. Often considered one of the best ...read more.
This man had so high Quality at his younger stages
17
Gianluigi Buffon

Gianluigi "Gigi" Buffon (born 28 January 1978) is an Italian professional goalkeeper who plays for Serie B club Parma. He is widely regarded as one of the greatest goalkeepers of all time, and by some as the greatest ever.
18
Robin van Persie

Robin van Persie is a Dutch coach and former professional footballer who played as a striker. Regarded as one of the best strikers of his generation, he is the all-time top scorer for the Netherlands men's national team. He is currently an assistant manager at boyhood club Feyenoord in his first managerial ...read more.
I call him The flying Dutchman because he scored an amazing Flying header against
Spain. They ended up winning 5-1
He is the " Flying Dutchman" doing a flying header and beating Spain 5-1!
He is an amazing player and should be number one
19
Manuel Neuer

Manuel Peter Neuer is a German professional footballer who plays as a goalkeeper for Bayern Munich and the Germany national team.
Worlds number 1 goalkeeper. The best.
20
Franck Ribery

Franck Henry Pierre Ribéry is a French professional footballer who plays for German club Bayern Munich.
Kicked out of the World Cup squad due to an injury, he missed out on France's excellent World Cup tournament. But if he was there, could he have taken them to World Cup glory again?
What
21
James Rodriguez

This kid is overrated
This dude is a boss - 12clarh
22
Xavi
He is just an player that got shine very late, If he was younger, he would have been one of the best midfielders.

He was well known for his friendship with Iniesta and his technical mind, he was very smart.
23
Oscar
He is a Brazilian, a skilled Brazilian. The Chelsea midfielder is a really good player
24
Steven Gerrard

Steven George Gerrard (born 30 May 1980) is an English professional football manager and former Liverpool player who currently manages Scottish Premiership club Rangers.
He is incredible. He has Skill and he has the ability to Score goals so Cool!
The Liverpool skipper has lots of power and he is awesome!
How can that happen - he is the best
He is crap now
25
Angel di Maria

Think he should be in top 10 he is doing much for both club and country
Di Maria is so underrated he's much better than bale and Suarez
Much better than some of the players above so underrated
PSearch List