Top Ten Greatest Socialists
The greatest people of all time who called themselves a socialist or who advocated for socialism.

The Top Ten

1 Karl Marx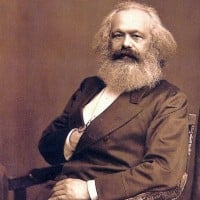 Karl Marx was a German philosopher, economist, historian, political theorist, sociologist, journalist and revolutionary socialist. Born in Trier to a middle-class family, Marx studied law and Hegelian philosophy.
2
Nelson Mandela

Nelson Rolihlahla Mandela was a South African anti-apartheid revolutionary, politician, and philanthropist, who served as President of South Africa from 1994 to 1999. He was the country's first black chief executive, and the first elected in a fully representative democratic election.
3
Martin Luther King Jr

Martin Luther King Jr. (born Michael King Jr.; January 15, 1929 – April 4, 1968) was an African American minister and activist who became the most visible spokesperson and leader in the civil rights movement from 1955 until his assassination in 1968. King is best known for advancing civil rights through ...read more.
4
Bernie Sanders

Bernard "Bernie" Sanders is an independent American Senator from Vermont and was a candidate for the Democratic nomination for President of the United States in the 2016 and 2020 elections.
5
Jawaharlal Nehru

6
Noam Chomsky

Avram Noam Chomsky is an American linguist, philosopher, cognitive scientist, historian, political activist, and social critic.
7
Luiz Inácio Lula da Silva

8
W.E.B. Du Bois

9
Helen Keller

10
Albert Einstein

Albert Einstein was a German-born theoretical physicist who developed the theory of relativity, one of the two pillars of modern physics. His work is also known for its influence on the philosophy of science.
The Contenders
11
Eugene Debs

12
Malala Yousafzai

Malala Yousafzai S.St is a Pakistani activist for female education and the youngest-ever Nobel Prize laureate.
13
Clement Attlee

14
Mátyás Rákosi

15
Slobodan Milosevic

Slobodan Milošević was a Yugoslav and Serbian politician and the President of Serbia from 1989 to 1997 and President of the Federal Republic of Yugoslavia from 1997 to 2000.
16
Angela Davis

17
Mengistu Haile Mariam

Mengistu Haile Mariam is an Ethiopian politician who was the leader of Ethiopia from 1977 to 1991. He was the chairman of the Derg, the Communist military junta that governed Ethiopia, from 1977 to 1987, and the President of the People's Democratic Republic of Ethiopia from 1987 to 1991. Effectively ...read more.
18
Kwame Nkrumah

19
Vladimir Lenin

Vladimir Ilyich Ulyanov, better known by the alias Lenin, was a Russian communist revolutionary, politician, and political theorist.
20
James Baldwin

21
Evo Morales

22
Bashar al-Assad

Bashar Hafez al-Assad is the current President of Syria, holding the office since 17 July 2000. He is also commander-in-chief of the Syrian Armed Forces, General Secretary of the ruling Arab Socialist Ba'ath Party and Regional Secretary of the party's branch in Syria.
23
Ho Chi Minh

Hồ Chí Minh, was a Vietnamese Communist revolutionary leader who was Chairman and First Secretary of the Workers' Party of Vietnam.
24
Muammar Gaddafi

The great socialist Arab leader who brought Libya out of poverty
25
Elizabeth Cady Stanton

-Suffragist, activist, and author of the influential Declaration of Sentiments on women's rights.
-Founder and president of the National American Woman Suffrage Association. Credited with initiating the first organized women's rights movement in the US.
-Abolitionist. Declined to support the 14th and 15th Amendments since the rights they provided did not extend to women.
PSearch List