Top 10 Stella Zhau Moments From The Loud House
Still continuing with these types of lists this time I will be focusing on the top moments from Stella Zhau from The Loud House.

The Top Ten

1 Stella Accepts Lincoln and the Other's Apology and Agrees to Be in Their Friend Group - Be Stella My Heart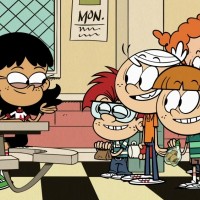 In a misunderstanding the boys thought Stella was looking for a boyfriend among them due to her inviting them out individually and they end up blaming her for almost ruining their friendship as she explains that she just wanted to get to know each of them and that she just wanted to be their friend and wasn't looking for a date which upsets her as the boys nearly lose her as a friend as Lincoln, Clyde, Rusty, Liam and Zach apologize to her for the way they acted and for misinterpreting her actions she forgives them as agrees to joining their friend group.
2
Stella Helps Clyde Determine If He Should Ask Emma to the Dance - Brave the Last Dance

Clyde wants to ask a girl he likes Emma to the dance but worries she'll say no so he asks advice from his friends and for the final test Stella performs a tea leaf fortune for him as she discovers Clyde will be dancing with a brown haired girl while wearing a chef's hat though Clyde doesn't dance with Emma as she friend zoned him he does end up dancing with Emma's friend Chloe who happens to have brown hair.
3
Stella First Meets with Lincoln - White Hare

Lincoln's first meeting with Stella on the bus though her design in this episode is a lot different then her final look in "Be Stella My Heart".
4
Stella Asks Lana for Help in Training Her Pet Rabbit Jazzy - Training Day

Stella gets a new pet rabbit named Jazzy however Jazzy is out of control and a complete menace and is told she has a week to get him under control or Jazzy will have to be sent to live with her Aunt and Uncle so she turns to Lana to help train Jazzy.
5
Stella Invites Lincoln to the Burpin Burger - Be Stella My Heart

In an attempt to know each of the boys Stella asks each of them out starting with Lincoln by asking him to join her at the Burpin Burger all the while thinking she chose him as her new boyfriend.
6
Stella as Yodel Boy - Saved by the Spell

In an attempt to keep Lincoln from performing his magic act during the middle school talent fearing his magic act will ruin his reputation Stella disguises herself as a yodeler names Johan Johananananananan and now goes by Yodel Boy and makes up ridiculous story about how she performed a yodeling solo for the talent show which ruined her reputation and was labeled Yodel Boy this convinces Lincoln not to do the talent show and join their group performance.
7
Stella Gets Redesigned - Be Stella My Heart

Stella's new character redesign her most notable change from her original design is the removal of her orange headband with a bow and her hair no longer in a bun.
8
Stella Shows Off Her Music Box to the Others - Tails of Woe

While on the bus the gang show off their show and tell projects with Stella showing off her music box that she and her grandmother bought and later repaired.
9
Stella and the Others Get Beat Up by the 8th Grade Bullies - No Bus No Fuss

After Lincoln has an encounter with the 8th grade bullies Anderson, Pablo and Taylor on the bus and he accidentally spill his juice on them as Stella and the others try to help but only make the problem worse and makes the bullies even more angry which leads to the gang getting beat up by them.
10
Stella Interviews Mr. Bolhofner - Kernel of Truth

Lincoln and the gang restart the old school's news team and druing one of the segmants Stella interviews Mr. Bolhofner on his Birthday and accidentally gets his age wrong mistakenly thinking he's 62 as he harshly tells her he's 34.
The Contenders
11
Stella Finds a Shoe in the Lunch Lady's Food - Kernel the Truth

12
Stella's Mom Tells Her Her Dad Got Kicked by a Angry Mama Goat - Stall Monitor

13
Stella and Liam Try Out Wigs - Be Stella My Heart

14
Stella Invites Zach to Laser Tag - Be Stella My Heart

15
Stella Feeds Cinnamon the Rat Corn Chips - Tails of Woe

16
Stella and Lincoln Kiss - It's Not Your Fault

17
Stella and Zach Play Laser Tag - Be Stella My Heart

18
Stella and Clyde Dance - Be Stella My Heart

19 Stella and Lincoln Walk in on Coach Pacowski - Tails of Woe
BAdd New Item