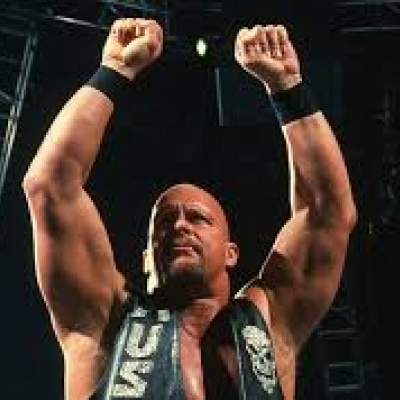 5
+
Steve Austin
Steve Austin (born Steven James Anderson on December 18, 1964, later Steven James Williams), better known by his ring name "Stone Cold" Steve Austin, is an American actor, media personality, producer, and retired professional wrestler who is signed to a legends contract for WWE.
He gained significant mainstream popularity in the WWE (then known as the World Wrestling Federation) in the late 1990s as "Stone Cold" Steve Austin, a disrespectful, beer-drinking antihero who routinely defied the establishment and his boss, company chairman Vince McMahon; this persona of Austin's became the "poster boy" of the Attitude Era, a boom period in WWF business in the late 1990s and early 2000s and was one of the biggest factors in helping the WWF win the ratings war against their competition, World Championship Wrestling (WCW). Several prominent industry figures, including McMahon, have since declared Austin to be the biggest star in WWF/E history, while stressing that he surpassed the popularity of Hulk Hogan. Austin also devised the long-standing "What?" chant in pro wrestling.
Austin held 19 championships throughout his wrestling career; he is a six-time WWF Champion, a two-time WWF Intercontinental Champion, and a four-time WWF Tag Team Champion, thus making him the fifth Triple Crown Champion in WWE history. He was also the winner of the 1996 King of the Ring tournament, as well as the 1997, 1998, and 2001 Royal Rumbles, making him the only three-time winner of the event. Furthermore, under The Ringmaster moniker, he was awarded the unsanctioned Million Dollar Championship by the "Million Dollar Man" Ted DiBiase.
He has headlined multiple pay-per-view events for the WWF, including three WrestleManias (XIV, XV, and X-Seven). He was forced to retire from in-ring competition in 2003 due to a series of knee injuries and a serious neck injury. Throughout the rest of 2003 and 2004, he was featured as the Co-General Manager and "Sheriff" of Raw. Since 2005, he has continued to make occasional appearances, and was inducted into the WWE Hall of Fame in 2009 by Vince McMahon. In 2011, Austin returned to WWE to host the reboot of the reality series Tough Enough.
Lists Featuring Steve Austin
Related Lists