Best Stranger Things Cast Members
The Top Ten
1
Millie Bobby Brown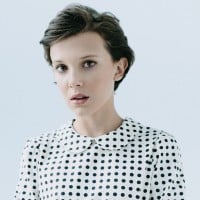 Millie Bobby Brown is an English actress and model. She is known for her breakout role as Jane "Eleven" Ives in the Netflix science fiction drama series Stranger Things.
She is the best actress and voices my character. I think she does a great job1
Say what you want about her personality, she's an outstanding actress
Way too obnoxious and doesn't deserve to be number 1, the other cast members are so much more humble and she constantly interrupts them in interviews, she's a fine person I guess but definitely not the best cast member.
Outstanding performance by her!
2
Finn Wolfhard

Finn is a very musical person and I appreciate people who r involver in music.
How is she so good she does scenes that make me cry or laugh she's so important to this show eleven in the closest things to a main character
Finn is a talented actor. He portrayed Mike Wheeler perfectly and I can't wait for season 3 and the groups' shenanigans.
He is insanely talented and he's also a really cool person, very chill and down-to-earth, despite all of his success. He's hilarious, too.
3
Winona Ryder

Winona Ryder is an American actress. One of the most profitable and iconic 1990s actresses, she made her film debut in the 1986 film Lucas.
Is a world amazing actress
Voices Joyce.
4
Gaten Matarazzo

I'm so obsessed with him!
so funny great actor
Voices Dustin.
5
Natalia Dyer

So beautiful and nice. She needs to have more confidence in herself.
I love her! She seems so nice!
so cute and great actress
Voices Nancy.
6
Caleb McLaughlin

Voices Lucas.
7
Noah Schnapp

Noah Schnapp is an American actor who portrays Will Byers in the Netflix science fiction series Stranger Things. He voiced Charlie Brown in The Peanuts Movie and also appeared in the 2015 Steven Spielberg film Bridge of Spies.
He is an amazing boy
and is loved by a lot of people on wattpad
he has a schnapp army

WE ALL LOVE HIM!
He has tee look he gives an outstanding performance he is nice sweet and humble I love him so much every fan he meets he is like so nice he should be higher up
Why is Noah eighth? I mean his acting is by far the best from all the kids.
His acting is by far the best of all the kids, and deserves to be way higher
8
Charlie Heaton

Harry Styles + Dwight Schrute
Voices Jonathan.
Plays Jonathan,He is a nice guy
He's smokin hot
9
Sadie Sink
She is THE MOST humble one out of all the cast members. We almost never see Sadie being mean or interrupting anyone. Sadie is also very talented considering she was on Broadway and her fantastic performance as Max Mayfield.
She seems like such a nice person.
Sadie is the most humble out of all the cast members.
I love sadie so much
10
Joe Keery
I mean he's good in stranger things
Joe is pregnant. Give him this.
Why the hell am I adding him?
He's so funny!
The Contenders
11
Dacre Montgomery
Feeling blessed that I got to add dacre
Oh boy, the Red Ranger
Voices billy.
12
Cara Buono

she was so weird in stranger things she was flirting with a boy and she was already married
Voices Karen.
13
David Harbour
Voices Hopper.
My papa. (lol)
14
Shannon Purser

Voices Barb,
15
Matthew Modine
Voices Dr. Brenner
16
Peyton Wich
Voices Troy.
The Best One
17
Cade Jones
Voices James.
18 Linnea Berthelsen
19 Priah Ferguson
BAdd New Item