Top Ten Greatest Supporting Movie Performances of All Time
The Top Ten
1
Heath Ledger as The Joker - The Dark Knight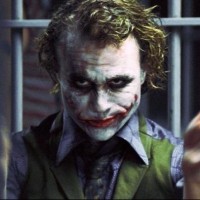 2
Joe Pesci as Tommy DeVito - Goodfellas

Joseph Frank "Joe" Pesci is an Italian-American actor, comedian and musician, known for playing tough, volatile characters, in a variety of genres.
3 Christian Bale as Dicky Eklund - The Fighter
4
Christoph Waltz as Col. Hans Landa - Inglorious Basterds

5 Harrison Ford as Han Solo - Star Wars Trilogy
6
Kevin Spacey as Verbal Kint - The Usual Suspects

Kevin Spacey Fowler is an American actor, producer and singer. He began his career as a stage actor during the 1980s before obtaining supporting roles in film and television.
7
Samuel L. Jackson as Jules Winnfield - Pulp Fiction

Samuel Leroy Jackson is an American actor and film producer. He achieved prominence and critical acclaim in the early 1990s with films such as Jungle Fever, Patriot Games, Amos & Andrew, True Romance, Jurassic Park and his collaborations with director Quentin Tarantino including Pulp Fiction, Jackie ...read more.
8 Kevin Kline as Otto West - A Fish Called Wanda
9 Leonardo DiCaprio as Arnie Grape - What's Eating Gilbert Grape
10 Robert Duvall as Col Kilgore - Apocalypse Now
The Contenders
11 Orson Welles as Harry Lime - The Third Man
12 Brad Pitt as Jeffrey Goines – 12 Monkeys
13 Marty Feldman as Igor - Young Frankenstein
14 John Cazale as Fredo Corleone - The Godfather Part II
15
Sean Connery as Jim Malone - The Untouchables

Sir Thomas Sean Connery is a retired Scottish actor and producer who has won an Academy Award, two BAFTA Awards and three Golden Globes.
16
Michael Clarke Duncan as John Coffey - The Green Mile

Michael Clarke Duncan was an American actor, best known for his breakout role as John Coffey in The Green Mile, for which he was nominated for the Academy Award for Best Supporting Actor and various similar honors.
17 Tom Cruise as Frank T. J. Mackey - Magnolia
18 Tommy Lee Jones - The Fugitive
19 J.K. Simmons as Terence Fletcher – Whiplash
20 Rutger Hauer as Roy Batty - Blade Runner
21
Ralph Fiennes as Amon Goeth - Schindler's List

Ralph Nathaniel Twisleton-Wykeham-Fiennes (born 22 December 1962) is an English actor, director and producer. A noted Shakespeare interpreter, he first achieved success onstage at the Royal National Theatre. ...read more.
22
Christopher Walken as Cpl. Nikanor Chebotarevich - The Deer Hunter

Christopher Walken is an American actor of screen and stage who has appeared in more than 100 films and television shows.
23 Al Pacino as Michael Corleone - The Godfather
24 Dennis Hopper as Frank Booth - Blue Velvet
25 Robert De Niro as Vito Corleone - The Godfather Part II
PSearch List