Top 10 Most Talented Metal Musicians Under 40 Years of Age as of 2018
A list about the younger generation of metal musicians - there are many remarkable talents out there.
The Top Ten
1
Alexi Laiho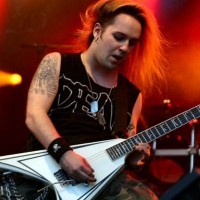 Alexi "Wildchild" Laiho is a Finnish guitarist, composer, and vocalist. He is best known as the lead guitarist, lead vocalist and founding member of the melodic death metal band Children of Bodom, and is also the guitarist for Sinergy, The Local Band and Kylähullut.
He is 39 but he already's got a remarkable discography - as a guitarist, vocalist, songwriter and leader of death metal band Children of Bodom. His guitar playing is the thing I like the most, solos in particular.

He started very early as he formed Children of Bodom at 14. - Metal_Treasure
2
Steffen Kummerer

Steffen Kummerer (born June 1, 1985) is a German guitarist, multi-instrumentalist, and producer. He is the leader, main songwriter, vocalist, and guitarist for the progressive technical death metal band Obscura as well as the blackened melodic death metal band Thulcandra.
He is 33 - guitarist, vocalist, songwriter and leader of death metal band Obscura. Obscura albums are close to perfection (so far, including the 2018 album).
His riffs epitomize precision and virtuosity. His composing skills are outstanding as well - he succeeds to get a heavy and complex yet melodic sound.

His lyrics are a mix of philosophy, astrophysics and poetry. Also, he's one of the most intelligent guys in metal. And very charming. - Metal_Treasure
3
Mario Duplantier

Mario Duplantier is a French musician and artist best known as the drummer of technical death metal band Gojira.
He is 37 but he did a lot to deserve the respect he's got. Great drummer. - Metal_Treasure
4
Christian Münzner

He is 36 and he's one of the most technical guitarists ever (a sweep picker) - Metal_Treasure
5
Dylan Ruskin

Brain Drill's guitarist is awesome and he is 34. He's the main reason I listen to Brain Drill. - Metal_Treasure
6
Linus Klausenitzer

Obscura bassist is simply a beast (he's 33).
Don't be surprised (or annoyed) by seeing several current and past members of Obscura on this list. They are really talented and their virtuosity is literally jaw-dropping. And this isn't only my opinion - here's a quote from a review of Obscura's Diluvium, 2018: "Apparently, talented musicians grow on trees in Germany - and Obscura happened to pick them all." - Metal_Treasure
7
Tim Charles

He is 36 - vocalist, violinist, spokesperson and primary co-songwriter of Ne Obliviscaris (extreme prog metal). He's also a violin teacher. A very intelligent and nice guy.
He's very talented and what he does in this band is pretty unique. Moreover, the band's got a unique sound mostly thanks to him. - Metal_Treasure
8
Rafael Trujillo

He's only 23 but did a great job on Obscura's Diluvium, 2018 (lead guitar) - Metal_Treasure
9
Sebastian Lanser

He's 34 and he's a brilliant drummer - he has both metal brutality and jazz gracefulness - Metal_Treasure
10
Matt McGachy

He's 30 and he is the new Cryptopsy vocalist. He does a great job and even succeeds to sound quite a lot like Lord Worm, which is something. - Metal_Treasure
The Contenders
11
Hannes Grossmann

Hannes Grossmann is a German drummer who plays for the US death metal band Hate Eternal, German progressive band Alkaloid, and for U.S. technical extreme metal supergroup Blotted Science. He was also the drummer during Necrophagist's Epitaph era and played with Obscura for their first two albums.
12
Alissa White-Gluz

Alissa White-Gluz is a Canadian vocalist, best known as the former lead vocalist and one of the founding members of the Canadian metal band, The Agonist, and current lead vocalist for the Swedish melodic death metal group, Arch Enemy.
13
Robin Zielhorst

14
Daniel Presland

He is 33. He was crowned as the Fastest Feet in Australia in 2006 (he was the Australian finalist for the World's Fastest Drummer Competition). He was 20-21 yo.
Drummer for Ne Obliviscaris - Metal_Treasure
15
Joakim Broden

Joakim "Jocke" Brodén is a Swedish-Czech singer and songwriter who is the lead vocalist, keyboardist, and occasional guitarist of heavy metal band Sabaton. He and bassist Pär Sundström formed the band in 1999.
16
Simone Simons

Simone Johanna Maria Simons is a Dutch singer-songwriter. She is the lead vocalist of Dutch symphonic metal band Epica.
17
Floor Jansen

Floor Jansen is a Dutch singer-songwriter and vocal coach. She is currently vocalist of Nightwish and leader of Revamp.
18
Kobra Paige

Kobra Paige is a Canadian singer and songwriter. She is the founder, lead singer, and songwriter for the hard rock and metal band Kobra and the Lotus. She is also a guest vocalist for Kamelot and Metal All Stars.
19
Matt Klavins

20
Brendan Cygnus Brown

21
Matt Heafy

Matthew "Matt" Kiichi Heafy is a Japanese-American musician, best known as the lead vocalist and rhythm guitarist of the Orlando based Heavy Metal/Metalcore band Trivium.
BAdd New Item