Top 10 Talking Dog Characters
The Top Ten
Dug (Up!)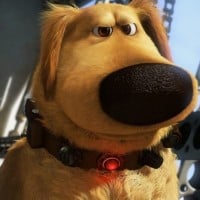 Dug is one of the two tritagonists of Disney/Pixar's 2009 film, Up. He also appears in Dug's Special Mission as the protagonist and in George & A.J. as a minor character.
YES! I definitely agree! I love this movie, and Dug is by FAR my favorite character in it!
Scooby Doo (Scooby Doo)

Scooby Doo is a famous fictional dog character from the show Scooby-Doo Where Are You? He is the protagonist of his series .
Frank the Pug (Men In Black)
Bolt (Bolt)
Pongo (101 Dalmatians)

Budderball (Air Buddies)
Butch (Cats & Dogs)
Tramp (Lady and the Tramp)
PaRappa the Rapper

Charlie (All Dogs Go to Heaven)
The Newcomers
?
Dukey (Johnny Test)

The Contenders
Brian Griffin (Family Guy)

Brian H. Griffin, popularly known without his middle initial as Brian Griffin, is a fictional character from the animated television series Family Guy.
Max (The Secret Life Of Pets)
When this movie came out, both me and my little brother were dying to see it for so long. When I got it for Christmas, we immediately put it into the DVD player and watched it. One of the reasons I loved this movie was that it related closely to the drama of my family's two dogs in real life. Our younger (but bigger) dog, Cosmo, was our only dog until our neighbors decided to move to Japan, and leave their dog, Lucky, to be taken care of by us. When I saw The Secret Life of Pets, I absolutely loved it and all of its characters. Max is by far my favorite character in the movie (I also love Chloe the cat, though).
Martha (Martha Speaks)
Papi (Beverly Hills Chihuahua)
Napoleon (The Aristocats)
Dog (CatDog)

Rocks (Look Who's Talking Now)
Spike (Tom & Jerry)
Ren Hoek (Ren & Stimpy)

Jake (Adventure Time)
Lucky (Pound Puppies)
Chase (Paw Patrol)
Rocky (Paw Patrol)
BAdd New Item