Top Ten Tamil Music Directors
The Top Ten
Yuvan Shankar Raja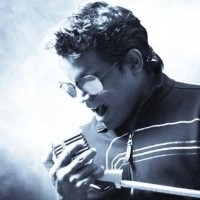 Yuvan Shankar Raja is an Indian singer-songwriter, film score and soundtrack composer, and occasional lyricist from Chennai, Tamil Nadu.
Speechless is the word I have for his music.
His unique stamp in the tamil industry has made people addicted.
His fans, like me... Have our own world in ourselves
He is deep connected in our hearts
And his voice is the only cure for any pain we get
IF MUSIC IS MY RELIGION
YUVAN IS MY GOD
His music's will be full of life and emotions. He is the man.

hi yuvan create a new instrument in music. he is always best in world.
YUVAN IS THE KING OF VARIETIES. HE MAKES MUSIC DIFFERENT FILM TO FILM. HIS MUSIC IS NOT REPEATED LIKE OTHERS. HIS MUSIC IS NEW AND INNOVATIVE IN EACH FILM. 22 VASASILEYE NANDHAA MUSIC WAS LIKE A 80 YEARS OLD MUSIC DIRECTOR. HE COMPOSED MUSIC WHEN HE WAS A CHILD IN THE FILM "AANAND" PRABU ACTED. SONG NAME POOVUKKU POOVAALE MANJAM UNDU. AND HIS FIRST FILM AT THE AGE OF 16. HIS MUSIC NEVER BECOMES BORE. HE IS THE DREAM OF EVERY INDIA. SOUTH INDIANS LOVE HIM LIKE ANYTHING. KERALA AANDRAA AND KARNAATAKKAA ALSO HAVE RASIGAR MANDRAM APART FROM MAY RASIGAR MANDRAMS IN TAMIL NAADU. HE IS THE WORLD CLASS MUSIC DIRECTOR AND THE REAL CREATIVE DIRECTOR.
A.R. Rahman

Allah-Rakha Rahman, is an Indian composer, singer-songwriter, music producer, musician and philanthropist.
A. ARE rahman is always the best. He scores fresh music
HE IS ONE BROUGHT Indian MUSIC WORLD LEVEL AND ALSO MOST OF Indian ARE LIKE HIS MUSIC STYLE. His entrance create headache to other music directors. He induces others to produce hit songs indirectly. He gone at the top. Other useless follows can't find fault just saying some things. They can't digest AR. Rahman growth,
First oscar, golden globe, bafta, grammy... He is genius in the world
Is the anything else to say or is there anyone else can be compared to him.. As a music lover, I've listen to songs from malay to English to Chinese to Spanish and Arabic.. But the variety the music knowledge of rahman is incomparable.. Remember went to put audio system in car at Chinese shop.. After plug he just take a cd in my shelf and he ask who is MD I said tamil fil MD arahman he said a.r. rahman he know since from kadhlan. He said no one can mix tunes like him.. What should I say..
Anirudh Ravichander
ANIRUDH... SUCH A PAIN KILLER AND A PAIN GIVER
HE JUST AMZING!
HIS MUSIC THERE IS NO WORDS TO DISCRIBE HIS MUSIC
BECAUSE HE IS A GREAT GENIUS
HE IS PERSON WHO KNOW MY FEELINGS
AND HE IS THE ONE AND ONLY PERSON WHO KNOW MY FEELINGS.
WHEN I HEAR HIS MUSIC I AM JUST...
THIS IS HOW YOU BROKE MY HEART
NO WORDS TO SAY
DAM...
HE IS ROCKING
KING OF MUSIC
V... TALENTED YOUNG MUSICIANS
GOD... You R REALLY THERE YOU PROVED
GREAT...
He is a young music director.. Introduced in 3 tamil film.
Anirudh is my favorite music director and singer love you anirudh
Harris Jeyaraj
The only music director who give back to back super hits non-stop from minnalae to ko, not to condemn other md's, no doubt Arr is the god of music, he is the proud of every Indian, I go for harris after Arr, the quality of harris music, 100 percent good songs, even big director like Shankar choose harris twice to replace Arr for his movie, and gautham-harris combo still one of the best after arr-mani, Arr-shankar... People said his music always sound similar, but y must he change his style when his songs always topping the radio charts all over India, malaysia n Singapore, Kuviyamilla still rocking while Vaanam and few yuvan songs missing from people heart, Forgotten! When ask people yuvan or harris they will vote for yuvan but when people ask Kuviyamilla or evandee unnai pettan, people will vote for kuviyamilla... That is the magic of harris songs, yuvan living under the shadow of ilayaraja... Arr Harris always rocks!
There is lot of music going around the world. But in India there is everything. What I felt is some musicians give music that literally convinces our ears and the music system and some musicians gives music that can purely attaches to the heart and some musicians brilliantly blows away with the arrangement of the orchestra. But HARRIS JAYARAJ is such a kind of musician that he does everything mentioned above. After all we the people have many tastes in the music as we grew up in different atmospheres so I respect everyone's opinion. This doesn't mean that I don't like other musicians but I just go with Harris...
The new Trend Setter! King of melody and hamming.
HARRIS JAYARAJ is such a kind of musician that he does everything mentioned above. After all we the people have many tastes in the music as we grew up in different atmospheres so I respect everyone's opinion. This doesn't mean that I don't like other musicians but I just go with Harris...
Best in the world... Can't say anything than that...
King of kings... His songs suits all kinda genre...
I think Harris jayaraj is some what better than A. R. Rahman...
If you want to make a film hit wit
H songs, you have to go with Harris...
THE REAL MASTER...!
Ilayaraja

Ilaiyaraaja is an Indian film composer who works in the South Indian cinema but predominantly in Tamil since the late 1970s.
Raja Sir is the best on this Planet. His songs are futuristic even if you listen them after 200 years. It is indeed God's gift we have such a genius enlighten our lives in such an inspirational blessing. His music is medicine when we feel depressed. His music is everything whenever we feel needy. His music healed my decease of feeling suicidal when times force me to leave this world. Now I thank God for blessing and gifting humankind with such a wonderful human-being, the one and only Iliayaraaja Sir. Salutes to you Sir.
King of music. I love raja songs.
He completes almost 35 year in film industry.
From Annakili (1976)still he gives good music.
This List is INSANE..
No1 always goes to RAJA sir
No one persong can replace Raja sir! The one and only god of music Raja sir
G. V. Prakash Kumar
He has a very talented music director&very good singer
No words for your music G. V your songs r all very very special for me
Your voice is also so cute please keep it up G.V. prakash sir thank you so much for your all songs
Few days we will go to reach in first place as music director
Wish you all the best G. V
He has a very talented music director.gv...such a pain killer and pain giver no word to say him. GV is the one of my favorite music director
D. Imman
Proved again in 2012. Wait & watch coming years.
D. Imman Is the next number 1 Composer
I like your songs very much
He is a very good singer and composer... Next number 1 music director is imman; your songs are very amazing.
Vijay Anthony
I love vijay antony life style &i'm also back in music director coming soon in the tamil industries by bala
M.G. R MOVE SONGS WAS VERY NICE AND NO WARTS TO SAY FOR THAT.
COMING MOVES ALL SONGS SHOULD HIT.
YOU SHOULD DO MORE MOVES IN COMING SOON.
Good music director. Awesome work in salim
I Like Your Songs Very Much...
Devi Sri Prasad
Devi sir your music is awesome and no one can give rocking music like you sir. He gives very good music in telugu and Tamil. And I hope you will be the top most music director for ever
He is only give best music ever and any time any movie in India and world also. He should be at top place in this list..
Dsp never do copy all songs rocks
Devi sri music is super rocking and no more words to I love devi sri music forever
Hiphop Tamizha
He is a best actor and musician in film industry. And I am a big fan of him.
Aadhi is a very inspirational and motivational. His songs make a lot of depressions in everyone's hearts! Having interest in songs of both-English and Tamil is a very highly appreciated thing. His true life experiences is the best teacher in life. He tells us the importance of struggles and even FRIENDS! Hoping to meet you one day anna! I'm a seventh grader, love from Dubai!
Maula Maula from Action is only needed to prove that KRV is going to rock on coming years.
Here for Vaisakh anna. Master Audio soon, The 3 tracks just blasted.. Waiting for more. Thanks Aadhi anna for UG TRIBE
The Contenders
Santhosh Narayanan
His understanding of the listeners' needs is par excellent.
His Music is totally different to Tamil cinema. On par with international standards..
Your music is very different in the world
Extraordinary heart touching music
Vidyasagar
Sir vijay film work with one of the different music next vijay film multilevel music
He is master.., His music is beyond the words
He is good music director to vijay
Best melodies and dance numbers. Can't say enough in words
M.S.V
He was the trail blazer in the Tamil film industry for music. He gave a new definition for light music and is rightly called Mellisai Mannan King of light music. He has given the most variety in tamil film music. Based on which all later compositions came into being. Undoubtedly a trend setter and king of film music. Using western classical in Tamil songs which is unique to his compositions which is also being adopted by A R Rahman.
A musician beyond compare. Ilayaraja is monotonous while AR is all noise. The lesser said the better for others
Evergreen musician for Tamil
His music was perfect for his generation...
Santosh Narayanan
Santhosh should be in front of this rating... Just listen to his new album cuckoo it's amazing and brought the feel of yuvan and god illayaraja's music...
Support this young music director who is bringing new kind of music to cine industry
Music god is santhosh like your music
He is excellent music director and he has unique talents in music world
Mani Sharma
King of Back ground score of Indian cinema
Good in melodies
I like manisharma song very much
Mani-King Of South Indian Music! B-)
He is the best music director South India ha
Deva
He is one of the best musician in Tamil industries
I like Deva sir after music legend msv he have that same structure of music
King of gana music
God father
S. Thaman
He makes just few films but he done better.
Super music
Dare not to forget this sensation Music director. Top Mass tracks from OSTHE., Melodious EERAM, VANDRAAN VENDRAAN, ISHTAM, KSY, Thadaiyara Thaakka AND BUSINESS MAN are unforgettable albums
Unbeliveable... Beautiful composition... Awesome music... He is a very good music director of telugu cinema and Tamil both. , I like his musiq especially in OSTHE, VANDAAN VENDRAAN, RAMAYYA VASTHAVAYYA, SHADOW, MIRAPAKAY, KICK, MUNTHINAM PARTHENEY AND MoscowIN KAVERI...
SA Rajkumar
Best for melodies
We were expecting at your music in movie
He is good music director and song mamorable.
S A RAJKUMAR Movies all songs 99/100 super hits very nice Music
M.Ghibran
Kamal sir's choice was ghibran and he have proved the best music director.should be in top 5
In my favorite best music director
Good music director... Lovely songs
Uthama villan song and them supper
James Vasanthan
Good music director for low budget...
Srikanth Deva
Mass in local songs
Good music director
Sathya
I like sathya sir song because look like very different sir
Nivas K. Prasanna
Awesome music in zero movie...
M. S. Viswanathan
A great great musician of India who tried all the experiments in music! And a man who passed away without any honour from the Indian government! And what not in his music is there in the other musicians of the world? Nothing will be the correct answer!
Aadhi
I will support
I love his different music qualities
Wow his music is really awesome.i love his independent music albums.he's gone rock Tamil cinema
PSearch List