Germany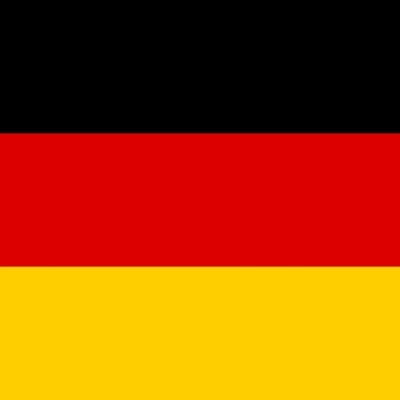 Found on wikimedia.org
Info
Germany was formally united in 1871 under the initiative of Bismarck with King Wilhelm of Prussia as emperor. The previous 'Holy Roman Empire', basically a continuation of the empire of Charlemagne/Karl der Grosse was dissolved in 1806. ...
read more
.
Comments
Top
Popular
Newest
Germany will win because not only do they have amazing defense with Hummels, Badstuber, Boateng, they also have the best goalkeeper between the posts. They have Reus on the left wing who is super fast and has amazing shooting ability. They have Ozil in Central Attacking Mid, Gotze, Klose or Gomez for striker. With Bayern and Dortmund being super strong at the moment, team Germany is sure to be very strong as well. Teams like Spain and Brazil are amazing, but they don't possess the speed the Germans have when on a counter attack. Spain passes way too much, their style has been figured out by most teams. They play too perfectly, like robots and have a chance at 3rd place, but not first. Italy has a really old Pirlo who is sure to croak any time soon, Balotelli is amazing, but Osvaldo is pretty bad. They will be out group stage. Portugal are quite good if you think one man teams are good. If anything happens to Ronaldo with his injury, they will not make it out of the group stage. If ...more
Well, Germany absolutely has the highest chances to win the World Cup this year, You know why? Because they have a top class goalkeeper,3/4 of their defenders are tall, a lot of their defenders play a great role in the offense, and also the roundabout way. Their attackers play in the 20 best clubs in the WORLD!, And they are complete, When I say complete I mean that non of their players are injured (except Marco Reus) and they are fully fit for every match. If they play their offensive type of play, they can devastate each of their opponents to the final in which they will hopefully go. I think that Germany will win the title they waited 24 years back in 1990, no matter of their kinda weird mistakes they made against Algeria, They mustn't repeat, whatsoever, because if they don't, believe me they have absolutely the highest chances to be crowned Champions of the World.
Germany has the most balanced team of good players and chemistry and the best midfield out there! After 3 continuous 3rd place cups, this is their time to shine. Germany for the win!
I love Germany they are the kings and the best team in the world they have the best midfielders the best strikers and the best defenders and the best goalkeeper in the world and the best coach a team could ever wish to have I support Germany like mad I like all there players and I know they are gonna win the FIFA world cup 2014 and all the rest of the world cups and euro cups they are the most powerful team!
Germany isn't unbeatable but they're definitely most likely to win the most prestigious cup in the world! I see nothing wrong with their squad, they are a very balanced team, their defense is good, their offense is even better despite the fact that Reus is not playing. Their opponent should obviously watch out for their counter attack most especially with Ozil's deadly accurate passes and Muller's great finish, god damn. Now if Netherlands continues to play the way they did against Spain, then I'm 100.10% sure that the finals of the 2014 World Cup will be between Netherlands and Germany.
Germany as a team nicknamed Panzer team is able to succeed to get a ticket to the World Cup Final after devastated host Brazil in the semi-finals with a crushing 7-1 score is very very fantastic result especially semi-final match against Germany should host 12 players but thanks to goals from Brazil in the early minutes and streak past his best game makes the German team in this match with the material best players are also the sharpness of the front line and strong defense also quite brilliant goalkeeper to make the team a little longer APCs will reach that success champion title victory in the final round when Argentina meet.
German Panzers Team've ever tasted World Cup winner three times in 1954,1974,1990 in 2014 with the material and the sharpness of his best players to the front lines of today's Germany has been able to find the net 17 goals and will show the sharpness up front to find the net Argentina in order to seize her title for the fourth time in football at the highest ...more
Yep going for mighty Germans to win I reckon, on their day they could be more than capable of terrorise and thrash teams with calibre of Spain, Brazil or Italy. Super fast counter attacking and such a powerful team. Belgium is a real force to be reckoned with too this year, so watch out for them, dangerous to oppositions when on form.
Germany, the power-house of football. I have been following Germany from 1990, I believe they are the most consistent side in regards with their game and also producing some of the best players in the game. All the best Germany, win the Cup.
Germany is just perfect, Bayern Munich is such a perfect team right now, one thing I like about Germany is that unlike Argentina or Brazil, they don't depend on anyone. Even if Lahm or Neuer get injured they have behind them awesome players that can take their place no problem. - CarlosGLara13
Its obviously that Germany is the most outstanding, complete and hungry team, the have 16 years to win a big tournament, they have players who for the most of they career they were third or runner up so for them this is the moment to bring the trophy in Germany after 24 years, the motivation is very high. I think is the Germany year
I believe that Germany would win because of there amazing defense and midfield and world class German goalie they would for sure not lets any goals through there line of defense but there are a lot of threats to Germany in the is 2014 FIFA world cup, lets hope they win!

GOO Germany!
I cannot understand why the odds for Brazil are so high? If they played Germany I would predict a 4 nil win for Germany. Brazil wouldn't stand a chance. I see Germany in the finals... Germany has outperformed all teams the past years but Spain. but things will be different this time I am certain. its time to take the cup back home where it belongs.
I think they should play Reus in striking position and then Gotze on the left wing, if Reus is really good at scoring goals right now, why not use that to your advantage. Klose is old and Gomez is way out of form. One problem is that I hope they don't put Lahm in midfield instead of right back because Germany have no other good right backs.
Germany has a stacked squad with many world class players, they will definitely do good this year, in the past 10 years Germany has been under the top 4 of the world tournaments, this year they are more experienced, and I am guessing the Final will be theirs.
They are the most complete team. The incredible piece about Germany is, they don't just have a Messi, a Ronaldo, or Neymar... They have an excellent team all around, everyone plays a great role. The question would be, do they have anyone that is not? Even their 36 year old Klose is powerful, and can make some serious magic. When it comes to endurance, the Germans are the superior team as well. However they have their flaws, but they can win.
The reason why I back Germany to win the world cup is due to many factors. One of them due to the fact that the Brazil conditions will require a lot of squad rotation, and Germany have the most complete 23 out of every single squad in my opinion. I see them as the only team who can beat Spain over 90 mins. The suprise player for me will be Reus, I believe if he shows world class form, he is capable of he could be player of the tournament. I also see a potential top scorer award for Thomas Muller. The only pick I didn't Understand was aging Klose, but I expect others strikers to play over him anyway.
Germany Win Win! I'm Persian but I'm Germany National Team fan since I was a kid. When my cousins were playing video football games even. As a child I understood that Germany is a very strong team even in video games! Well I know I'm just talking biased but Germany is one of the best teams for sure. I think no need to talk about abilities and talents of this incredible team because everyone knows!
German is not dependent on individual players. They are a team and they click even without any prominent player. The best thing about Germany is that they have good players at all levels of positioning be it forwards, midfielders or defenders! & to top it off all of them have no ego issues and are down to Earth! This is a very important aspect of the game
Muller, scored a hat trick in their first match. Crushing Portugal 4-0. Then they drew against Ghana 2-2 in an unbelievably entertaining match. Then beat the USA 1-0 in an entertaining match. They advance to the round of 16 and have a star line up that almost won the last World Cup. Since Spain is out, and Spain was the reason they left the cup, there is a super high chance Germany will lift the World Cup this year.
Germany are the masters of football. They have been playing the same style of play for a long time and they don't fail. Making it to the finals is an easy job for them as they are capable of beating any team. Germany have the best and strongest players from the forwards to the keeper. They are the best all-round team and they are the ones who will take the trophy this year.
Germany after defeating France and Portugal have proved their might Brazil might be playing in their homeland but they have trouble beating teams such as Croatia Mexico and Columbia. Germany might have tied with Ghana but in all fairness you wouldn't think Ghana would win so Germany didn't bring their A-game. Pushing through this FIFA world cup we are the most consistent and will stop at nothing to win.
Germany, because they have among the best player from Bayern munchen. Example, Mario Gotze, Bastian Schweinsteiger, Boateng and Manuel Neuer. not only the players are good but the strategies are AMAZING. So Ich liebe Germany. Germany 2014 CHAMPIONS
I mean, Come on! Can't we see? A bombastic mixture of Young and experienced attack, midfield and defense. Well disciplined midfield, strong defense. Unlike South Americans who are good at the front but anything else? I don't know. And the rest are the teams like Spain, Italy, France, Belgium. We all know Germany has a better squad then all of them. Not that Spain has bettered Germany few times before but maybe they didn't have to play Reus and Goetze
Germany is an organized, complete team. Their striking is well planned, accurate and it is their counter-attack that really hits hard if they don't score at first; they are quick to bring the ball up front and still good at defense.

They work as a team, all players very good, something most other national teams don't have.
Definitely gonna be Germany this time. The most complete, formidable and unlike few other teams who goes with a one man claim. Germany is powerhouse of a strong intact individuals who make that winning combination needed for the sport. Would have been cheering for Spain but god they have proven to be total disaster. Go Germany 2014 is yours