Prabhas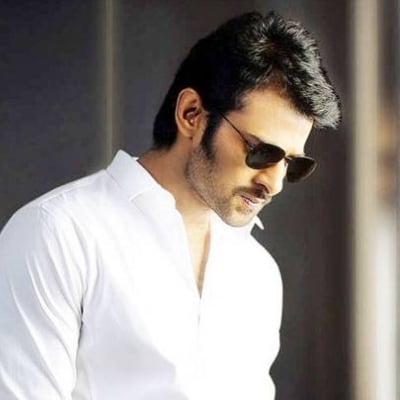 Found on intoday.in
Comments
Top
Popular
Newest
He always roockz, good, stylish star. Rocking star, handsome,
My name is BILLA
Parents cal me MUNNA
In streets everyone calls me as ESWAR
I was born on POURNAMI
I like 2 walk in VARSHAM
I'm follower of RAGHAVENDHRA
I always wanted 2 be YOGI
For me life is like CHAKRAM
Friends cal me as EKNIRANJAN
Close friends cal me as BUJJIGADU
Teachers awarded me as CHATRAPATHI
Now in film industry all are talking about REBEL(RUDRA)
My lover call me as DARLING
Totally I'm MR. PERFECT
Darling... Real rebel starr!
his dialogues in chtrapathi rocks..
his dancing in varsham, darling (bulle song), mr. Perfect (dol baje).
over all, action+dancing+good character+real time hero-PRABHA.. No body can compete vth him.


He creates thunders in the Anti's hearts.. It's the name which makes Our hair to Raise.

He has the Attitude which every one tries to Hire..!

Glamour gets a Perfect meaning after staring at him.

We are proud to have such a "PERFECT" personality as a Hero in our Cinema!

Innocence and charm took birth from his smile.

The spark in his eyes makes the Fans go Crazy

The first 8 pack body in the history of Telugu cinema

He Became style icon for new new generation.
Prabhas who is having different and unique style among the other heroes, he maintains his physic, style, beauty, dressing and what not and he is the one of the most handsome hero of tollywood. He became youth icon for all students and huge fan following all over India. Not only in Andhra pradesh he is having good fan following in Tamilnadu, kerala and north states. He is one of the hero who became top in a short period of time.
Prabhas young rebel star of tollywood film industry. I love him a lot. I never had any favourite hero other than Prabhas I was never a fan to any other hero except to Prabhas the Darling of all the fans. Prabhas our darling has all friends in the Tollywood and also in Bollywood. All the best to our Young rebelstar PRabhas darling. I call him as Lord sometimes. LORD PRABHAS YOUNG REBEL DARLING
PRABHAS DASHING HERO OF TOLLYWOOD PRABHAS IS LEGEND OF TOLLYWOOD HE IS MAN OF MASSES KING OF TOLLYWOOD HIS ACTING IS KEKKA HIS DANCE N FIGHTS KEVVU7 KEKKAA
PRABHAS THE LEGEND FOR EVER HIS DIALOGUE DELIVERY IS KEKKA HE IS DIAMOND OF TOLLYWOOD HE IS THE LEGEND 0F INDIAN CINEMA PRABHAS WE ARE FANS FOREVER
Prabhas is one and only in tollywood to set for college boy, lover boy, mass acting, family oriented, dialogues, dance with beautiful steps&stills,6feets with 6packs, handsome, girls dreams hero, boys energy hero, the one and only prabhas
REBEL STAR rocks
BECAUSE HE IS DOING GOOD MOVIES He is such an amazing person... He is just awesome... According to Following he should be in Top ten. He is having all the qualities required for a Superstar.
He's my all time favorite hero... I just like him very much. I like his all the movies. I just want him to be the award winner amongst all the Telugu actors. Actually I'm not telgu and I don't understand telgu I watch his movies in Hindi and I'm a big fan of Prabhas.
He is a Dynamic Young Rebel Star...
Nobody can reach him...
He have an extraordinary behavior. (With Every one treated as a friend in whole film industry) that's why, every one calling him "Darling".
He have good physic, he is very handsome and peaceful mind...
Prabhas is a very handsome actor and has a personilty matching his tall frame. A very macho looking actor who looks charming and lovable as well. His action scenes are always awesome. On the personal side he is a very down to earth person and is liked by everyone in the film industry.
Best physique in tollywood. Well known for his kindness. No contraversies. He do not feel any other hero as an opponent. No affairs with any heroines or girls outside unlike any other tollywood hero. Finally one word to describe him is "GENTLE MAN"
He is perfect hero... With toll cut out, immense power, lots of talent, macho physic, Aggressive look as well as his cool and lovely nature adds his character... Most Efficiently... High hit percentage hero in Telugu film industry... And... Going to shake the industry with two big up comming projects... So on...
He is the tollywood macho... And has got crazy name and fame in very short period of time.. With his class and mass action and perfect dialog delivery... Getting his millions of fans... And attracting all the bunches of people... With family oriented mass class romantic and action films...
One n only macho... Bestly kills the record with his quiteness, roars like a lion fit to do any sort of character in India.. Example watch all his movie he shows a great variation in every character and makes 100% justice 2 the character... He rocks
Prabhas is a Stylish and Young Dynamic HERO in Telugu FILM Industry...
He Had a Unique Style

According to Following he should be in Top ten. He is having all the qualities required for a Superstar.
HE is rebel star and he is acting and styles and dress mainteance is good so I voted him and he is my darling my prabha bava
He is real hero of tollywood...

His physique matters the real hero...

Ny costume will suit him...

Coming to acting.. He is an awesome actor... He is very god at fights. Dailogue delivery and dance
He is simply awesome! Very well suited to any charactr and of course he is handsome! Finaly his smile heart stealing!
He having good character, freindly nature with all, his manliness is awesome. He loves every one. He doesn't have any ambitions like become number 1 in tollywood, he only want satisfy his fans. He is very cool, sensitive, kind hearted. His acting also different in different films like chatrapathi, billa, darling, mr. Perfect. He can do any characters mass, class.
That's why he became youth number 1 icon inn tollywood
Perfect Macho person. Selvester stalon looks, If he get a perfect hit like chatrapati, he have chance 2 occupy the number 1 chair for sure, hope he will get with rajamouli.
He changes his dressing style, diologue style, acting style for every movie. Its very good in him..
And he is generous (helpful) person too.. He helps orphans, blind childrens donating 10 lakh rupees for every year. He is real life hero.
Its enough to say he is number 1 hero.
Prabhas is very stylish, handsome
And he has great body like a hunk... No one has such persnolity like darling prabhas, PRABHAS fights are relalitic and lokk like dynamic, prabhas can do dance better than mahesh, and more... And prabhas dilogue delivery is awersum, prabhas is going to tollywood number 1,
He is macho man... He already done all the type of characters in this short span... He is number 1 contender... Everybody likes him.. Class, mass, family...
Prabhas is stylish daring and dashing always try to do his best and more over he never gives up always try to learn from. He is a mighty legend of telugu cinema.
He is so stylish. He is so friendly. He has a good friendship with all the heroes. These are the qualities required for the qualities required for a man and a good hero. I wont say that he is only a good hero but he has some more and beautiful qualities. Thank you