Top 10 Tennessee Titans Players of the 2017-2018 Season
The Titans are a team that's red hot right now on both sides of the ball. Everything is clicking, they ended last season on a winning note despite losing Mariota. Now his fully healthy, and takes controls of what looks to be an exciting offense, and plus Lebeau at defensive coordinator I like the Titans chances this year.
The Top Ten
1
Marcus Mariota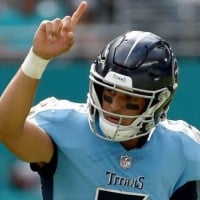 Marcus Ardel Tafuna Taulauniu Mariota is an American football quarterback for the Tennessee Titans of the National Football League.
He is just an amazing QB
Best qb
The heart, the soul, and closest thing to Steve McNair you will ever get to in Marcus Mariota. It was almost a match made up above as god told Jon Robinson to have no regrets take this man he is your key down the future and dear god has it shown. In a NFL mobile world Mariota now suddenly ranks near the top of being one of the hardest Quarterbacks to stop just by his pure instincts alone, and bet he won't strike with a vengeance when it's all said and done. - htoutlaws2012
Mariota could win MVP - 2storm
2
Delanie Walker

Delanie Walker is an American football tight end for the Tennessee Titans of the National Football League.
HE WAS THE MVP OF THE PRO BOWL!
Going to be one the greatest tight ends ever - 2storm
Walker is a beast even in his 30's the guy has a lot of football left in him it's almost like a fountain of youth taught by Tony Gonzalez a future hall of famer. can he play up to 40? Probably not, but he is a great helping hand for Mariota to go for safe insurance to throw to. - htoutlaws2012
3
DeMarco Murray

DeMarco Murray is an American football running back for the Tennessee Titans of the National Football League.
Still a lot of years to play, but DeMarco Murray is a very elite running back when he is put on the right team like the Titans which I thought was skeptical at first, but man was I wrong when I said the Titans had no-line. Boom here goes Murray a prize from Philly thanks to the disaster plan by Chip Kelly the Titans were extremely fortunate to have this guy come into their lap. I always liked Murray, and I hope he does great with Tennessee for years to come. - htoutlaws2012
4
Jurrell Casey

Jurrell Casey is an American football defensive end for the Tennessee Titans of the National Football League.
Casey is one of those guys that is sneaky good in which he is overpowering nightmare for opposing tackles. It's no wonder his well respected by his peers that play the game against him, and by his teammates themselves. Jurrell Casey well tear the league up in anyway possible. - htoutlaws2012
5
Brian Orakpo

Brian Ndubisi Orakpo is an American football outside linebacker for the Tennessee Titans of the National Football League.
Orakpo is a heck of a player when he is healthy on the field, the redskin seemed to always have great linebackers they draft, and when Orakpo decided to ditch the red, and yellow he went for the rising Light blue, and white. Since arriving one the scene Orakpo has not been a the get go. - htoutlaws2012
6
Logan Ryan
Logan Ryan is one of those guys I believe will get better as his career moves on, and with where his at I like the improvement Tennessee made with signing a guy with postseason experience. He doesn't always show a lot in his time with the Patriot, but you know what you will see what his made of as a Titan. For a guy from Rutgers, he will surprise a lot of people. - htoutlaws2012
7
Jack Conklin
Representing the Green and White the Spartans own Jack Conklin! I love the drafting style they did last year when they chose a past rival of Lewan's he knows very well must have got am motivated to get a lot better drastically. It's funny how his at Right tackle it makes for an even better combination since most quarterbacks bad sides are always on the tackle sides. The Titans are literally set at that position ready for Mariota to run all over the place with splits from DeMarco Murray. - htoutlaws2012
8
Taylor Lewan
Started off sluggish his first two years, but by his 3rd year the man from the Blue and yellow shows that he can be a good Left tackle for this team. How fitting it leads right into out next offensive lineman... - htoutlaws2012
9
Adoree' Jackson
I usually hate 5 foot cornerbacks becuase there size is the reason they get eaten up a lot, and I hope I'm wrong with Adorre since I questioned why they took him as high as he was. - htoutlaws2012
10
Eric Decker

Eric Thomas Decker is an American football wide receiver for the New York Jets of the National Football League.
Okay were starting with kind of a shocker pick, but hear me out I like there selection of Corey Davis as much as you do, but Eric Decker not a sloucher either. I mean before he got hurt he is a very consistent reliable player to have, and watch him do his best for the team even if he is not the #1 Wide out he is a great number two option. - htoutlaws2012
The Contenders
11
Corey Davis
Best wide on the Titans - 2storm
12
Dion Lewis

Beast on the pats and titans
BAdd New Item