Top 10 Best Tennessee Titans Players Going Into the 2018 Season
After finally making the playoffs after lots of progression the Titans have now become a bit of a wild team that's gonna be unpredictable large part to their talented quarterback who ended up taking a stunning set back. With a new head coach in company are they gonna still be a hit or miss it by inch? There a good roster, but can they put it all out against their rivals Jaguars, and the potentially climb back into it all Texans.
The Top Ten
1
Jurrell Casey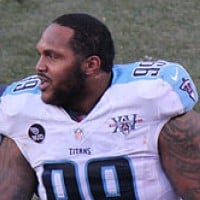 Jurrell Casey is an American football defensive end for the Denver Broncos of the National Football League.
Casey a heavily underrated defensive end in the league for 8 seasons gotten 3 pro bowls. Could of had five if you ask me especially in 2013 with is 10.5 sacks was the most dominant year he had most of been overlooked due to the fact the tam was very bad in the early decade. Casey is one of those guys who comes prepared any given Sunday determined to get a sack, and get real hot streak.
I saw it om antothere site
2
Brian Orakpo

Brian Ndubisi Orakpo is an American football outside linebacker for the Tennessee Titans of the National Football League.
Orakpo is probably one of the better free agent pickups they have had in awhile, and a massive contributor for a defense that manages to go from terrible to solid in a matter of years. - htoutlaws2012
3
Kevin Byard

I had no idea who this dude was until I saw him in that Cleveland being his big moment getting 3 interceptions in one game, he ended up finishing with 8 in total that very impressive for a safety. Can Byard do it again is the question? - htoutlaws2012
4
Taylor Lewan
Arguably the most vital man on the offense more than anyone else there first pick from 2014 didn't prove his worth until 2 years later in the 2016 season he made it his mission to becoming one of the most prominent tackles out there. - htoutlaws2012
5
Marcus Mariota

Marcus Ardel Tafuna Taulauniu Mariota is an American football quarterback for the Las Vegas Raiders of the National Football League.
Speaking of the #2 pick of 2015 here he is, and after a very disappointing third year he has a chance to turn it around in year 4. His gotta believe in Corey Davis to be big, and see if Dion Lewis ends up fitting in decently for a extra combo guy to go to for extra downs.
6
Derrick Henry
Oh hello again with your smashmouth style where you pound in your power run style to the ground! His due to hit a big this season, some say they'll still do a committee run, but I actually believe Henry is there guy still moving forward. A sleeper for fantasy as well I will say that much take a chance on him especially with the offensive line his on as a big factor. - htoutlaws2012
7
Delanie Walker

Delanie Walker is an American football tight end for the Tennessee Titans of the National Football League.
Walker still a good weapon to have this late in his career, but his touchdowns dropped from the previous year. Despite that big concern I say his still the type of top 5 Tight End talent to go for if his available and starring for your biggest needs take the flyer. every time I drafted the guy he was very useful. - htoutlaws2012
8
Jack Conklin
The right tackle is just as good as his Michigan rival on the left side the chemistry is pretty interesting between these two former rivals in college. Conklin is if not as vital as Lewan is on the other end of the spectrum of that line where Mariota can open things up around him. - htoutlaws2012
9
Malcolm Butler

Malcolm Terel Butler is an American football cornerback for the Tennessee Titans of the National Football League.
Okay Logan Ryan proved his not a #1 Corner in year one with the team meaning now they literally have an old collection of Patriots players they hope will provide some quality playmaking abilities in doing so Malcolm Butler on the other hand has the potential to show how stubborn Bill Belichick was in the super bowl by benching him, and could play even better than before.
10
Rashaan Evans
There first round pick can be a day 1 starter where as with Landry he'll probably be on the bench for the most part unless one of the aging linebackers managed to get hurt we could see both rookies they picked up for this year, and see where the state of the linebacking core is at both veterans, and utility depth. - htoutlaws2012
The Contenders
11
Adoree' Jackson
While his probably not that good of a corner in his first year he can deliver some much needed yardage setup for the offense to get anything as close as they can get down the field more effectively. - htoutlaws2012
12
Rishard Matthews

Rishard Andre Matthews is an American football wide receiver for the Tennessee Titans of the National Football League.
Of the wide receivers from last years crops the only one who actually did show at least on a consistent basics was Rishard Matthews his like the secret #1 Wide out with the Titans plug him in he'll perform, but Corey Davis has gotta show up big after a soso rookie season. - htoutlaws2012
13
Corey Davis
HE IS AMAZING
14
Dion Lewis

At one time he was a very useful backfield weapon for Brady, but now moving to Tennessee... very unsure if this will work out For Lewis who will play second fittle to the smasmouth running style of Derrick Henry who showed his emergence towards the end of last season. - htoutlaws2012
BAdd New Item